Holiday shopping is in full swing. Lets get started with gift ideas for the hardest people on our shopping lists — the men in our lives. If you are shopping for your husband, boyfriend, brother, father-in-law, or son — there's something on this list for him.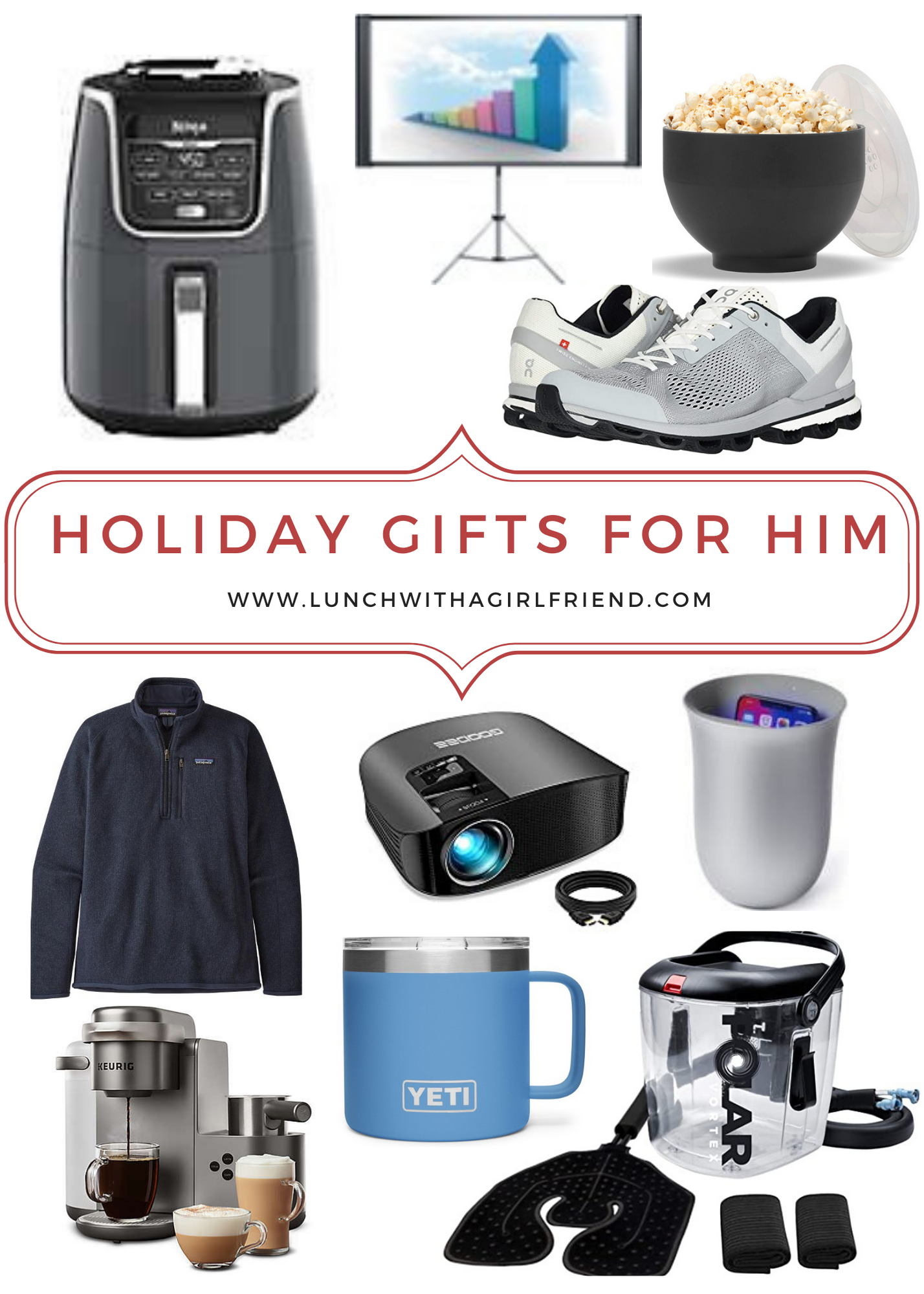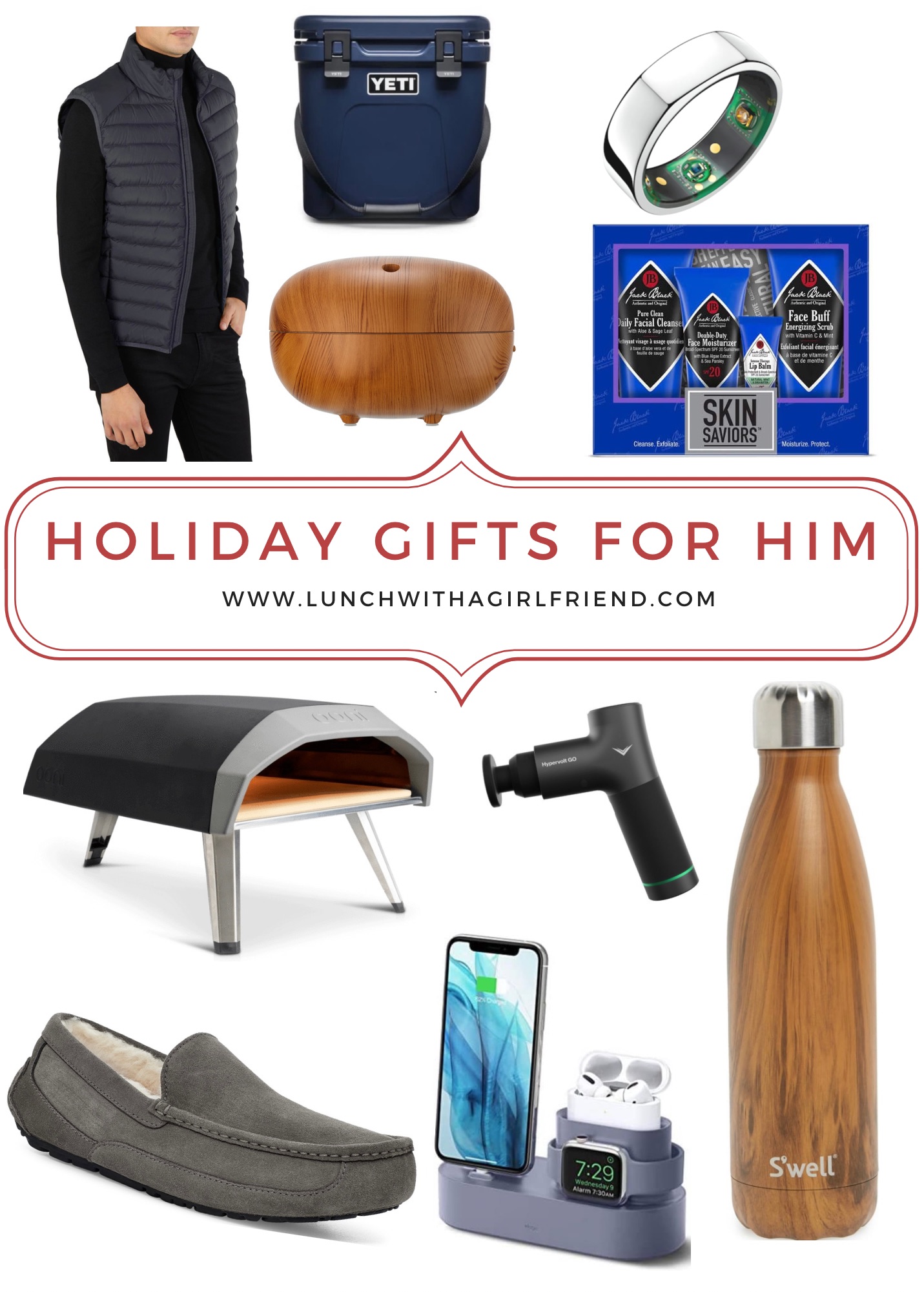 Air Fryer. // He'll love having a fast easy way to enjoy guilt-free fried food!
Portable Projection Screen. // He can safely get together to watch the game with his buddies outside with this projection screen.
The Popper. // Just add popcorn kernels and pop this collapsible bowl into the microwave. No oil or butter necessary. It's so easy.
Running Shoes. // These are the most comfortable running sneakers ever!
Patagonia Half Zip Fleece. // These are really well made and warm fleeces that can be worn in the office or out on a hike.
Outdoor Movie Projector. // The whole family will enjoy watching outdoor movies and sporting events on this outdoor projector.
Phone Charger and UV Light Sanitizer. // In a Covid-19 world, this is priceless.
Yeti Travel Mug. // Yeti travel mugs have amazing reviews and are such good quality.
Coffee Maker and Frother. // He'll enjoy coffee and specialty lattes with this coffee machine and milk frother.
Portable Ice Machine. // Stay game ready (for the old man game) with a portable cryotherapy ice machine.
Puffer Vest. // He'll look stylish and keep warm this winter with this sleek puffer vest.
Yeti Cooler. // I don't know a single guy that wouldn't appreciate a high quality cooler like this one, by Yeti.
Diffuser. // Diffusers are great for improving mood and infusing the air with mood-boosting or calming scents.
Oura Ring. // This is on my personal wish list. I've heard other men rave about how awesome this is at keeping track of calories, sleep schedule and workout readiness.
Jack Black Skincare Kit. // Most men don't have a clue where to start with skincare. This pack will get him going in the right direction.
Ooni Pizza Oven. // We tried (many times) during the pandemic to make our own pizza at home. With the Ooni Pizza Oven, you can actually create amazing pizza at home!
Hypervolt. // Ease his aches and pains from working out or sitting at his desk too long.
Ugg Slippers. // I didn't understand the importance of a leisure shoe until I asked for a pair of cozy slippers for Christmas. Now I wear them every single day. Why not get a cozy pair for the man in your life?
Charging Station. // Help him keep the electronics organized (and charged!) with an all-in-one charging station.
Water Bottle. // A simple, sleek modern water bottle he'll use everyday.
If you like this post please subscribe to receive regular email updates. Did you know that now you can follow a hashtag on Instagram? Follow #lunchwithagirlfriend. For more inspiration, you can also follow me on Facebook and Pinterest .