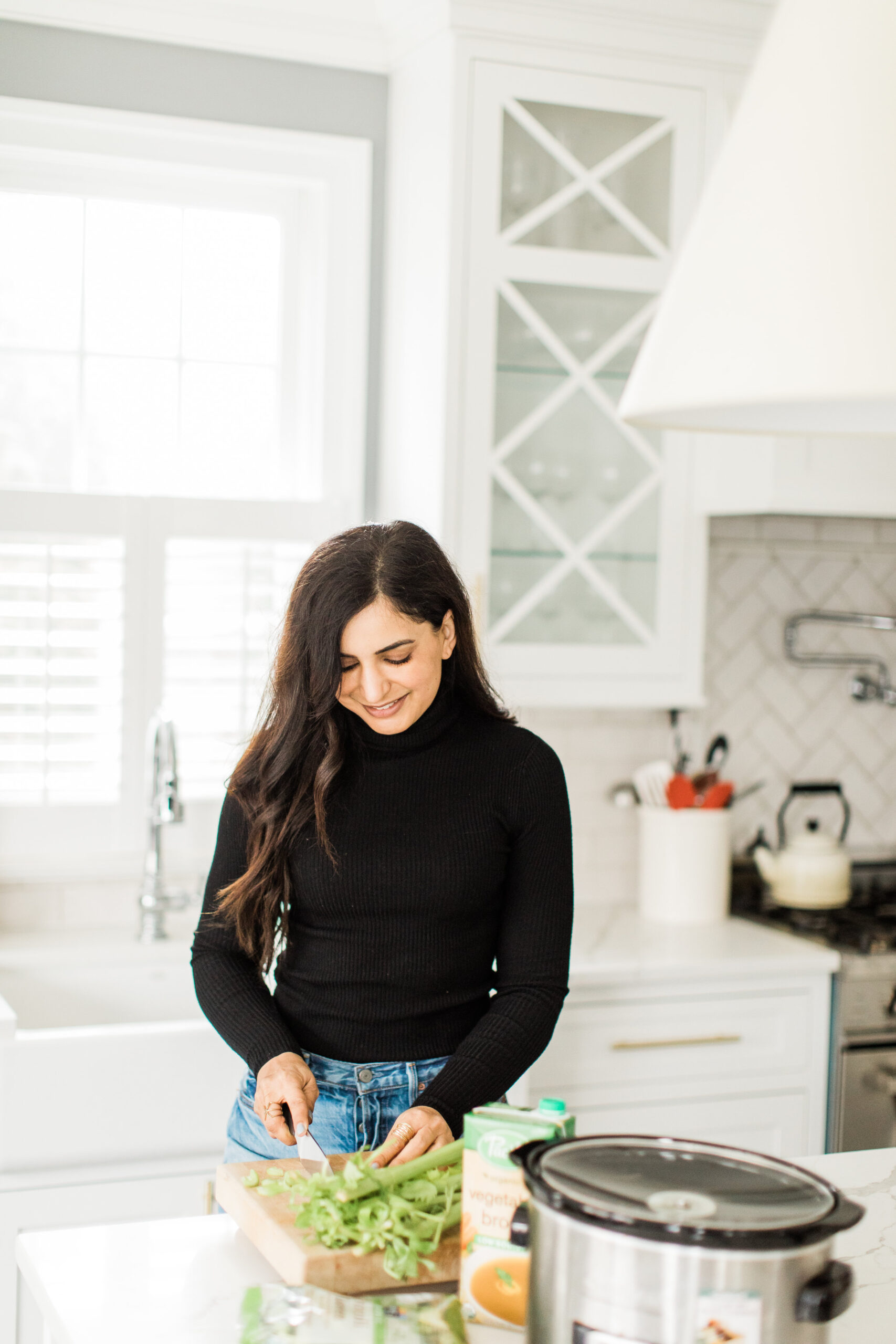 Hallelujah that I learned to like cooking this year! Magic 8 ball says there will be a lot of home cooked meals in our future. If you never had time for it before or are just looking to switch things up — here are a couple of my favorite dinner recipes lately that everyone — including my picky kids — are enjoying. Thankfully so many of the grocery stores and delivery services seem to be normalizing so you should be able to acquire anything you need to make some of these favorite dishes.
Sheet Pan Chicken Schwarma
(adapted from Food52.com)
Ingredients:
2 heads of cauliflower cut into florets
1 large yellow onion, sliced
5 Tablespoons olive oil, divided
Kosher salt and fresh pepper, to taste
1 Tablespoon ground cumin
1 Tablespoon ground coriander
2 teaspoons smoked paprika
1/2 teaspoon cayenne
2 cloves garlic, minced
2.5 lbs. boneless, skinless chicken thighs (I use two packages of 6 thighs to feed my family of five)
Flatbread or naan
Juice from 1/2 lemon
Optional Yogurt Sauce: 1 cup greek yogurt, 1 Tablespoon fresh lemon juice, 1/4 teaspoon kosher salt
Directions:
Preheat the oven to 425 degrees Farenheit and position a rack in the center. Cover a sheet pan with parchment paper or spray or cover your pan with oil. Place cauliflower florets and onions on top. Season with a teaspoon of salt and pepper to taste and 3 Tablespoons of olive oil.
In a small bowl, stir together cumin, coriander, smoked paprika, and cayenne. Pour half of the mixture over the cauliflower. Use your hands to spread the oil and seasonings evenly over the cauliflower and onions. Place the pan in the preheated oven and roast for 30 minutes. Toss once 10 minutes into cooking time.
Meanwhile, place the chicken thighs in a large bowl. Season with salt, to taste. Add the remaining spice mix, remaining 2 Tablespoons of olive oil, and minced garlic. Toss to coat.
When the vegetables are ready to be tossed, add the thighs to the sheet pan, nestling them around the vegetables. Roast the chicken and vegetables for the remaining 20 minutes. If the thighs are large they may need 5 minutes or more.
Make the (optional) yogurt sauce: Stir together 1 cup Greek yogurt, 1 Tablespoon fresh lemon juice, and 1/4 teaspoon kosher salt. Taste and adjust with more salt or lemon to your liking.
Place the naan on another sheet pan.
Remove the chicken and vegetables from the oven and let them rest for 5 minutes. Meanwhile pop the pan with the naan in the oven for 1-2 minutes until warm and crisp.
Cut the chicken into cubes that match the size of your cauliflower. Squeeze 1/2 a lemon over everything.
To serve, spread the optional yogurt sauce, chicken, and vegetables into the naan and eat it taco style or place everything on your plate and eat with a fork and knife.
Thai Lettuce Wraps
(adapted from delish.com)
A girlfriend introduced me to homemade Thai chicken lettuce wraps a few months ago and I have been making them for dinner ever since. They are always a favorite to order in restaurants and now they have quickly become a family favorite. It's a quick weeknight meal too!
Ingredients:
6 Tablespoons gluten-free hoisin sauce
4 Tablespoons gluten-free Tamari or low-sodium soy sauce
4 Tablespoons rice wine vinegar
2 Tablespoons Sriracha (optional)
2 teaspoons sesame oil
2 Tablespoons olive oil
1 medium onion, diced
4 cloves garlic, minced
2 Tablespoons freshly grated ginger
2 lbs. ground chicken breast (sub ground turkey or beef if that's what you have on hand)
Kosher salt
Freshly ground black pepper
1 head Butter lettuce (leaves separated), for serving
Cooked white or brown rice, for serving (optional)
Directions:
Make the sauce: In a small bowl, whisk together the hoisin sauce, tamari, rice wine vinegar, Sriracha, and sesame oil. Set aside.
Break apart the lettuce leaves and place on a serving plate.
In a wok or large skillet over medium-high heat, heat the olive oil. Add onions and cook until soft, 5 minutes, then stir in the garlic and freshly grated ginger and cook until fragrant, 1 minute more. Add the ground chicken and cook until opaque and mostly cooked through, breaking up the meat with a wooden spoon.
Pour in the sauce and cook 1 to 2 minutes more, until the sauce reduces slightly and the chicken is cooked through completely. Turn off the heat. Season the meat with salt and pepper. Transfer to a bowl.
To serve, spoon the rice, if using, and a large scoop of the chicken mixture into center of each lettuce leaf.
If you like this post please subscribe to receive regular email updates. Did you know that now you can follow a hashtag on Instagram? Follow #lunchwithagirlfriend. For more inspiration, you can also follow me on Facebook and Pinterest .