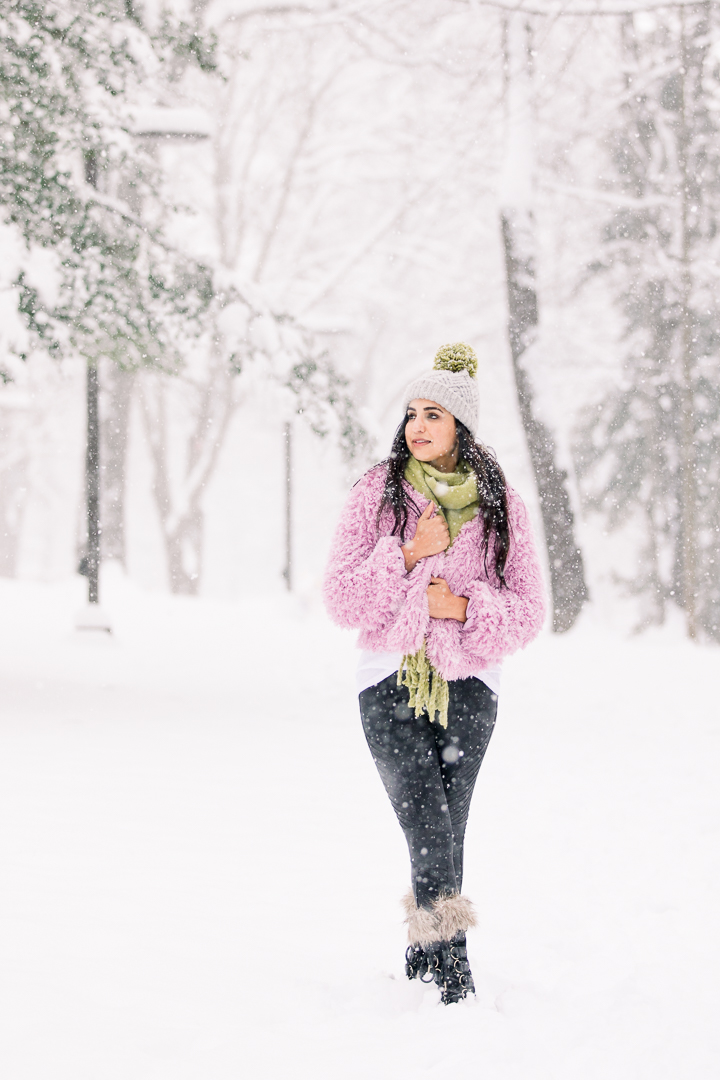 Cold temperatures can make anyone not want to bother getting dressed. The hardest part of dressing for winter weather is figuring out an outfit combination that looks put together while still keeping you bundled up and warm enough to battle the elements. So here is my list of my essential items to tackle winter weather like a fashion girl.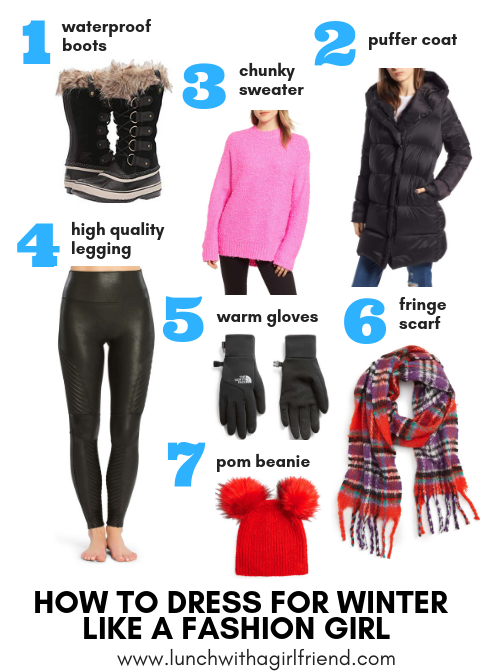 Waterproof Boots. // If my feet aren't warm I know I'll never be warm. So waterproof boots are my number one essential to winter dressing. I love my Sorel winter boots — especially if I'm going to be playing in the snow — the faux fur takes it up from just being another workhorse boot. And you know how I feel about faux fur! Pajar boots are another sturdy and fashionable option. If I'm just out and about then Hunter boots and boot liners are another option. They won't keep you as warm as the Sorel's so plan accordingly.

Puffer Coat. // A really warm coat is a winter weather essential. I've always felt you should really, really like your winter coat because you will see so much of it from November through March. I personally prefer a coat that hits just below my waist and is not too long because I'm just average height. The longer the coat the more you are protected from the elements. But balance that with your height because a long puffy coat adds bulk and can overpower your frame.

Colorful Chunky Sweater. // Good news, chunky textured sweaters are trending right now so there are plenty of options for keeping warm through the winter. Bad news: a lot of them are cropped. Not good for really cold winter days because whenever you lift up your arms it exposes your midsection to a burst of cold air. I always look for a longer length sweater because they work best proportionally with my preferred bottoms (#4 below). The next criteria on my list is color. A pop of color in the middle of a gray winter day always makes me feel a little happier.

High Quality Faux Leather Legging. // When the weather is frightful I really want to wear something that comes as close to a leisure pant as possible. Cue the leggings! There are a variety of options out there but my favorite are the Spanx faux leather leggings because they are thicker and more structured than your typical legging. The finish gives the impression that you are wearing a pair of leather pants. How's that for looking stylish while staying warm?

Warm Gloves. // I've always found gloves/mittens tricky because of the bulk. The last thing I want to do is take them on and off to fumble around for something in my purse or to make a call or text. The Northface e-tip gloves are my favorite because they are lightweight and protective.

Scarf. // Adding a scarf to your winter look is like the icing on a cake. It's your opportunity to add a pop of color to your outerwear. You can wear it tied around your neck over a fully zipped coat or tuck it inside so only a part of it is showing. Either way it's good to have one or two on hand so you can change things up when you get bored.

Pom Beanie. // Pom beanies are so fun and hike up the cuteness factor to your outerwear. As with a fringe scarf, I think it's a good idea to have a few options. If you'll be taking your coat on and off it's best to coordinate with your outfit because once you put it on you won't want to pull it off too often and reveal your hat head.

Lesley Forde Photography
If you like this post please subscribe to receive regular email updates. Did you know that now you can follow a hashtag on Instagram? Follow #lunchwithagirlfriend. For more inspiration, you can also follow me on Facebook and Pinterest .