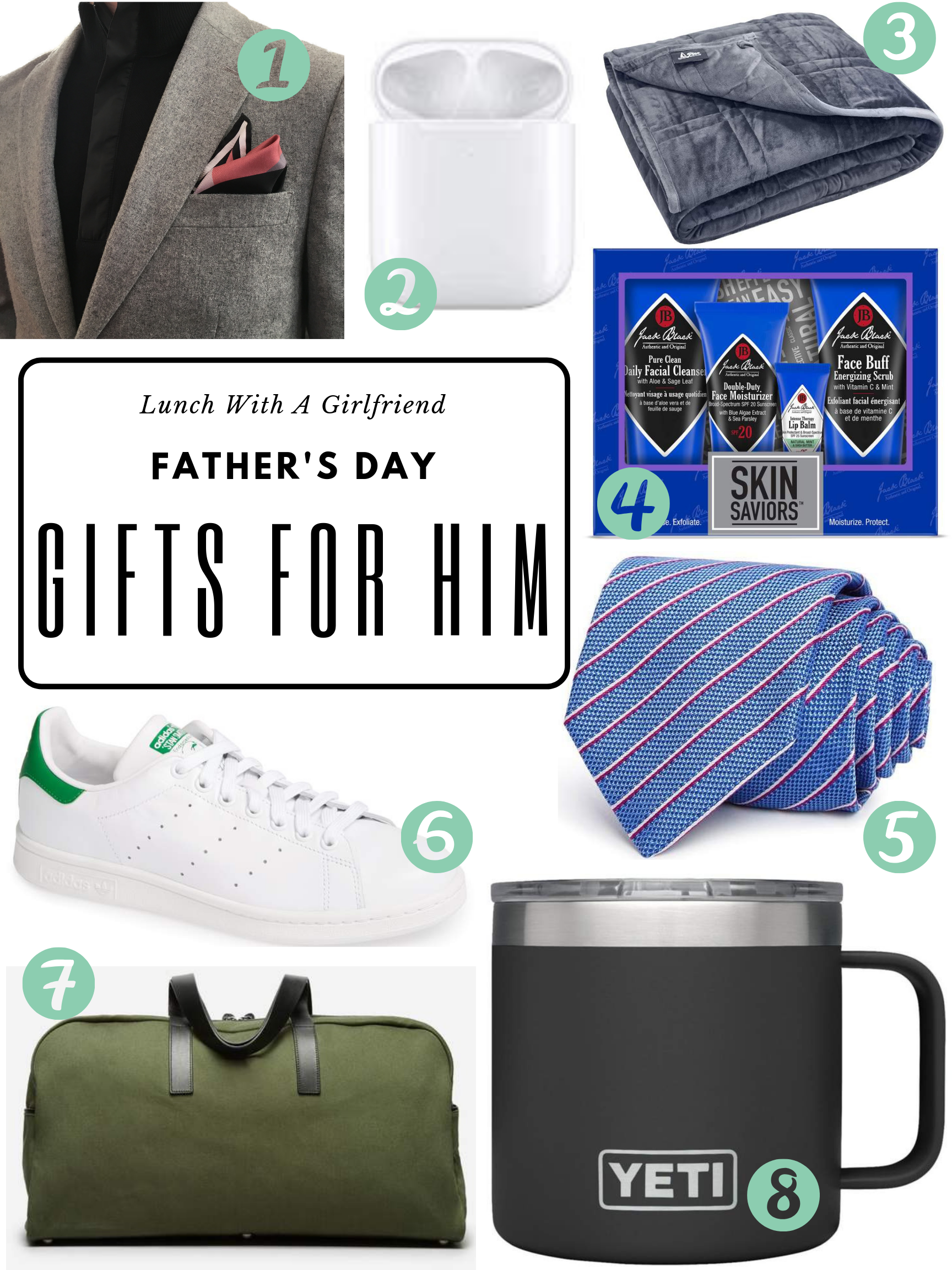 1.// Pocket Square. For the fashion-forward man or the man who likes to keep up with men's fashion, get him a pocket square. So trendy right now and adds a splash of color to his business attire. This one is by The Mannerist, a local Arlington, Virginia-based company. The fabric and designs are simply stunning. They also manufacture high quality leather wallets. Use code GIRLFRIEND25 to get a discount off your purchase at www.themannerist.com
2.// Wireless Air Pod Charger. If he loves his air pods, he'll love the ability to charge them wirelessly. One less thing to plug in at night.
3.// Weighted Blanket.  Help him have a more restful night of sleep with a weighted blanket. I've been hearing about these for a while and hear great reviews about how it improves users' quality of sleep. Make sure to order according to the weight recommendations.
4.// Jack Black Skincare. Most men don't have a clue where to start with skincare. This pack will get him going in the right direction.
5.// Skinny Tie. Like most things in fashion, the skinny tie has made its way back.
6.//Stan Smith Adidas Sneakers. If he doesn't have a pair of white sneakers to wear with his jeans make sure to get him some. Every man in Europe is wearing them, he'll be ahead of the curve here. These are my top pick.
7.// Weekender Bag. If he makes a lot of short trips he'll appreciate a stylish satchel to take with him on the go.
8.//Yeti Travel Mug. I haven't met a man that doesn't like a Yeti. Great for keeping dad's coffee hot.
If you like this post please subscribe to receive regular email updates. Did you know that now you can follow a hashtag on Instagram? Follow #lunchwithagirlfriend. For more inspiration, you can also follow me on Facebook and Pinterest .