If you follow along on Instagram then you know I was in Spain two weeks ago. I accompanied my husband on an annual business trip to Barcelona. I never say no to an opportunity to go to Europe especially to one of the European fashion capitals. In addition to taking in the fine dining, art, and culture — I spent a good chunk of my time checking out the Spanish fashion scene.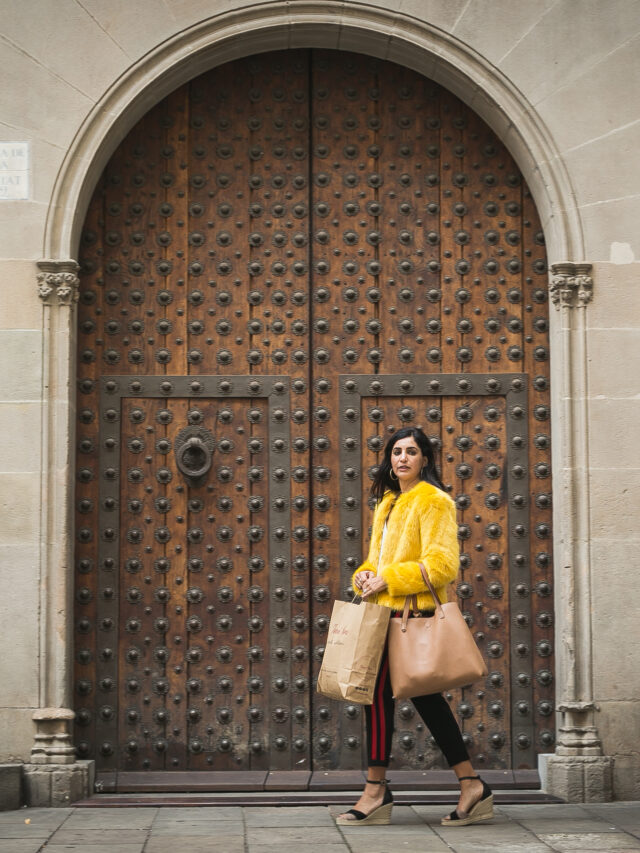 European retailers are always showing merchandise that is ahead of what we are able to find in the U.S. so I particularly enjoyed seeing a glimpse of the fashion that hasn't yet made its way here. Fortunately many of these stores have an online presence and ship internationally to the U.S. so shopping at these stores are just a few finger taps away for us Americans. Que Bueno!
Zara
Zara is the most famous Spanish retailer outside of Spain. Zara's parent company owns several subsidiary brands that are popular throughout Europe. You've probably already heard of Zara because they have a substantial presence in the U.S. but unfortunately the merchandise we see here is not what's sold in stores in Europe. Fashionistas love Zara because it focuses on fast fashion: the brand is able to quickly and inexpensively imitate current styles seen on Paris runways. Their clothing is appropriate for work and the weekend. www.zara.com

Mango
Mango was founded in Barcelona in 1984. They are Zara's main competitor. Like Zara, Mango focuses on fast fashion and producing good quality, trendy clothing at affordable prices. You'll find clothing and accessories appropriate for work and for date night. At one point there was a Mango store at a mall in the Northern Virginia suburbs but I never went into it. I regret that now because Mango has become one of my go to retailers. Mango's presence in the U.S. is not as strong as Zara's. Our loss. But there's still the internet at least. www.mango.com
Bimba y Lola
A list of top Spanish retailers would be incomplete if I didn't mention Bimba y Lola. This is a popular Spanish womenswear brand founded by two sisters in 2005 (the company is named after their pet dogs). Their clothing is typically loud, bright, and playful. I'll be honest, it's not necessarily my style, but they are a major fashion label in Europe. www.bimbaylola.com
Massimo Dutti
Massimo Dutti is a Spanish brand founded in Barcelona with an Italian name. It is also owned by Zara's parent company and has a reputation for upscale merchandise at an affordable price point while still on the cutting edge of trends. Originally the store focused on menswear but later incorporated women's fashions. Massimo Dutti brings fast fashion to young men who are interested in tailored clothing (think European slim cut clothing) without the expensive price tag. There was a Massimo Dutti store in Washington, D.C. but it suffered a pandemic fate. Shop online at www.massimodutti.com
Uterque
Uterque is also owned by Zara's parent company. I didn't take notice of Uterque until last week but I'm so glad I did. It has the same modern feel as Zara but their price point is slightly higher. Their clothes have a feeling of increased quality too. Unfortunately they do not ship to the U.S. yet. www.uterque.com
Desigual
Desigual is a clothing brand headquartered in Barcelona. It's easy to pick a Desigual piece out of a crowd. Their clothing has a distinctive patchwork aesthetic that is playful and eye-catching. They sell clothing for men, women, and children. They have a growing presence and have even collaborated with a major Paris fashion label. www.desigual.com
Bershka
I fell in love with Bershka on my first visit to Barcelona. They are owned by Zara's parent company. Consider Bershka to be Zara's younger, cooler cousin. This Spanish retailer was my first stop this year. If you are looking for fun pieces in eye-catching colors this is your new go-to. I've bought several faux fur jackets in fun colors and other trendy pieces from Bershka. They've held up well and they were inexpensive too. Asos is a British online store that ships Bershka merchandise to the U.S. with free shipping and free returns too. But you can also shop directly at Bershka. www.bershka.com
Pull & Bear
Pull & Bear is also owned by Zara's parent company. It has a colorful California-loving beach vibe. Their price point is right on par with Bershka. www.pullandbear.com

If you like this post please subscribe to receive regular email updates. Did you know that now you can follow a hashtag on Instagram? Follow #lunchwithagirlfriend. For more inspiration, you can also follow me on Facebook and Pinterest .