Usually at this time of year I would be on an annual trip to Barcelona. It didn't happen this year but I can't help reminiscing about my favorite places to visit. I've spent about three weeks in total in Barcelona so I feel like I have a good grasp of what to see and where to go. In today's post I'm sharing everything I've learned.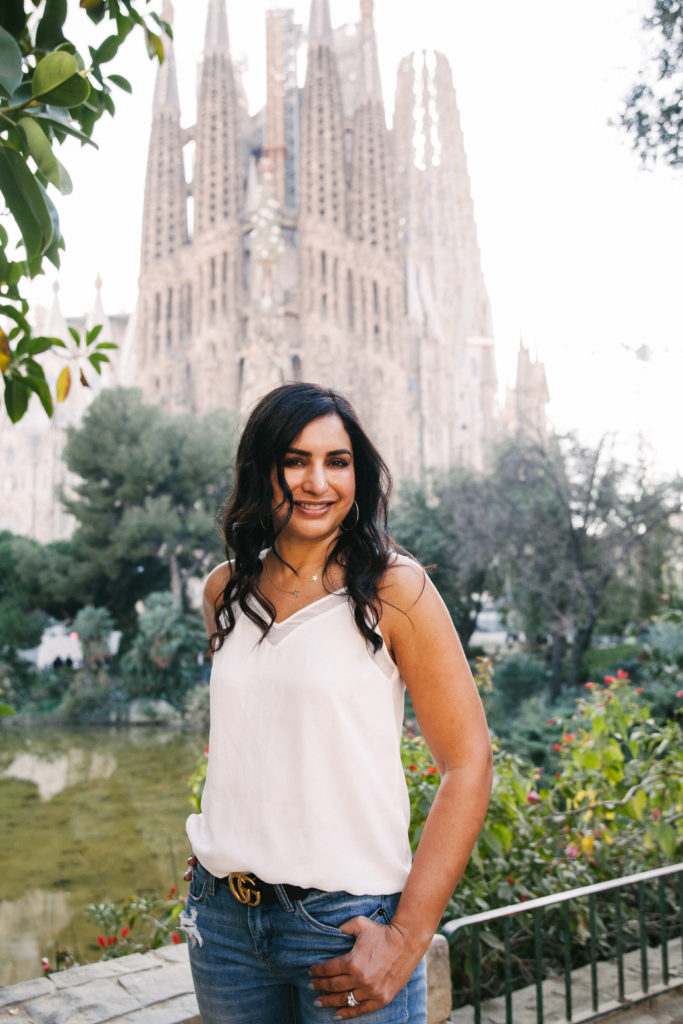 Barcelona is best seen on foot. Most of Barcelona's tourist sites are clustered in the old city encompassing the Gothic Quarter and Born neighborhoods and along Passieg de Gracia (a high-end shopping and business avenue in Barcelona). Two places you definitely want to visit are located a short cab ride away from those neighborhoods: the Basilica de Sagrada Familia and Park Guell. But don't let their distance deter you — they are absolutely worth the visit.
Basilica de Sagrada Familia
You won't want to miss a visit to the Basilica de Sagrada Familia. Sagrada Familia is a temple in Barcelona designed by Spanish architect Antoni Gaudi — a well known leader of an eclectic, modern style of design in the late 19th and early 20th centuries. Sagrada Familia is the most famous of Gaudi's works and the largest unfinished Roman Catholic Church in the world. Gaudi worked for 43 years on the temple until his death. Construction continues to this day. It is expected to be completed in 2026 on the centennial of Gaudi's death.
➵ Pro Tip: For Instagram-worthy photos of Sagrada Familia, head to the rooftop of Ayre Hotel Rosselon. Grab a cocktail, watch the sunset, and snap some picture-perfect photos of the historic church.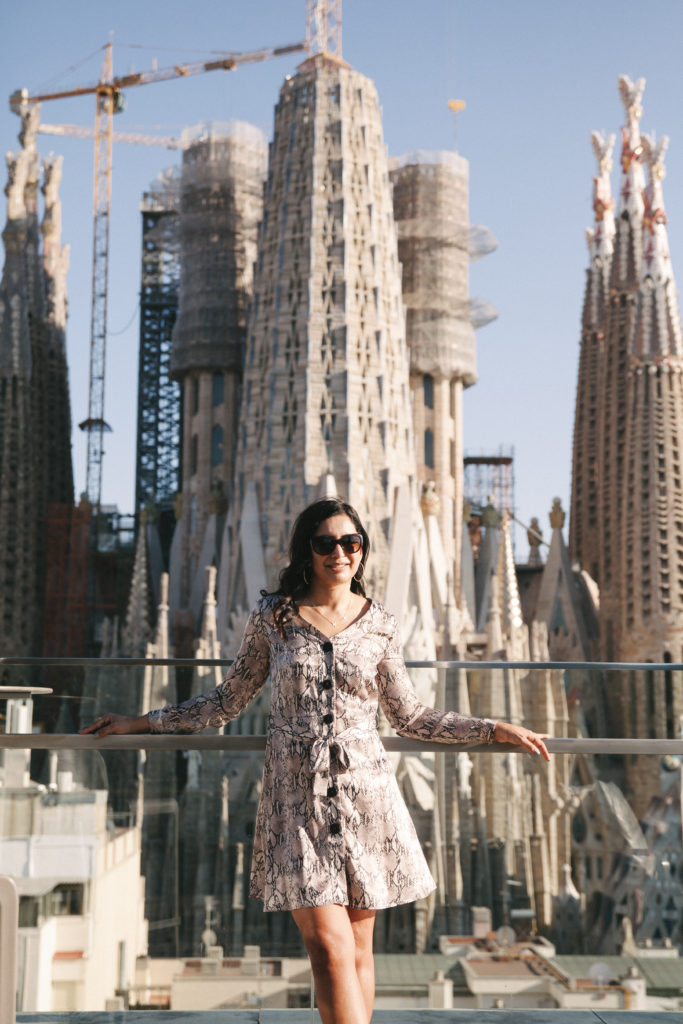 Park Guell
Park Guell is a public park designed by Antoni Gaudi. It is filled with gardens and unique architectural features. If you are traveling with kids, Park Guell is a must-do because after you've taken a few minutes to admire Gaudi's works you can head to the playground and have a picnic. Park Guell is high in the hills so plan your footwear accordingly.
➵ Pro Tip: There are many vistas at Park Guell in which you can capture the city of Barcelona below you.
Catedral de Barcelona
The Cathedral of the Holy Cross and Saint Eulalia is also known as the Catedral de Barcelona. It is a Gothic-Revival church in the old city. It's simply stunning to see (remember to dress appropriately: knees and shoulders covered). Walk around the adjacent Gothic Quarter. A short walk from the Cathedral is Post del Bisbe, a picturesque Neo-Gothic bridge that unites the Palau de la Generalitat (home of the Catalan government) with the Casa dels Canonges (Canon House).
➵ Pro Tip: It's difficult to photograph the entirety of the cathedral from the front (it's too tall and too wide). Walk along Carrer de Joaquin Pou a short distance away and the buildings along the street frame the cathedral perfectly.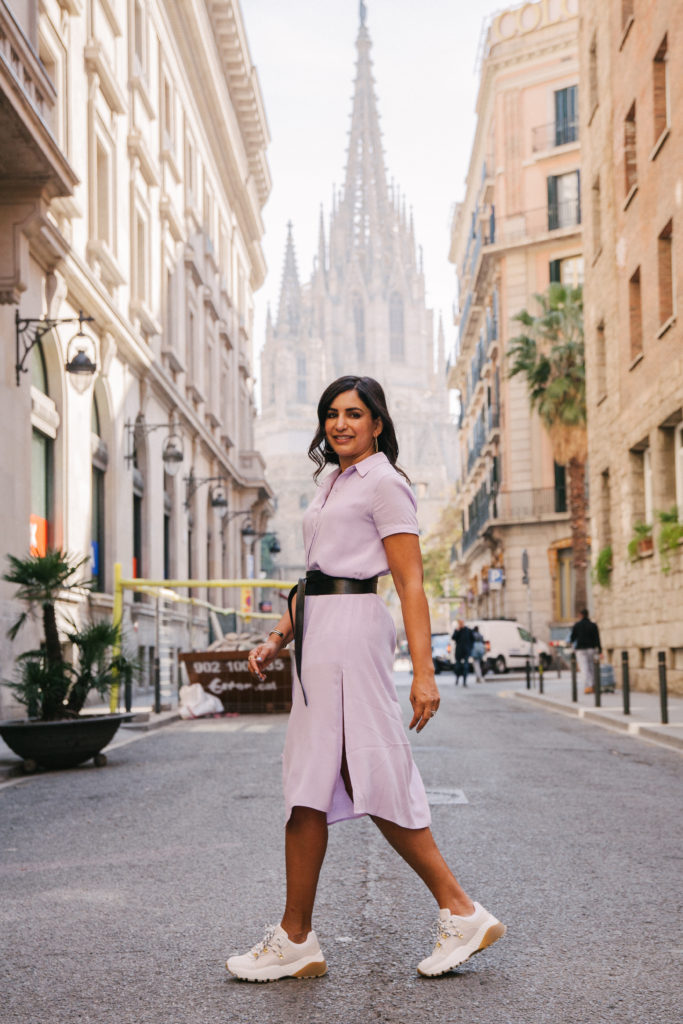 ➵ Pro Tip: For three Euros you can take the elevator to the cathedral roof. You'll see spectacular 360-degree views of the city and a unique perspective of the Cathedral for your photographs.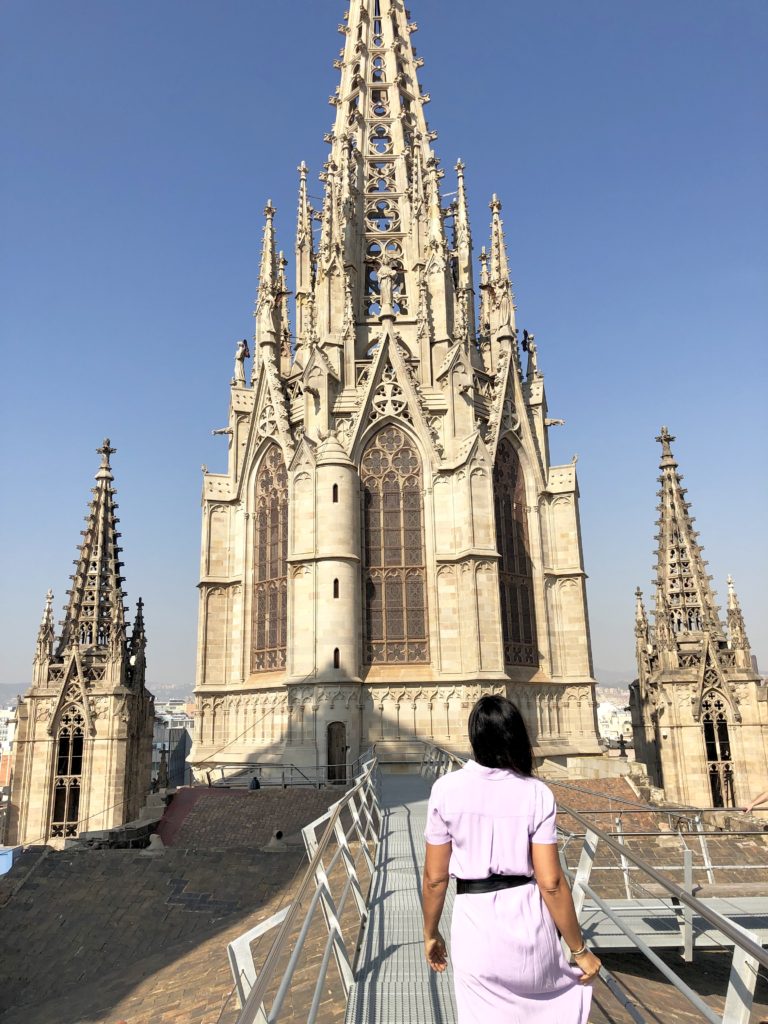 Picasso Museum
The born neighborhood is home to the Picasso Museum. Admittedly, I'm not much of a museum person (I get bored easily, sorry) but even I couldn't pass up an opportunity to visit this one which showcases the artist's work from an early age to some of his most famous paintings.
La Rambla
La Rambla, or Las Ramblas as it is more often called, is a famous street in Barcelona. On Saturday and Sunday there are clothing and arts and crafts vendors set up along the pedestrian mall. It extends from Place Catalunya to the Christopher Columbus memorial down at Port Vell.
La Boqueria
Take a walk down Las Ramblas and then visit La Boqueria which is nearby. La Boqueria is a large public market in the old city. The sheer size and variety of food items is a sight to see.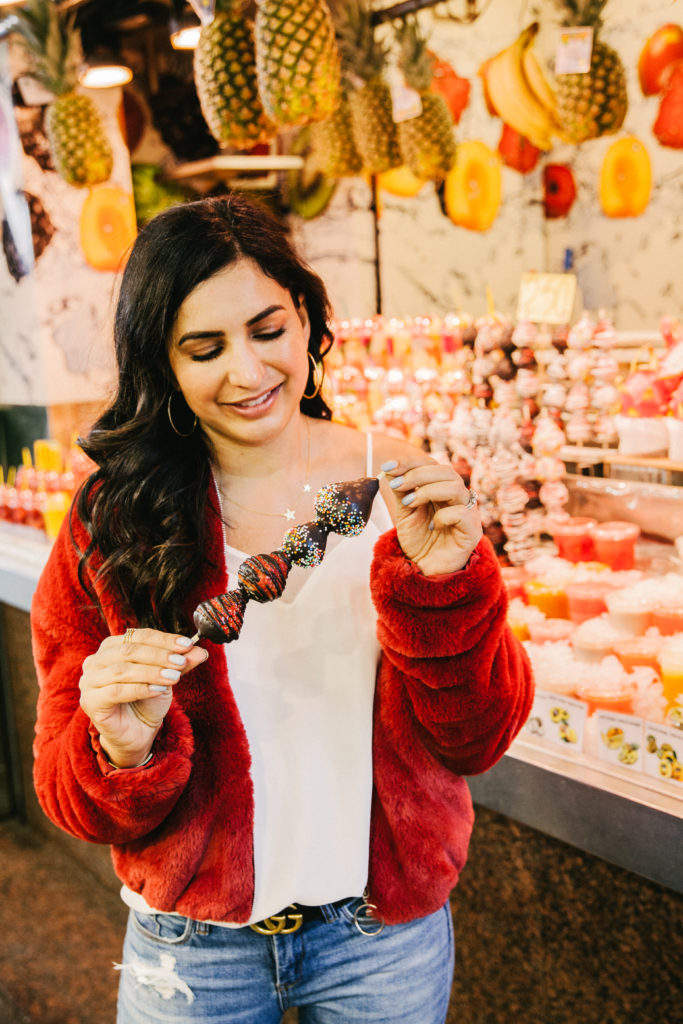 Casa Mila – La Pedrera
See Antonin Gaudi's architecture up close at Casa Mila. Casa Mila is the last private residence — an apartment building — designed by Gaudi. Casa Mila is located along the popular shopping and business avenue, Passeig de Gracia. Walking along the street you'll know instantly that you are coming upon something special (even if you are not aware of the significance). The stone facade and curved wrought iron balconies are a sight to behold.
➵ Pro Tip: Head to the roof for your best photographs of Casa Mila-La Pedrera. There are chimneys in groupings that some say provided the inspiration for Storm Troopers and Darth Vader.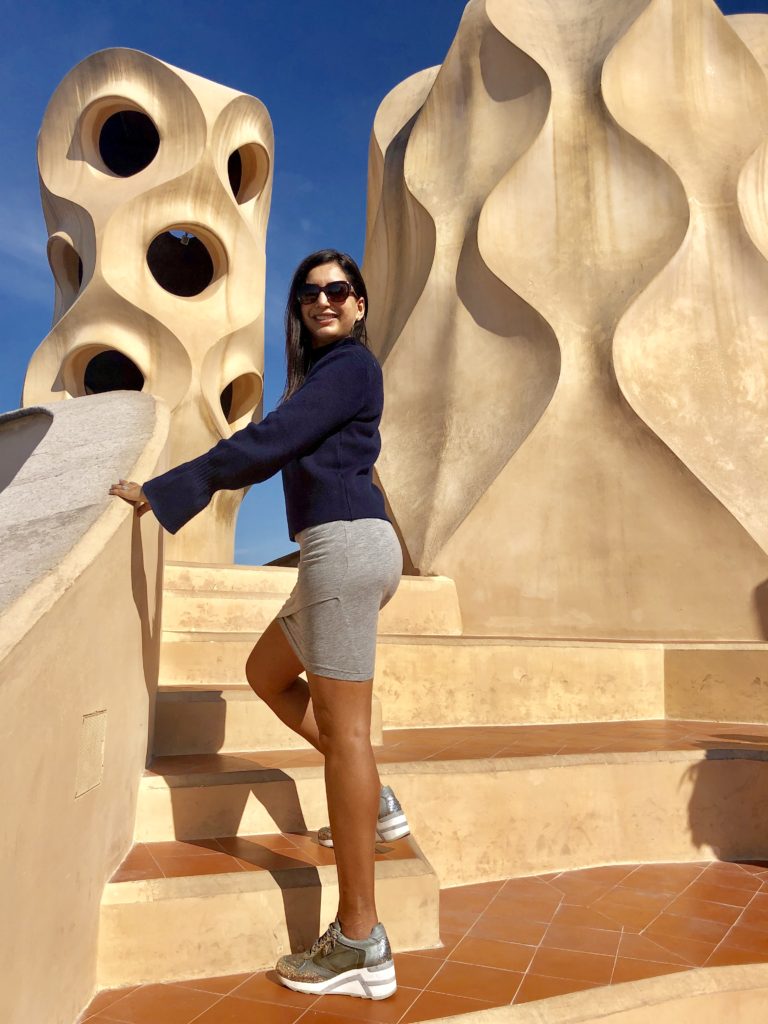 Casa Battlo
Casa Battlo is another Gaudi masterpiece just down the street from Casa Mila. It is a home redesigned by Gaudi in 1904 for a wealthy textile industrialist with a home on Passieg de Gracia. The facade is decorated with colorful mosaic tiles and the roof is arched (in the form of a dragon).
➵ Pro Tip: For the most spectacular pictures, head to the rooftop and get photos by the dragon. The outdoor patio is also a beautiful place for photos.
Barcelona Promenade
The Barceloneta is a seaside neighborhood in Barcelona right on the beach. In addition to the beach, come here for al fresco seafood, tapas, and nightlife. The area reminds me a lot of Washington Harbor if you are in the D.C. area or Darling Harbour in Sydney if you've been fortunate to visit.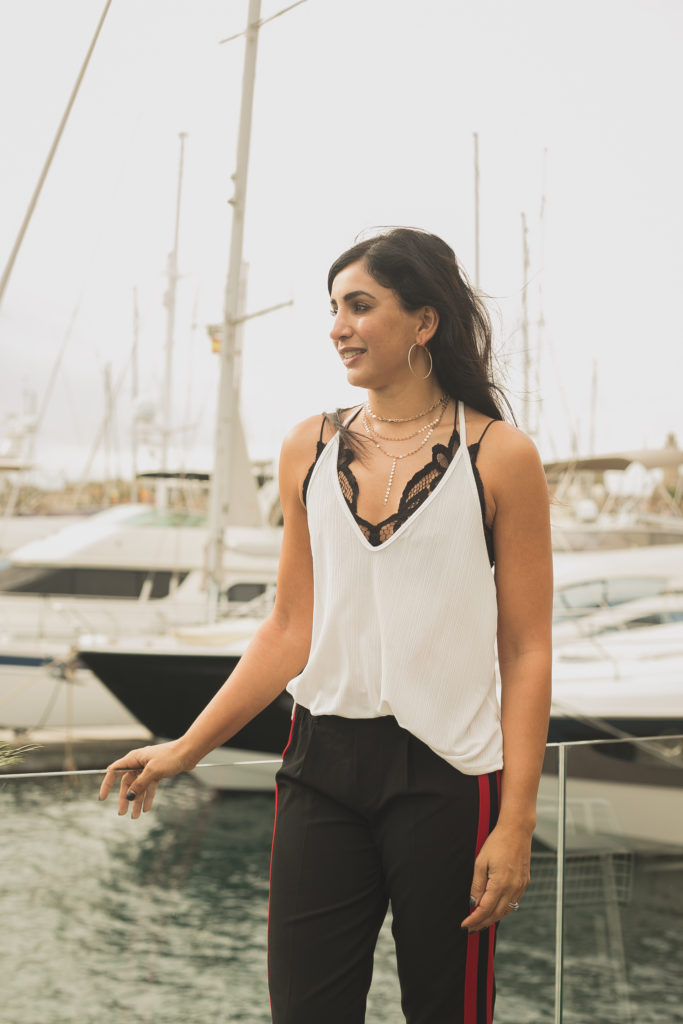 If you like this post please subscribe to receive regular email updates. Did you know that now you can follow a hashtag on Instagram? Follow #lunchwithagirlfriend. For more inspiration, you can also follow me on Facebook and Pinterest .