Online clothing retailers are popping up everywhere. Carbon 38, Red Dress Boutique, and Lulus to name a few. They are all over your social media feed and the ads in your email. The clothing looks great — it's just your style too! Of course it is, Google and Facebook are making sure that your interests match their advertising. You've been wanting to place an order but you don't have time to deal with a load of junk in the mail and the awful feeling of throwing your money down the toilet. I've tested out a few of these online retailers in the last few months and today I'm providing an honest review of them. Opinions are entirely my own.
Blazer Dress from Vici Dolls (sold out) similar here, here, and here | Sock Bootie | Belt | Earrings (available at Vici Dolls) | Sunglasses | Luggage by Away
Vici Dolls
If you have an Instagram account or engage in fashion-related content, you've probably seen an ad for Vici Dolls. Vici is an online retailer with two brick and mortar stores in California. I've had really good luck with Vici clothing. Everything I've ordered has been made well and the sizing seems right where it should be. One of my favorite things about shopping at Vici is that they are always getting in new merchandise. This is one retailer where I enjoy receiving their emails in my inbox because there is always something new. Another bonus is that once you order from them you will regularly receive 20% off and free shipping discount codes. Their biggest drawback is their return policy. Returns are accepted for store credit only. So once they get your money, they have it. Return shipping, however, is luckily now free which is a relatively recent change. The upside is I don't mind having store credit here because there is always new merchandise I am interested in. Recommendation: Overall, Vici's quality and selection is very good. Their store credit only policy is tolerable because they have an extremely large selection of merchandise and new product launches weekly.
Lulu's Fashion Lounge
Lulu's Fashion Lounge, often referred to simply as Lulu's, is an affordable fast fashion clothing retailer. Lulu's is based in California and has been in existence since 1996. So even if you are just now hearing about it, rest assured it is a legitimate company. I ordered a spring dress, a pair of wide leg pants, and a blouse from Lulu's. I ended up returning all but the dress mostly because of fit. The clothing tends to run small so make sure you check their size chart carefully when ordering. I love the dress that I kept, but if I'm being honest, the quality is not something that will hold up well over time. It is on the cheaper side for sure but because the dress fit, was at a price point that matched the quality, and is unlike anything I already have I was willing to keep it. Returns made within ten days of delivery are free using a return label provided by the company. After that, returns are accepted within 30 days of delivery at your own expense. ➵ Recommendation: Lulu's is a great resource for fast fashion. They have a huge selection of dresses. Their return policy is fair and more generous than most online retailers. Be sure to check the size chart prior to ordering.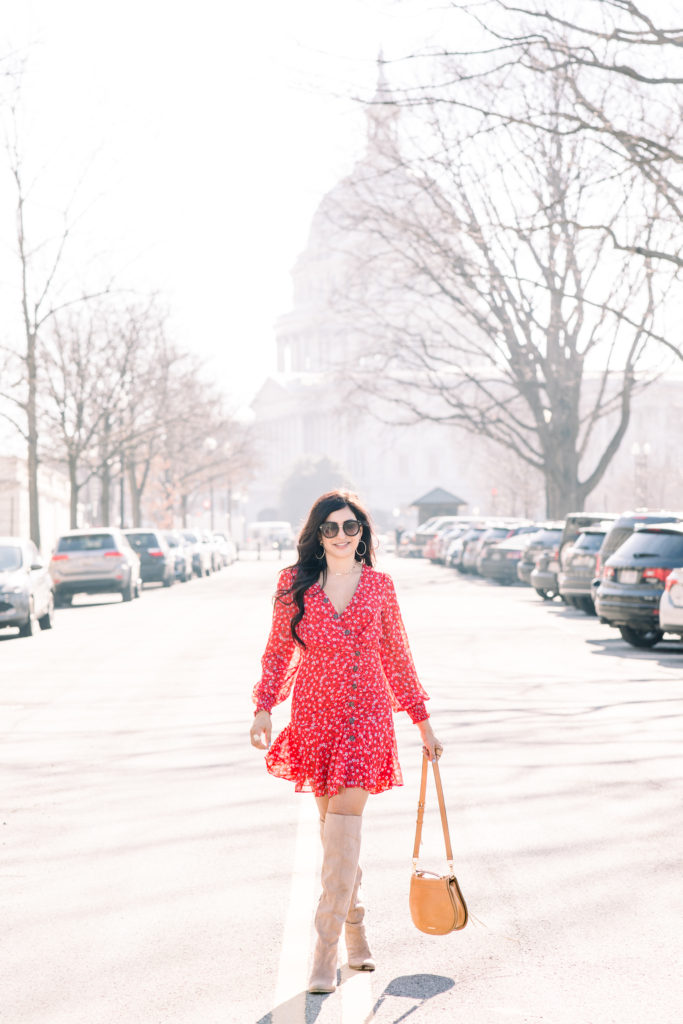 Floral Dress | Over The Knee Boots | Purse (old, similar) here | Sunglasses
Red Dress Boutique
I'd been impressed with what I'd been seeing online in advertisements for Red Dress Boutique. The clothing is feminine and on pace with what's trending. Items are priced significantly lower than the designer labels they are copying. This is just the type of clothing boutique you turn to when you want to update your wardrobe with current trends without making a hefty investment. The website is easy to navigate and the presence of a brick and mortar store in Georgia was enough to give me some confidence in the company. It wasn't until I started doing some internet research that I learned that the owners of Red Dress Boutique pitched their online retail concept on Shark Tank and received a hefty investment that put this company on the e-commerce map.
My experience with Red Dress was entirely positive. My order arrived in tidy packaging with a note from the store owner. I love attention to packaging. It immediately gives me confidence that some care was provided in putting my order together. The quality of my items was also very good and on par with my expectations based on the description from the website. The all-important return policy (especially when dealing with an online retailer) is what you would expect: Returns for refund within 14 calendar days of receiving the order, returns accepted for 30 days for store credit. No returns on final sale merchandise. Shipping is free with a $50 purchase. ➵ Recommendation: Give it a try. You'll be generally happy with the quality, though there is some variation within the brands. Make sure you open your package quickly though. Returns have an expiration date.
Photography by Lesley Forde
If you like this post please subscribe to receive regular email updates. Did you know that now you can follow a hashtag on Instagram? Follow #lunchwithagirlfriend. For more inspiration, you can also follow me on Facebook and Pinterest .