A few months ago I stopped by a girlfriend's house for an in-home shopping party and charity fundraiser. As she introduced me to another friend, she complimented my outfit, a departure from my typical attire at our daughters' Sunday morning soccer games. I listened as she explained to her friend that I typically dressed like a stylish "tomboy" and proceeded to describe my usual attire of ripped jeans and tee shirts. I'd never thought of my personal style in that way before but I think she hit the nail on the head. I'm just gonna call it, "Tomboy Chic". It's my uniform. And as I reflect on it, it's been my style for years.
The basics of Tomboy Chic are simple: tank tops, tee shirts, cut-off denim shorts, jeans (distressed jeans, even better!), sneakers, jean jackets, suede and leather jackets. Trucker hats are a recent addition to my ensemble (you can read more on why here) but it fits in tomboy chic perfectly.  Throw in some camo, plaid, and tie dye and you've got all the basics covered. If I opt for a dress it's usually a simple tank dress.  On occasion I wear the more feminine fit and flare or midi style dresses but I'll usually pair them with a baseball cap or leather jacket to tone down the femininity of the outfit. Nothing against feminine looks, it's just how I feel most comfortable wearing those styles.
The bones of my personal style work well with my mom lifestyle. It's comfortable for chasing after kids and running to and from soccer and baseball fields.  But a tomboy look if not done right, can look sloppy or frumpy which is the OPPOSITE of what you want.  It's important to choose your pieces and fit carefully.  I usually only wear one piece with distressing at a time. An ill-fitting shirt or jeans can ruin the look completely. If I wear an oversize tee I try and pair it with a fitted pair of jeans. Next, I add a piece with texture like a suede or leather jacket or a pair of sneakers with a pop of color makes a simple outfit of jeans and a tee feel special. Simple jewelry or curled hair completes the outfit and takes it from simple casual to chic.
Here's a quick guide to the basics for achieving a Tomboy Chic look.
1. Denim Jeans
Choose your denim carefully. It's a canvas to showcase the rest of your outfit. While it's tempting to buy a less expensive pair of jeans I've found that this is an area of your wardrobe where it's worth splurging. A great pair of jeans with just the right amount of stretch and structure can tuck in the booty and make your legs look long and lean. This season high-waisted jeans are on trend and that has me jumping for joy. They keep the belly tucked in nicely. As far as brands go, I personally find that Hudson, Seven, and AG Jeans fit me perfectly. Blank NYC is at a lower price point and I really like their jeans too.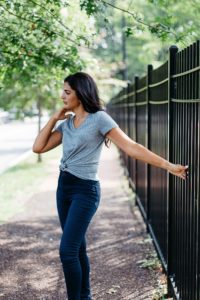 2. Shirts and Tanks
I love that shirts and tanks have been revamped in the last year. Distressed tees, lace up detail, side ties, and statement tees add a twist to the basic v-neck and crew neck styles of the past. I still love a simple tee but it's nice to add some variety with these added details.
3. Jackets
A suede or leather jacket can take your casual look up a notch by adding texture to a basic outfit. A denim jacket is great too but be careful about mixing blue denims on top and bottom–it can go wrong really fast. A blue-denim jacket is better with white or black denim jeans. I personally have the jackets below in my closet and I love them all!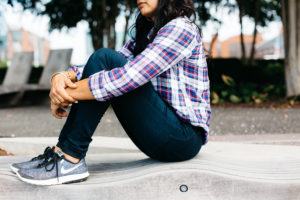 4. Sneakers
We are so lucky there are so many great sneaker styles available right now. Nike has always been a wardrobe staple along with the classic Converse Chuck Taylor, but Adidas, New Balance, and Puma have really upped their game. There are so many great styles available, you really can't go wrong! Here are some of my favorites.
If you like this post please subscribe to receive regular email updates. Did you know that now you can follow a hashtag on Instagram? Follow #lunchwithagirlfriend. For more inspiration, you can also follow me on Facebook and Pinterest .