Last week I posted a picture of our house as the snow was falling. Everything looks so beautiful with a dusting of snow. I received several messages asking about our white house paint colors and other details about our house. Our exterior house makeover is a process we began five years ago. We've made several tweaks to it since then to get the colors and the overall look just right. Today's post is all the details about that process, what we did, and the white paint colors we used.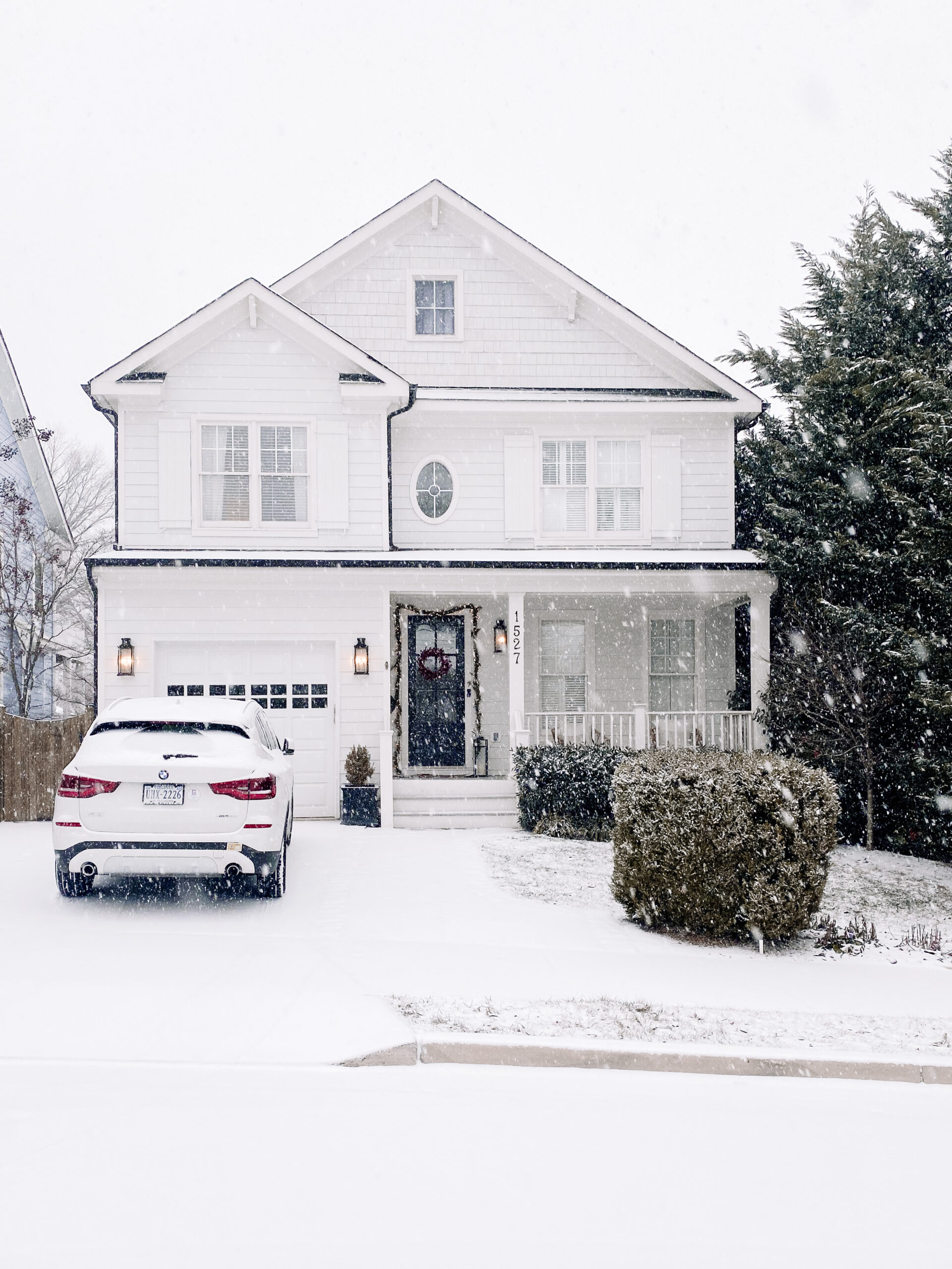 About five years ago we did an exterior makeover of our house. At that point our home was ten years old and the paint (which was formerly a dark green color) was fading and chipping. Rather than simply repaint with the same colors we decided to give the exterior a complete overhaul. Picking a paint color in any room of your house — let alone the exterior — is not as easy as it seems it should be. With a smaller space if the color is off you always have the option to repaint. But with a house exterior the cost is so enormous that the option to repaint — at least for us — was not available. We knew we had to get this right the first time.
This is what our house looked like in the Fall of 2016 when we began our makeover project.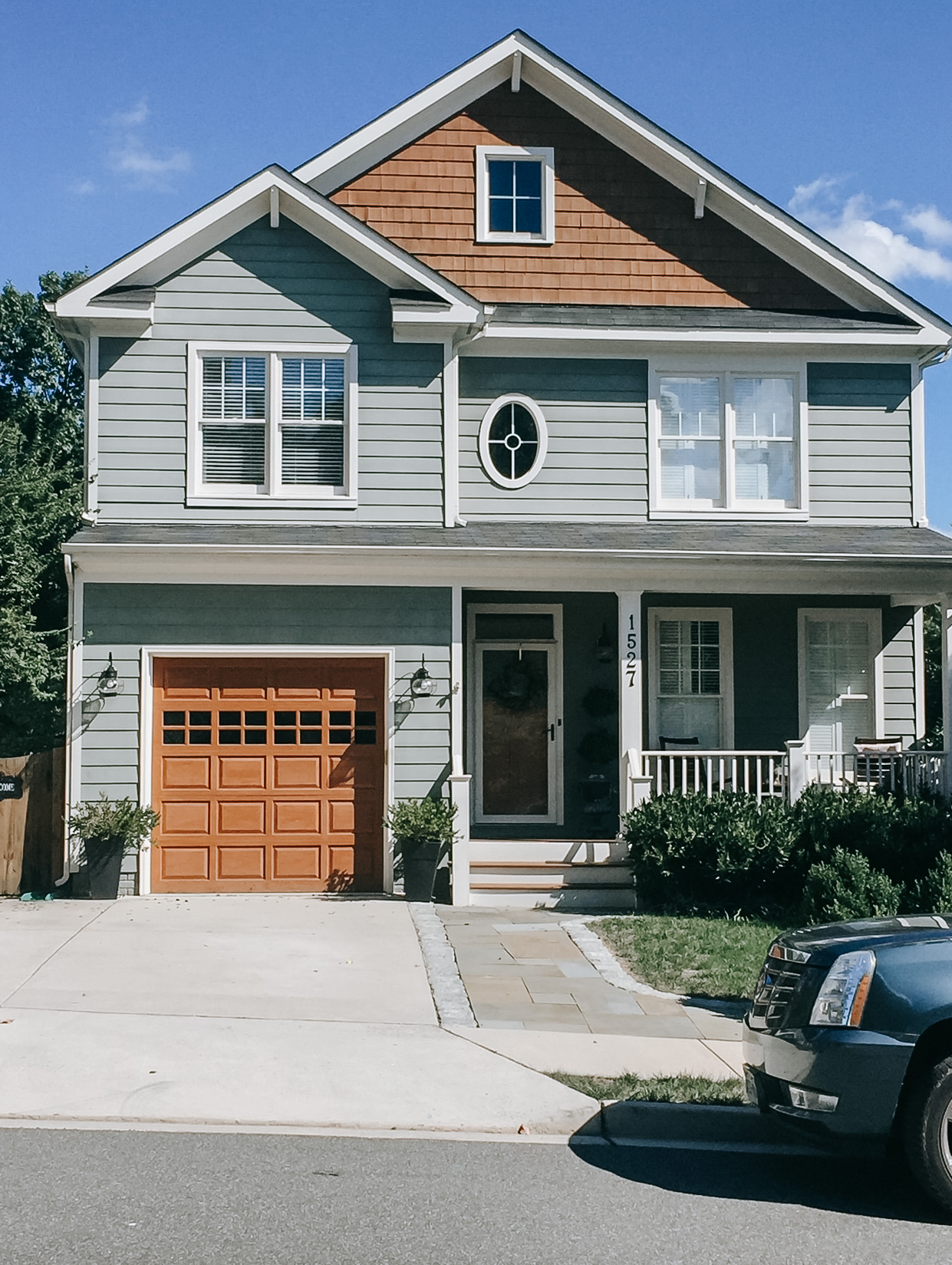 Our house was a spec home when we bought it and I chose this trendy green color in 2006. By 2016 we had grown sick of it. We knew we wanted a complete makeover. It took a long time to settle on a color scheme for our new exterior. I bought a bunch of grey paint samples and painted large swatches on our house but we didn't like any of them. It wasn't the change we were looking for.
Fresh out of ideas I headed over to Pinterest for inspiration. On Pinterest I began pinning pictures of houses that I liked and that's when I noticed a common theme in my love for white houses. This is what we dreamed of emulating (images courtesy of Pinterest).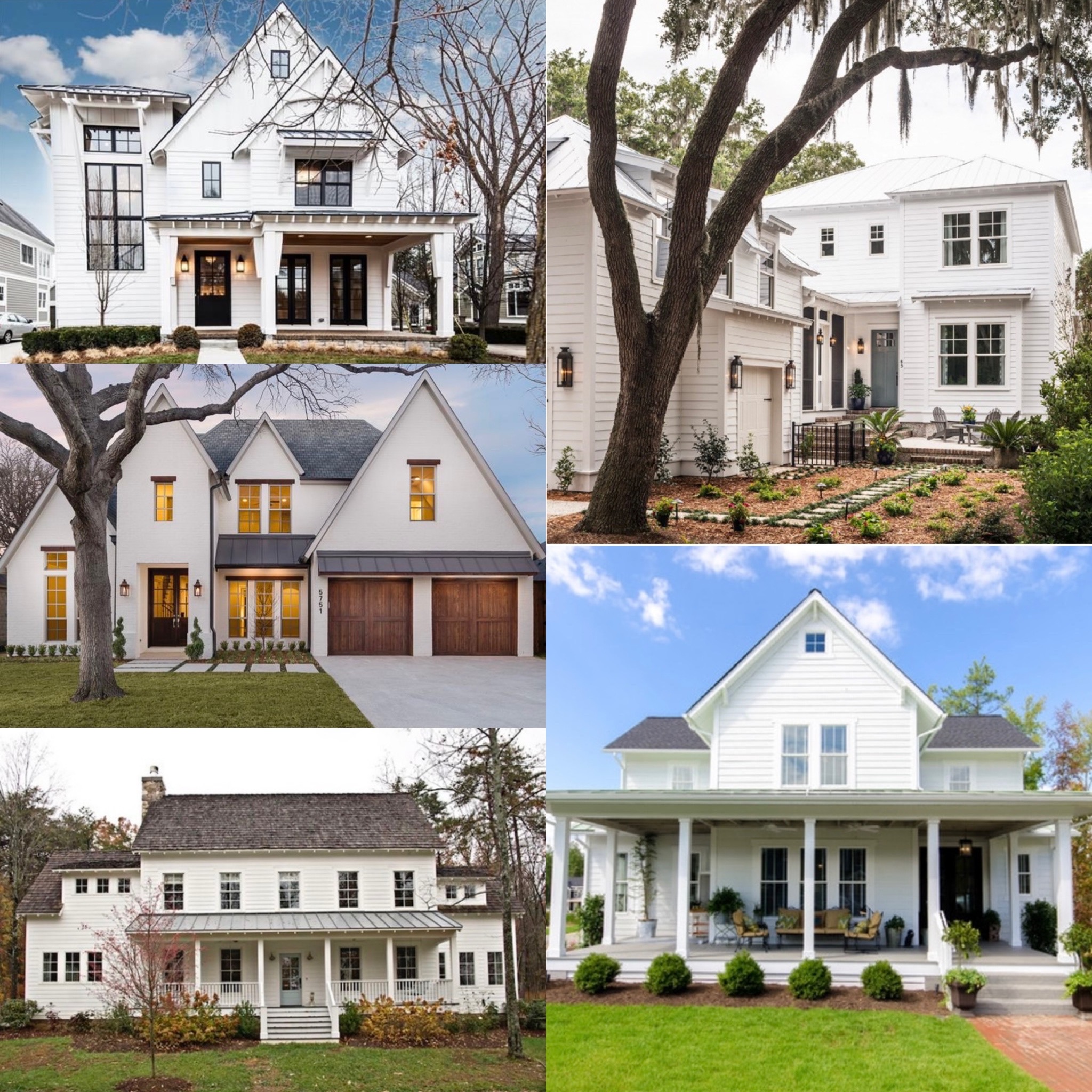 The most important thing I learned from Pinterest is that it is great for inspiration and ideas but ultimately your house itself will dictate what works and what doesn't work. So many of the ideas I found were great for providing direction but we had to take a good look at the structural composition of our home and decide if the idea actually worked.
After settling on a white house exterior, choosing a white paint color proved to be another stumbling block. There are so many beautiful white paint colors and the difference (to me at least) is hardly noticeable but on a large scale getting the right white is really important. This is when I began driving around town and looking for white houses that I liked. In a few brave instances I even knocked on neighbors' doors to ask about their paint color. Eventually I settled on James Hardie Arctic White which is actually a hardiplank color that Sherwin Williams was able to color match. We used Benjamin Moore White Dove (OC-17) for the trim. We painted the foundation Sherwin Williams Repose Gray (7015). The lines on our house are simple but I wanted them to stand out more so we chose a metallic bronze paint for the gutters.
During the process of painting our house we had a major decision to make. We have cedar shingle on the top third and we knew that once we painted it we would not be able to go back. We took some time with this decision but ultimately we knew the entire facade should be the same color. The shingles add texture and it works out well that it's not the same hardiplank as the rest of the house. We stained the wood front porch Cabot Platinum Gray.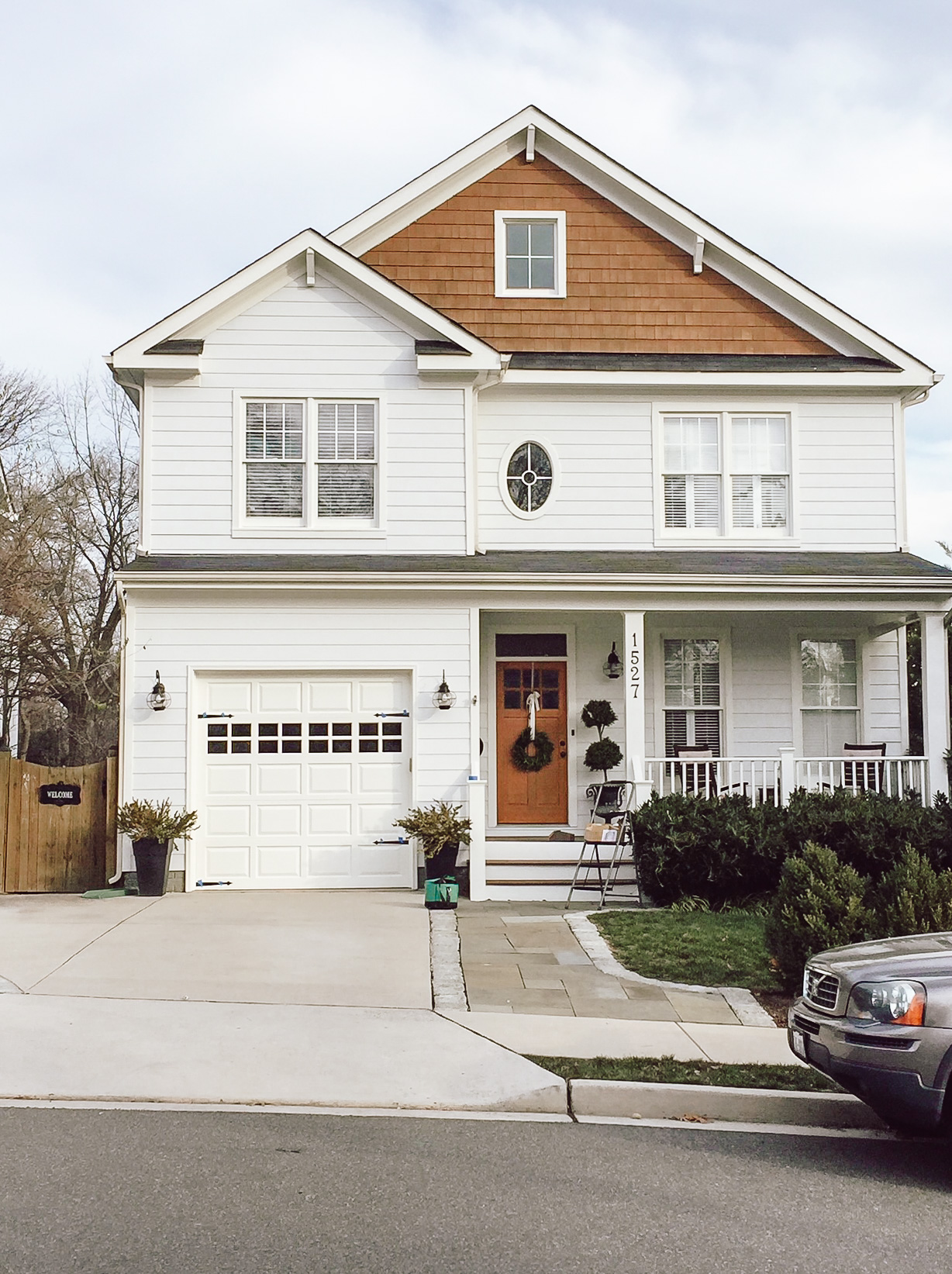 :: Shutters and Garage Door
The shutters and garage door became additional decision points. Originally our house did not have shutters. Then we added them to the two big windows on the upper floor. At first we painted them black based on what I admired on Pinterest. But it just didn't look right on our house. The black shutters reminded me of a traditional colonial style house and that was not what we were going for. Ultimately, on the advice of Gerry Zeiler, our trusted friend and interior decorator, we painted the shutters and the hardware the same color as the house trim, Benjamin Moore White Dove. That still didn't look quite right so a few years later we repainted them to match the house color, Arctic White.
Likewise, it took a few tries to get the garage door just right. In the first iteration we painted it Benjamin Moore White Dove (the same color as the trim and shutters) and added some details to the garage door to give it a carriage door feel. But the garage door didn't blend with the rest of the house so when we repainted the shutters we also repainted the garage door (they are both Arctic White) and removed the carriage door details. Sometimes it takes a few tries to get the right color and style combination!
:: Front Door
I am obsessed with front doors. I always have been. Secretly I had been wanting to replace our front door since we moved in — but front doors are expensive and I didn't want to be wasteful. We had reached a point, however, where problems with the original installation of our front door were creating safety issues (not to mention heat loss) so we decided it was time for a replacement. For a time our house had a glass storm door because of the southern exposure. I love how much light poured in through the front of the house. We removed it when we did the exterior paint makeover because with the front door set back under the porch the front didn't stand out as much as needed it to hidden behind a storm door.
For our new front door I knew I wanted something that would bring in a lot of sunlight. I admired the front door at a dear friend's house after their remodel so I got the information from her and ordered the exact same door. We removed the glass transom and ordered an 8 foot door. We painted it Benjamin Moore Black (2132-10) in a glossy finish. Because of the dark finish the front door pops against the rest of the house and doesn't fade into the background as it once did. To finish things off we swapped out the sconces and chose modern fixtures to match the simplicity of the new style.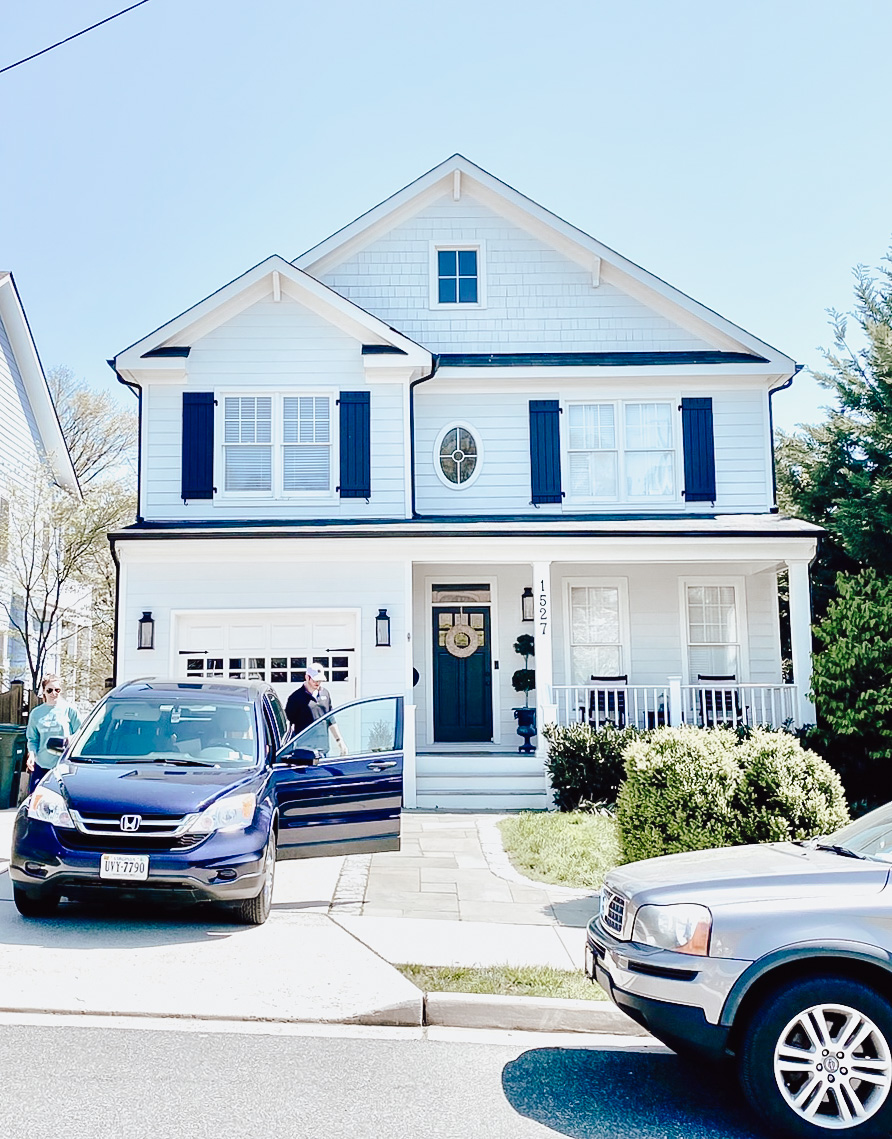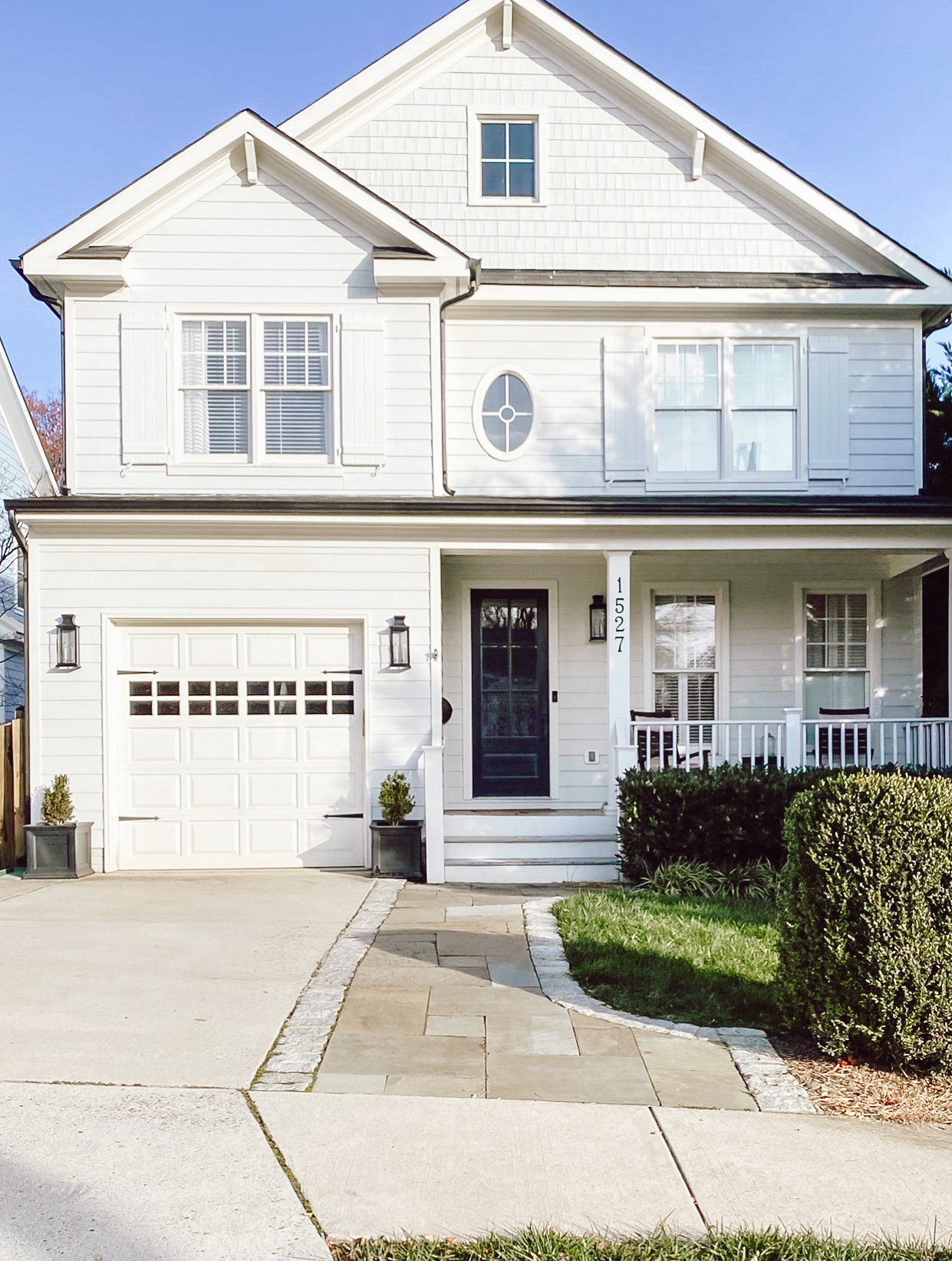 It's amazing what a difference a coat of paint can make. What do you think of the changes?
Shop the Post

If you like this post please subscribe to receive regular email updates. Did you know that now you can follow a hashtag on Instagram? Follow #lunchwithagirlfriend. For more inspiration, you can also follow me on Facebook and Pinterest .