Washing my hair less frequently has made a huge difference in the health of my hair. I used to feel like I had to wash my hair everyday. I believe most of us do. The result was that my naturally curly hair was overdry, brittle, and — worst of all — frizzy. I've noticed a tremendous difference in the health of my hair from washing less often. Plus it significantly cuts down on my getting ready time as a busy mom. Today's post is all about my lazy girl hair routine.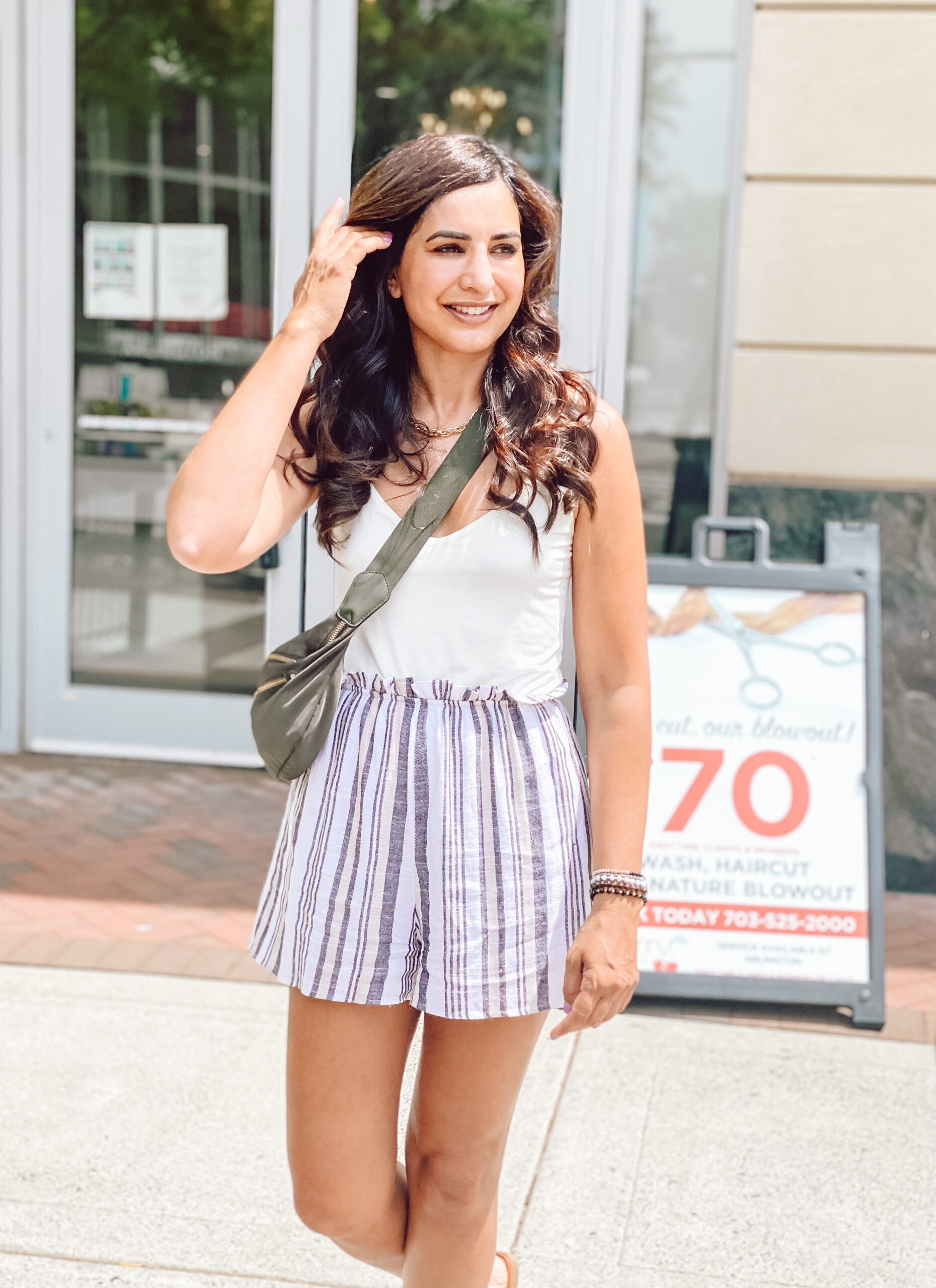 Truth bomb: I go ten to fourteen days between hair washes. Somewhere in the middle of that window is when I really should wash my hair but ten days is my minimum. Fourteen days is my max. If I schedule things right I can time my hair color, hair cut, and maybe a stop into a blow dry bar roughly every two weeks and I never have to wash my hair myself. That's the ultimate lazy girl routine! I can't replicate salon quality blow dries at home but I can keep my hair looking great for a long time once it's done.
I didn't just go from washing my hair everyday to suddenly going ten days between washes. In the beginning it was unfathomable to me to not wash my hair everyday and it definitely felt gross at first. But I kept reading about how washing hair too often actually strips away the natural oil that is good for our hair. The drying effect of overwashing causes your scalp to overproduce oil which contributes to the cycle of overwashing. So I decided to try to stretch out the time between shampoos. Training my scalp was a gradual process. Your scalp has to get used to producing less oil to compensate for the natural oils that are lost from frequent hair washing. It takes time for your hair to adjust but, I promise, eventually it will.
If you currently wash your hair every day try switching to every other day hair washes for two to three months. By the second or third month you will begin to notice that your hair doesn't feel as greasy on day two as it once did. Once you've reached that point, try spreading out your hair washes to every two to three days for another couple months. Continue the pattern. Your hair may not last the same amount of time between washes every time. Lifestyle factors such as the time of year can make a difference. In the heat and humidity of a D.C. summer I need to wash my hair more frequently. I won't be able to stretch my hair washes out quite as long. During the winter I notice that the serums and oils I used on my face to compensate for dry skin make my hair feel greasy and I'll end up washing my hair more frequently.
:: BE CAREFUL NOT TO OVERUSE DRY SHAMPOO
Dry shampoo is great for keeping your hair fresh but be careful not to overuse it because it can be too drying for your hair (and the product buildup can feel icky). A little goes a long way. Eventually you may also notice that in the first few days you won't even need your dry shampoo because your scalp just isn't producing as much oil. If you are looking for a good dry shampoo try this one or this one.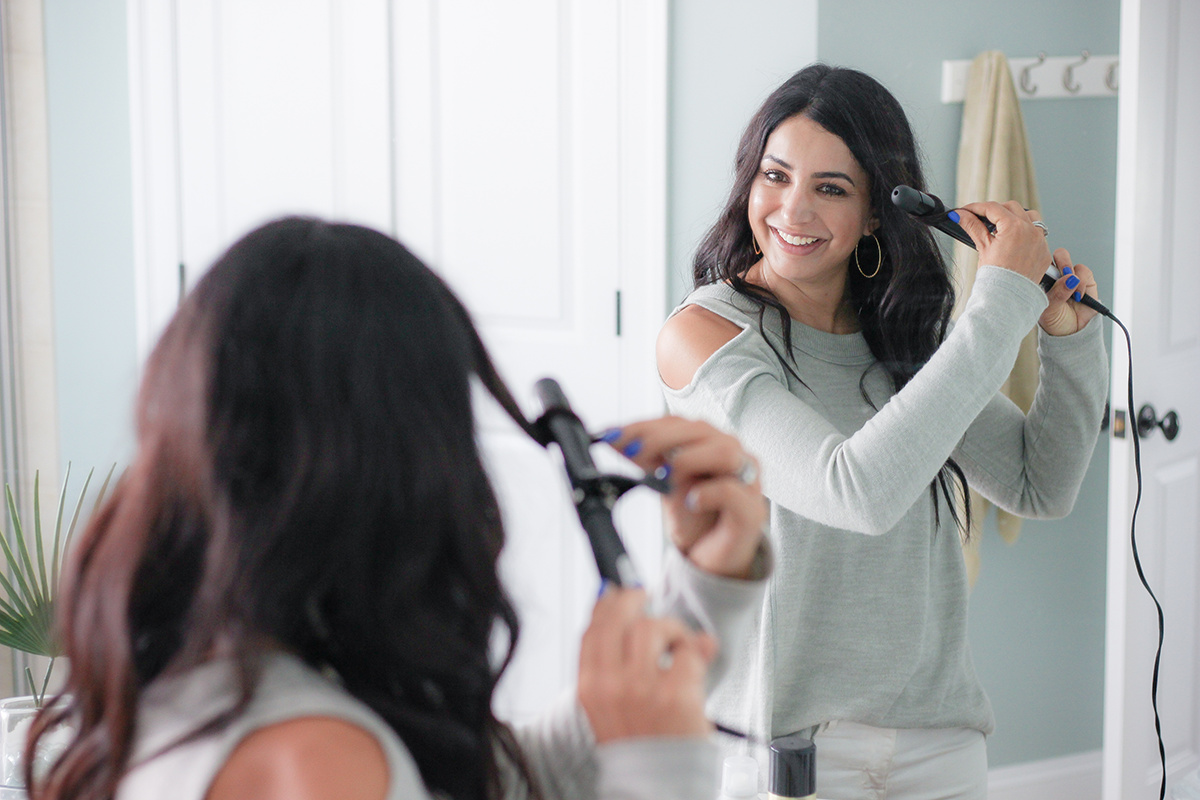 :: STYLING TRICKS HELP EXTEND HAIR WASHES
I definitely have a few styling tricks that I use between hair washes. As I mentioned above, three or four days after washing my hair I'll start using dry shampoo. By day five or six, to prevent my hair from looking too limp, I curl it to give it some more fullness and body. Dirty hair accepts curl better than fresh clean hair so if I take my time and do a good job, I can go another few days before I need to retouch the curls. Then the last couple of days I wear a lot of hats!
:: KEEP YOUR HAIR BACK FROM YOUR FACE WHEN YOU WORKOUT
I got a lot of questions about how I workout without my hair getting all greasy. First, I don't get hugely sweaty unless it's the middle of the summer or if I'm excercising outdoors. Second, when I exercise, I pull my hair up in a pony tail with a hair tie so it is back from my face (I make sure to use a hair tie that doesn't leave a dent in my hair).

If you like this post please subscribe to receive regular email updates. Did you know that now you can follow a hashtag on Instagram? Follow #lunchwithagirlfriend. For more inspiration, you can also follow me on Facebook and Pinterest .