I love hearing about products that women rave about so I can give them a try too. I hope you do too. So as we begin the month of celebrating love, here are the products women love and live by.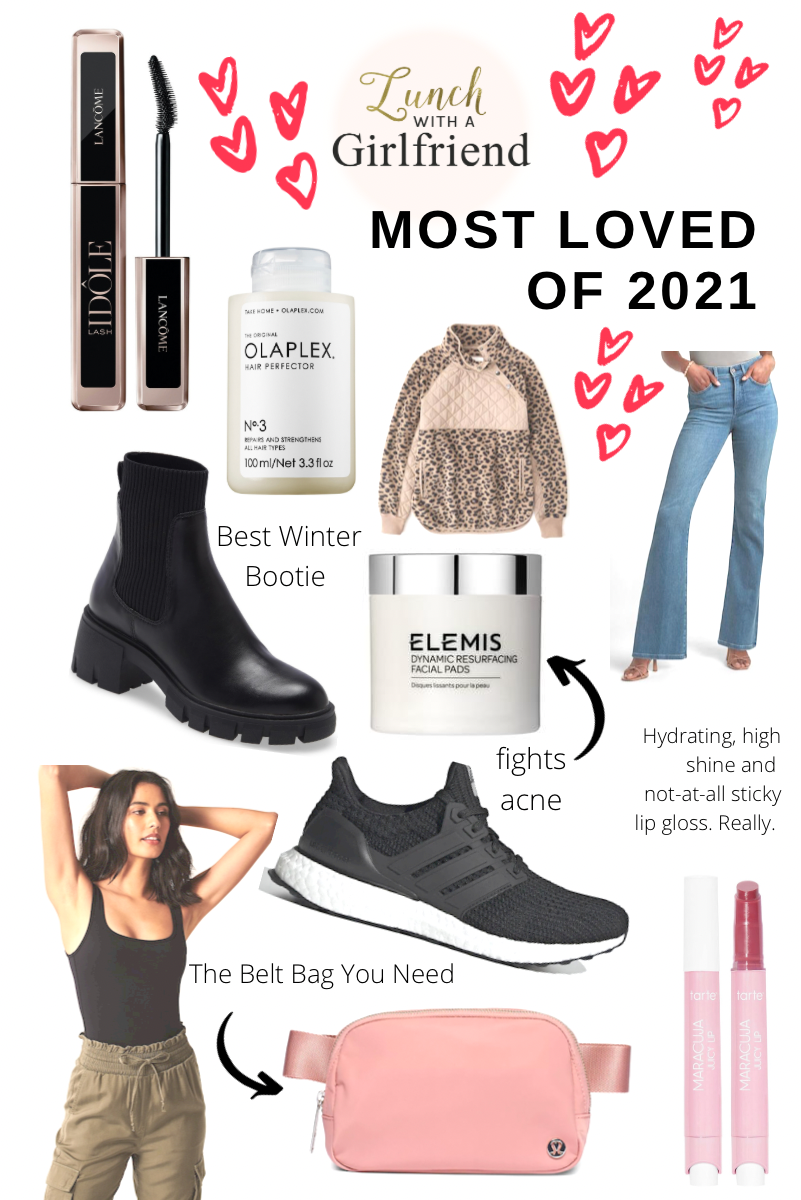 Most Loved Beauty Products
:: Lancome Lash Idole Mascara. Fans rave that this mascara makes your lashes look thicker but not clumpy or spidery, does not smudge, and will not flake. The shape of the brush curls lashes while applying. The result is natural looking lashes with lots of length.
:: Olaplex Hair Protector #3. I have always heard Olaplex is one of the best masks to use for damaged hair. When my hair gets to a certain length it starts breaking. I've heard that this product strengthens hair, gives it shine and more volume. Since it earned so many rave reviews in 2021 I'm eager to give it a try and see if it makes a difference!
:: Elemis Dynamic Resurfacing Pads. Die hard fans swear their skin looked even-toned and brighter after using these resurfacing pads. Most users applied them twice a day and claimed it was great for reducing acne and preventing new breakouts. I think this might be a great item for my teens' skin care arsenal as the weather gets warmer.
:: Tarte Maracuja Juicy Lip Balm. Looking for a hydrating lip balm with color and shine? This is right up your alley. Fans of this describe it as a hybrid lip balm and high shine lip gloss in one with limited stickiness which is important to me because my personal pet peeve is when a strand of my hair gets caught in my lip gloss.
Most Loved Fashion Pieces
:: Asymmetrical Snap-Up Fleece. Super comfy and cozy, but also perfect for a casually cute outfit outside of the home!
:: Hayle Chelsea Boot. If you have been thinking of jumping on the lug-sole boot trend, this is the boot for you. Think of this as a combat boot without the laces.
:: High Rise Flare Jean. Fans of this denim rave about the stretch and fit of this denim and the flattering silhouette. If you are unsure about the wide leg pant trend this is a good starting point. Plus, the high waist is flattering because it tucks everything in the lower region in.
:: Seemless Tank Body Suit. Personally I was hesitant about this recommendation. Body suits are hard. Sometimes the bottom part is uncomfortable but the reviews of this are universally positive that I'm ready to give it a try. Fans claim the material is high quality and doesn't show every bump, helps smooth things out, and follows your curves. Sold!
:: Adidas Ultraboost 5.0 Sneakers. Stylish, lightweight, shock-absorbing and comfortable. Runners everywhere rave about this shoe. It's a hefty price point but likely to be my next running shoe.
:: Everywhere Belt Bag. I've been a fan of belt bags for a while especially when I'm outside, at an amusement park, or traveling somewhere I want to safeguard my cash and ID. This belt bag fits your phone, a small wallet, keys, sunscreen, lip balm and a protein bar or two.
If you like this post please subscribe to receive regular email updates. Did you know that now you can follow a hashtag on Instagram? Follow #lunchwithagirlfriend. For more inspiration, you can also follow me on Facebook and Pinterest .