I've been experimenting with new protein drink/smoothie recipes lately. My teens are lifting weights and doing more serious strength training so they are into protein drinks/smoothies now. They're often asking what they should put into their smoothie so I've been looking up new recipes that would appeal to their dietary needs. They are high metabolizers and burn a lot of calories — they have a much different caloric needs than I do.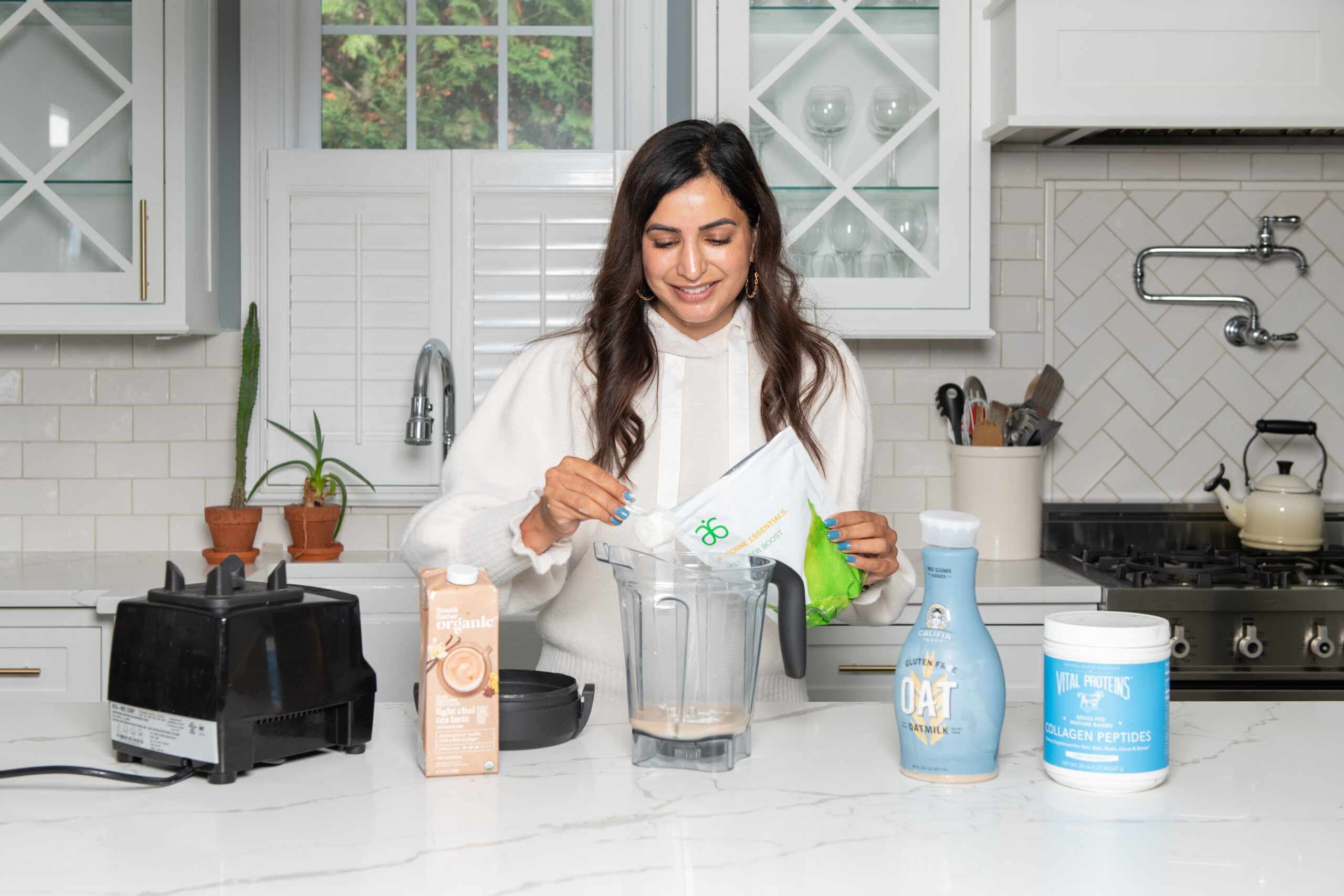 For me, finding the right balance between carbs and protein is essential. Since I practice carb cycling (more on that in this post) some days I make a low carb protein drink and create a drink of mostly protein and fiber. Other days when I am incorporating more carbs into my diet I add in bananas and fruit. My goal everyday is to fill my drink with as much protein and fiber as I can. I add raw nuts, nut butters, and protein powder to get as much protein as possible into my smoothie. Our bodies do not make protein so our diet is the only way to make sure we are getting an adequate amount. Fiber is satiating. Most of us don't get enough fiber in our diet so a protein drink/smoothie is one way to do that.
Here are three of my favorite tried and true recipes.
:: GREEN SMOOTHIE
High Protein, Higher Carb
In your Vitamix or Ninja blender cup, blend together
one scoop Vital Proteins powder
1/2 cup almond milk
1 frozen banana
1/2 bag of spinach
1 Tablespoon almond butter
Enjoy!

:: CHOCOLATE CHAI PROTEIN DRINK
High Protein, Low Carb
In a smoothie cup, add
ice cubes
16 ozs. of water
2 ozs of chai tea concentrate
1 scoop of chocolate Vega protein powder
1 scoop of fiber boost powder
Shake to mix well. Enjoy!

:: BLUEBERRY AND BANANA SMOOTHIE
High Fiber, Higher Carb
In your Vitamix or Ninja blender cup, blend together:
one banana
a handful of blueberries (frozen is fine)
a thumb-size piece of raw ginger (optional)
a handful of raw cashews
1 Tablespoon chia seeds
a dash of cinnamon
four ice cubes
one cup of almond milk (can substitute water)
Enjoy!
If you like this post please subscribe to receive regular email updates. Did you know that now you can follow a hashtag on Instagram? Follow #lunchwithagirlfriend. For more inspiration, you can also follow me on Facebook and Pinterest .