Last Spring, I surprised my then-sixteen year old son with a trip to Morocco for Spring break. We spent our first few days in Marrakech, you can read about our experience here. After a few days in Marrakech, we took a lengthy road trip to the Sahara Desert.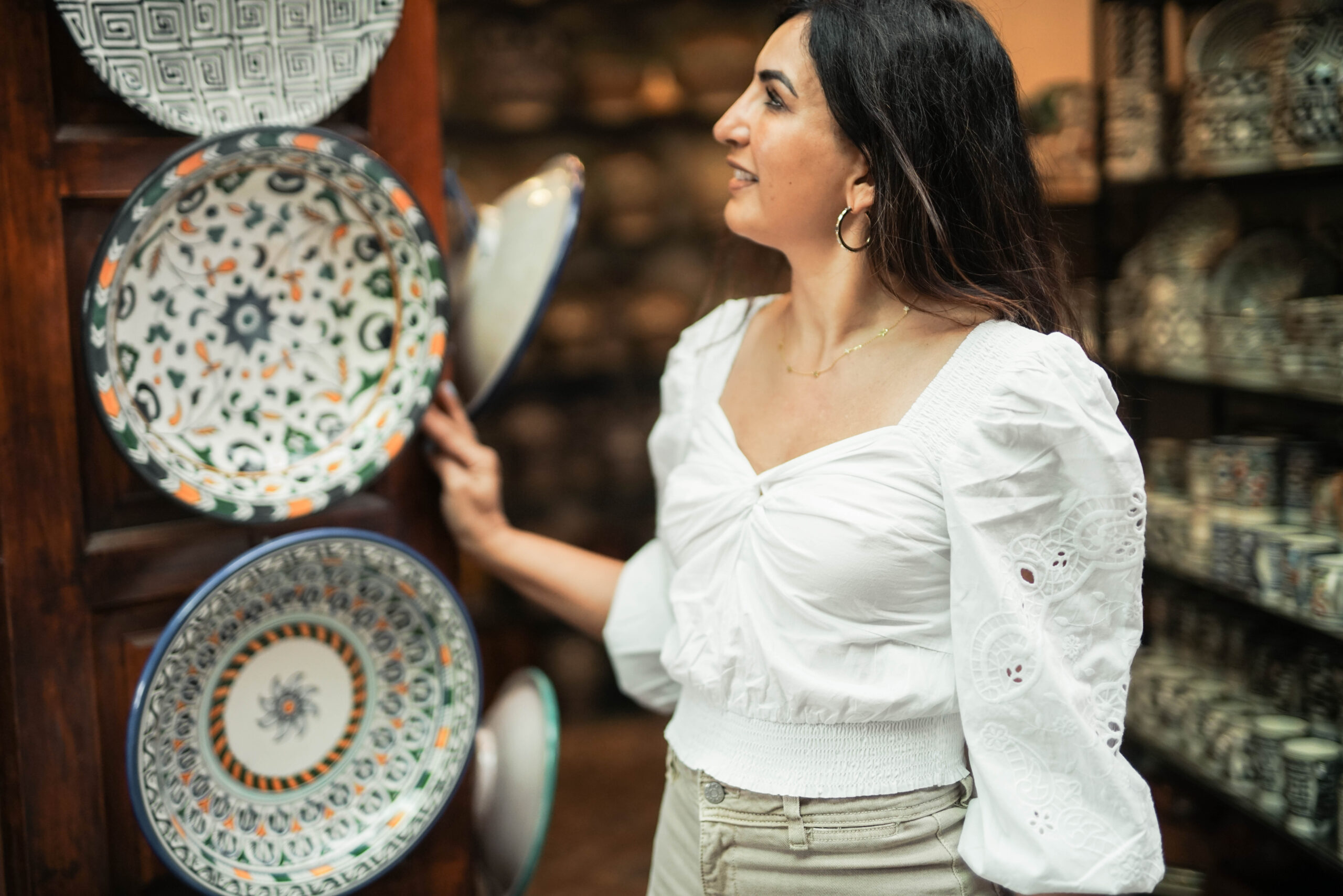 We used Kaouki Tours, a company recommended to me by a girlfriend, to help us secure a driver and plan our itinerary. Our driver, Hassan, picked us up from Le Riad Yasmine in Marrakech and we began our journey. Once we left the confines of Marrakech, the Morroccan landscape turned bucolic and we made our way through the Tichka Pass in the High Atlas Mountains. The temperature dropped drastically as we ascended the switchbacks to cut across the mountainous terrain.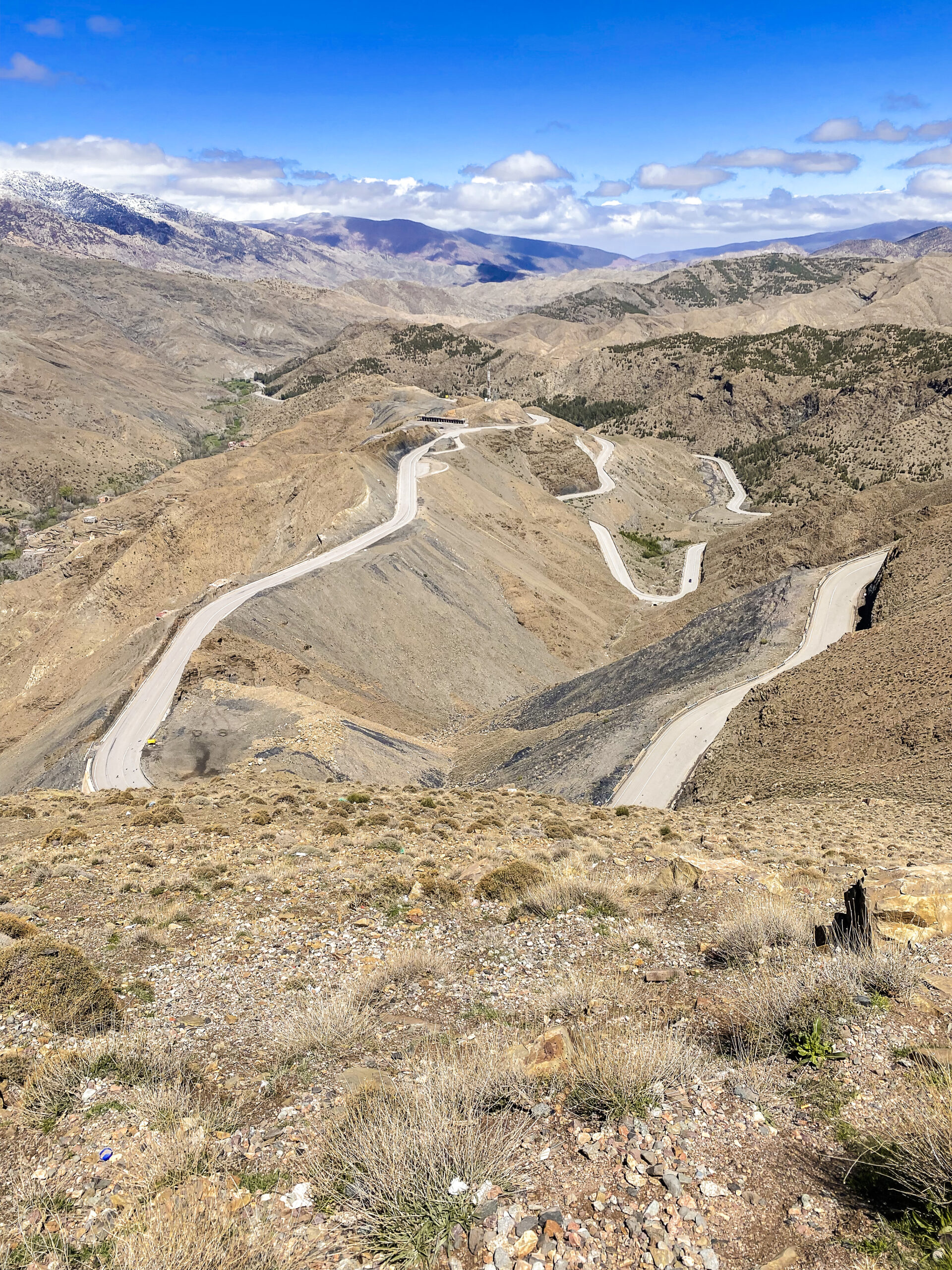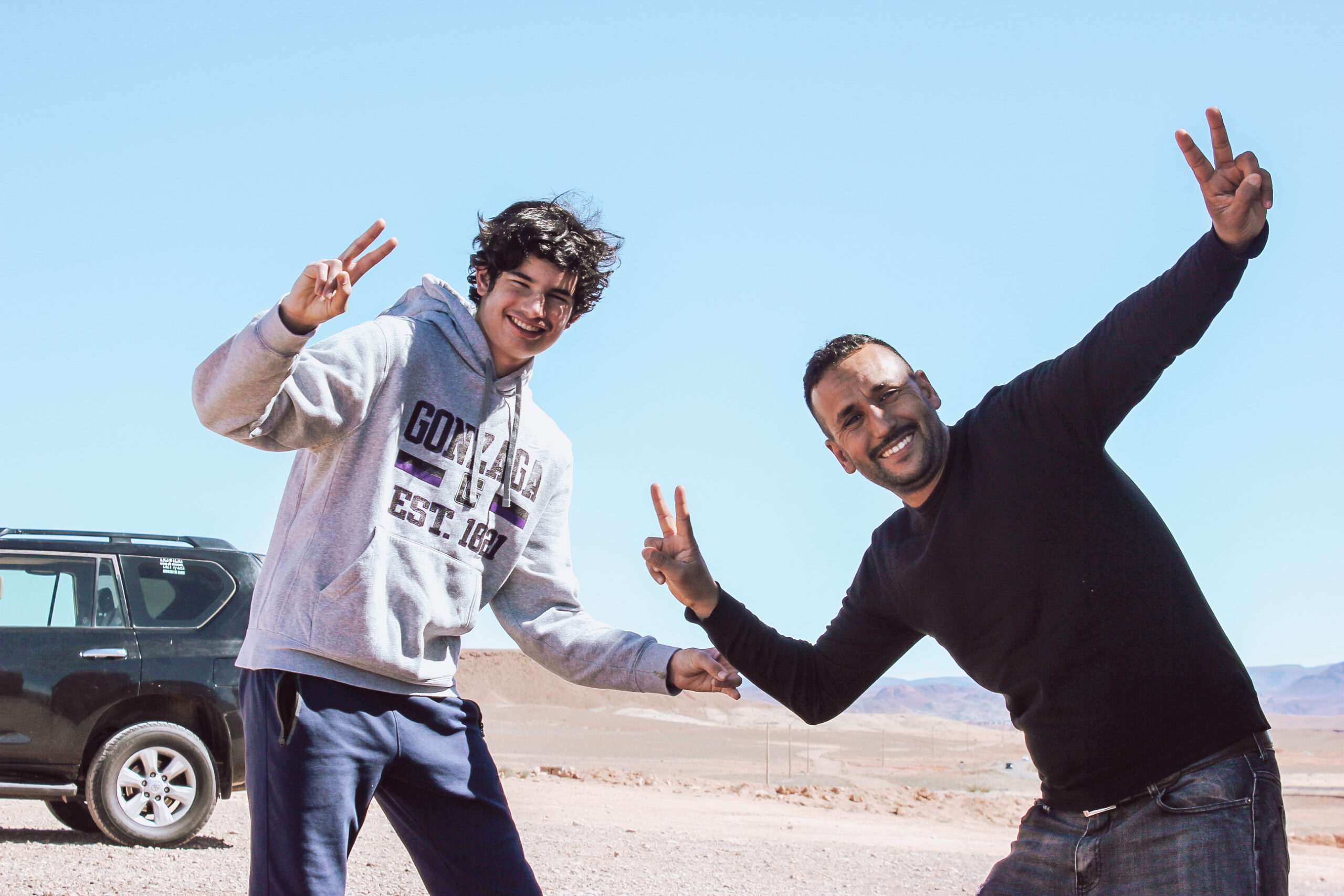 We made our first stop at a little hut on the side of the road in a Berber village. Our driver ushered us in and we watched two very frail older Berber women peel kernels of argan and churn the kernels to produce argan oil. Honestly, I was overcome with sadness for the women because they had clearly spent their entire lives working inside a small roadside hut to produce argan oil by hand. We were led into a shop adjacent to the room where the women were working. We purchased some argan oil to bring home as gifts.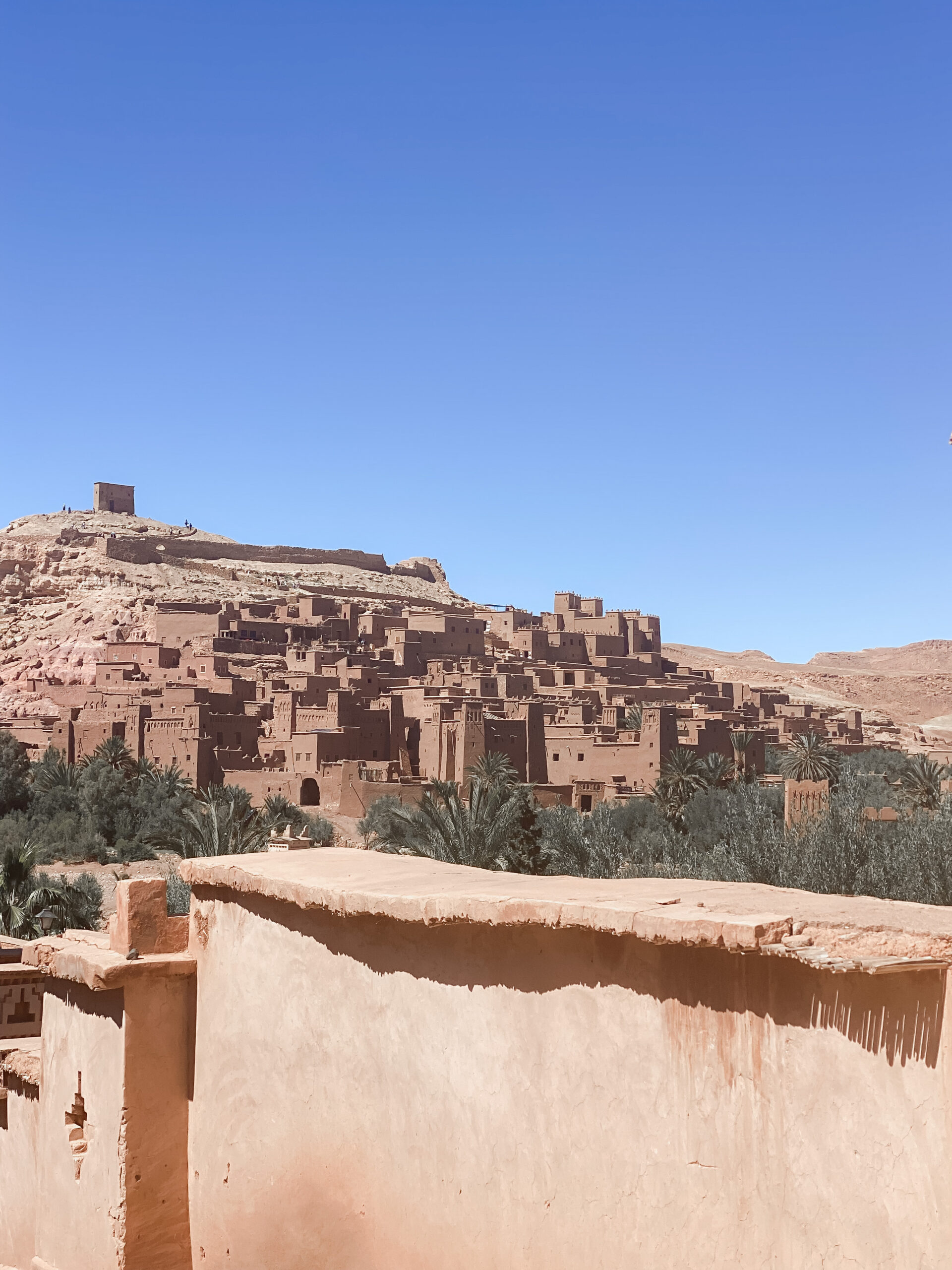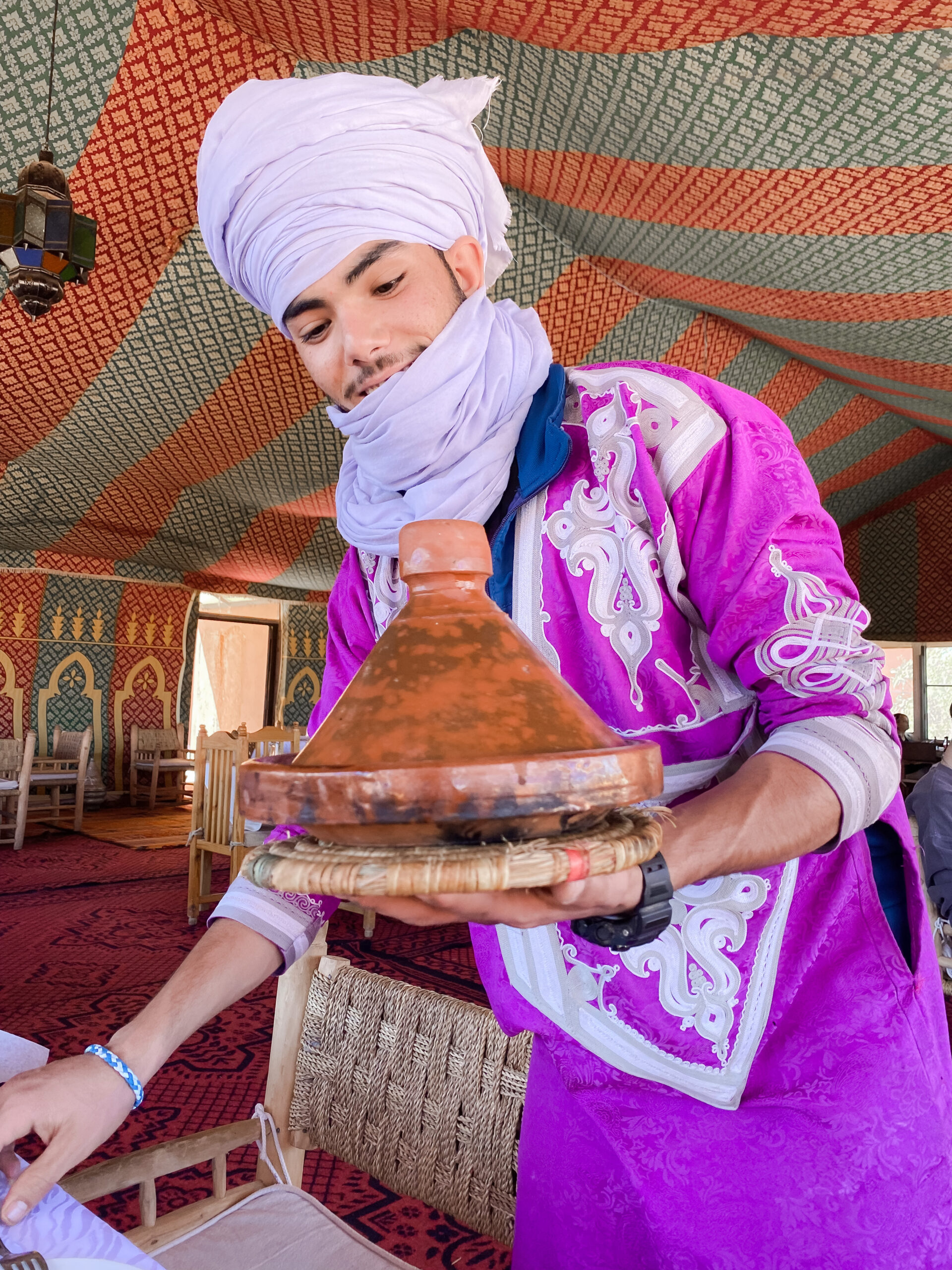 We continued our journey through the mountains until we reached the UNESCO World Heritage Site, the Ksar of Ait Ben Haddou in the Province of Ouarzazate. The Ksar is a group of earthen buildings surrounded by high walls. The dwellings are clustered together and reinforced by defensive walls for protection. We ate a traditional Moroccan tagine lunch in an adjacent Kasbah served by a gentleman in traditional Berber garb. Afterward, we walked around the area which was the filming location for Lawrence of Arabia. After a while it was time to get back in the car and continue our drive through the Ouarzazate region to Boumalne Dades on the edge of the desert plateau.
When we arrived at our hotel, Xaluca Dades, we were greeted by African drummers lining either side of the entrance. We felt like royalty walking in to our hotel! This area is known for roses and thousands of kasbahs. If you are up for it, stop at one of the village shops to purchase some of the many products made with roses.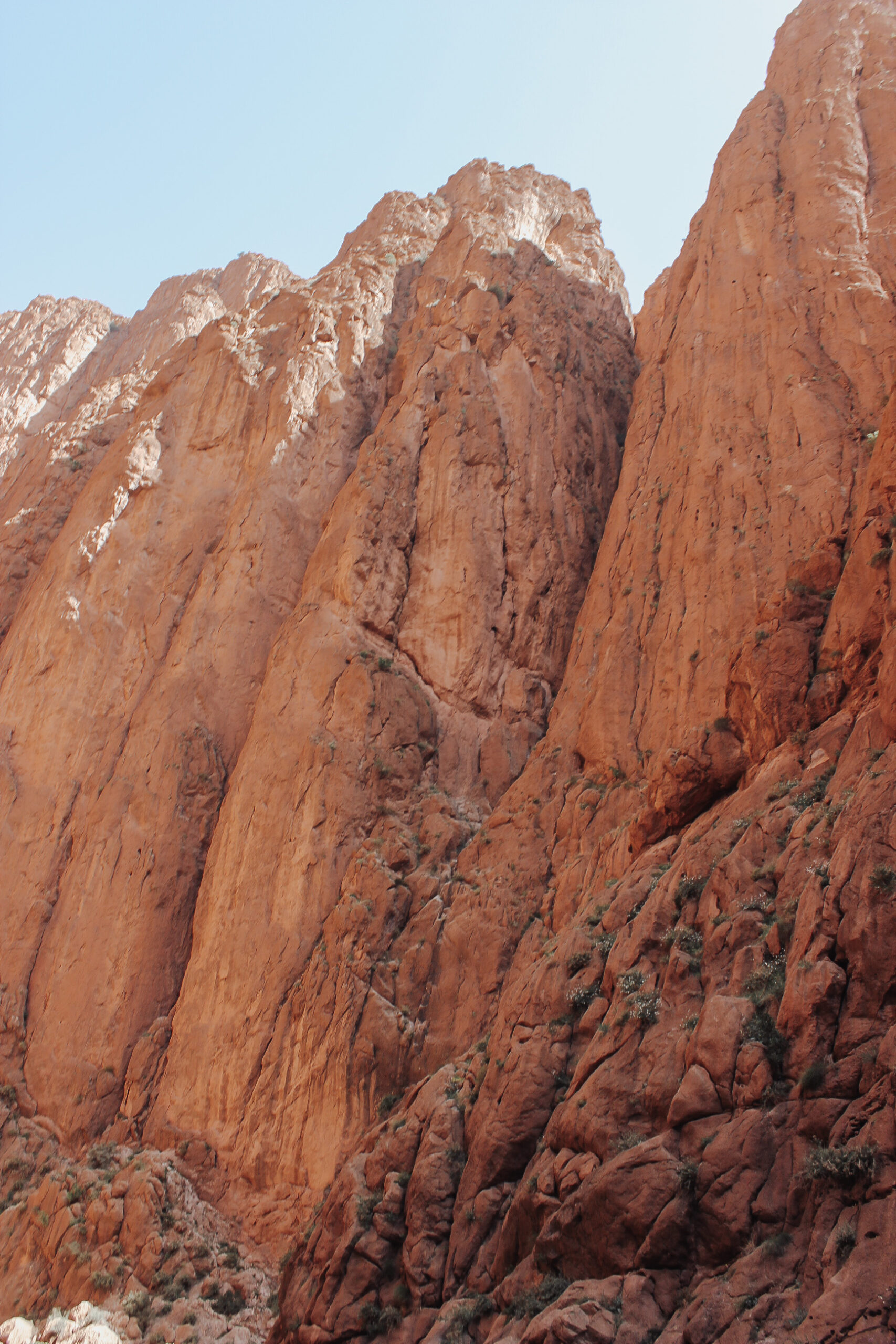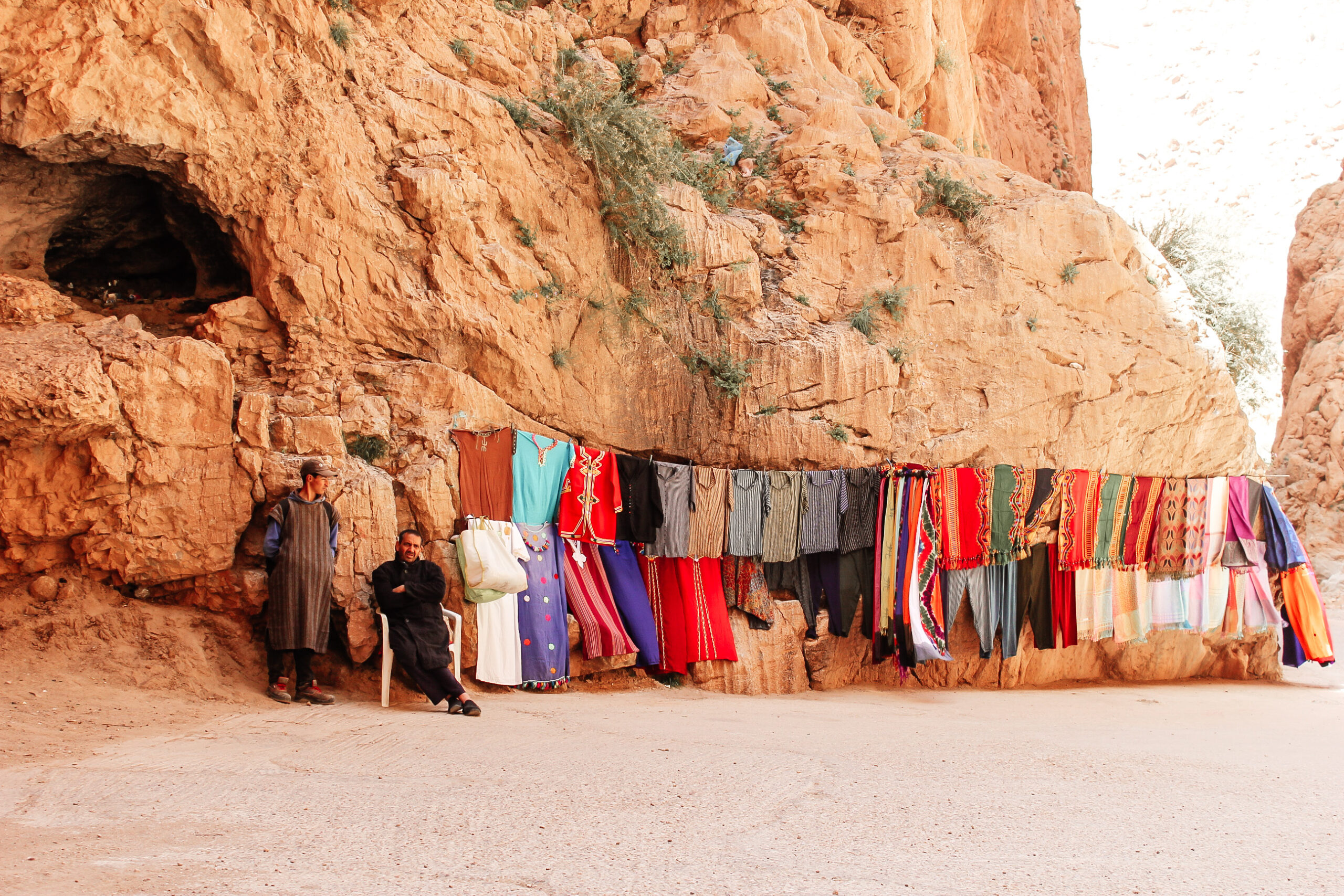 Our next stop was the Todra Gorges. This is an area that, quite frankly, reminded me of Zion National Park in Utah. The road to this area was pocketed with vendors selling rugs and blankets along the side of the road. We made our way to Erfoud and visited the dates market. This part of the country is known for growing the best Medjool dates. There is not much else to see aside from a fossil museum. Neither my son nor I wanted to make this stop –as seasoned American road trippers we were eager for our arrival in the desert that afternoon. We had a "let's just get there" mentality which is probably not typical for tourists.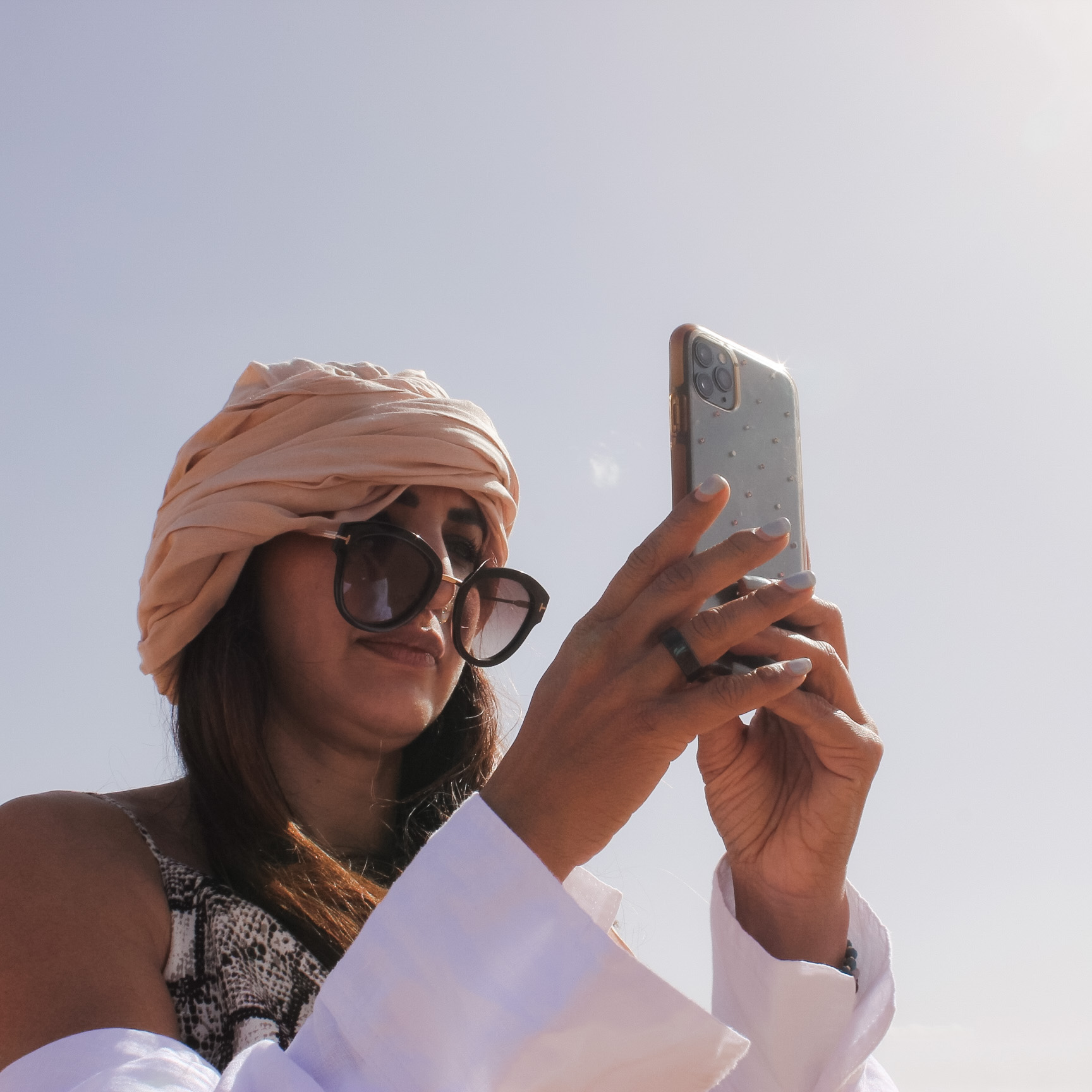 Hassan drove us to a roadside shop so we could purchase headscarves and berber attire for our journey through the Sahara later in the afternoon. We took a few pictures in the attire that was recommended to us and purchased some scarves to take with us. What a look! As we approached the town of Erg Chebbi on the outskirts of the Saharan red sand dunes, Hassan, our driver, who is from this part of Morocco, invited us to stop at his friend's house for a meal. I have to admit, my son was a little sketched out as we entered his home and realized we were in the middle of basically nowhere to eat lunch at a random person's house but we were quickly put at ease. We ate a delicious meal and explored the area.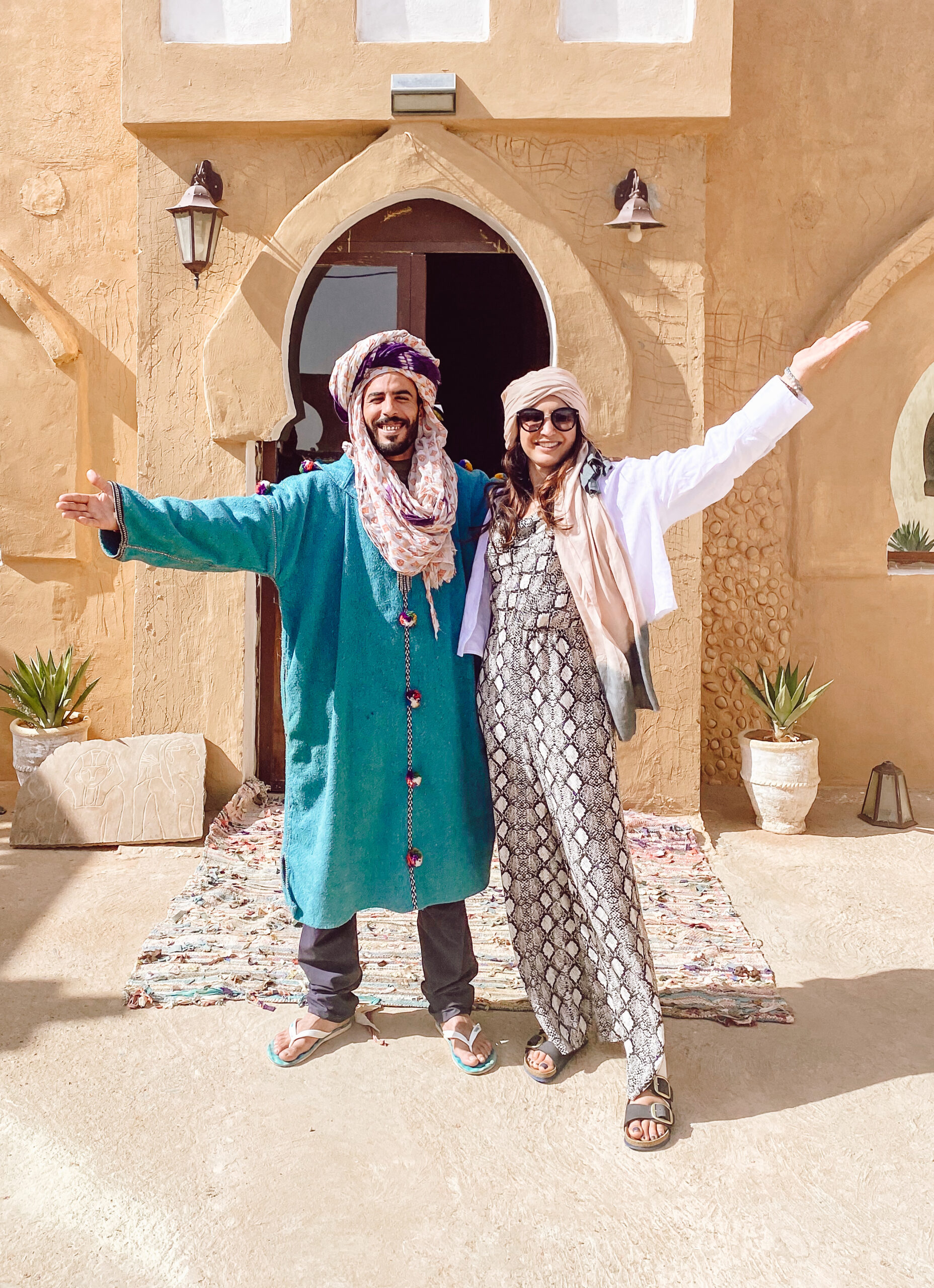 A short car ride later we were in Merzouga. We swapped our four wheels for camels to make our way through the Sahara Desert. This is what we traveled across the country for and it was absolutely worth it! Riding camels through the Sahara Desert is a once in a lifetime experience. The camel ride was only about an hour long but, boy, it felt like forever because camel rides are not the smoothest form of transportation. We arrived at the crest of a sand dune at sunset and had an opportunity to take pictures.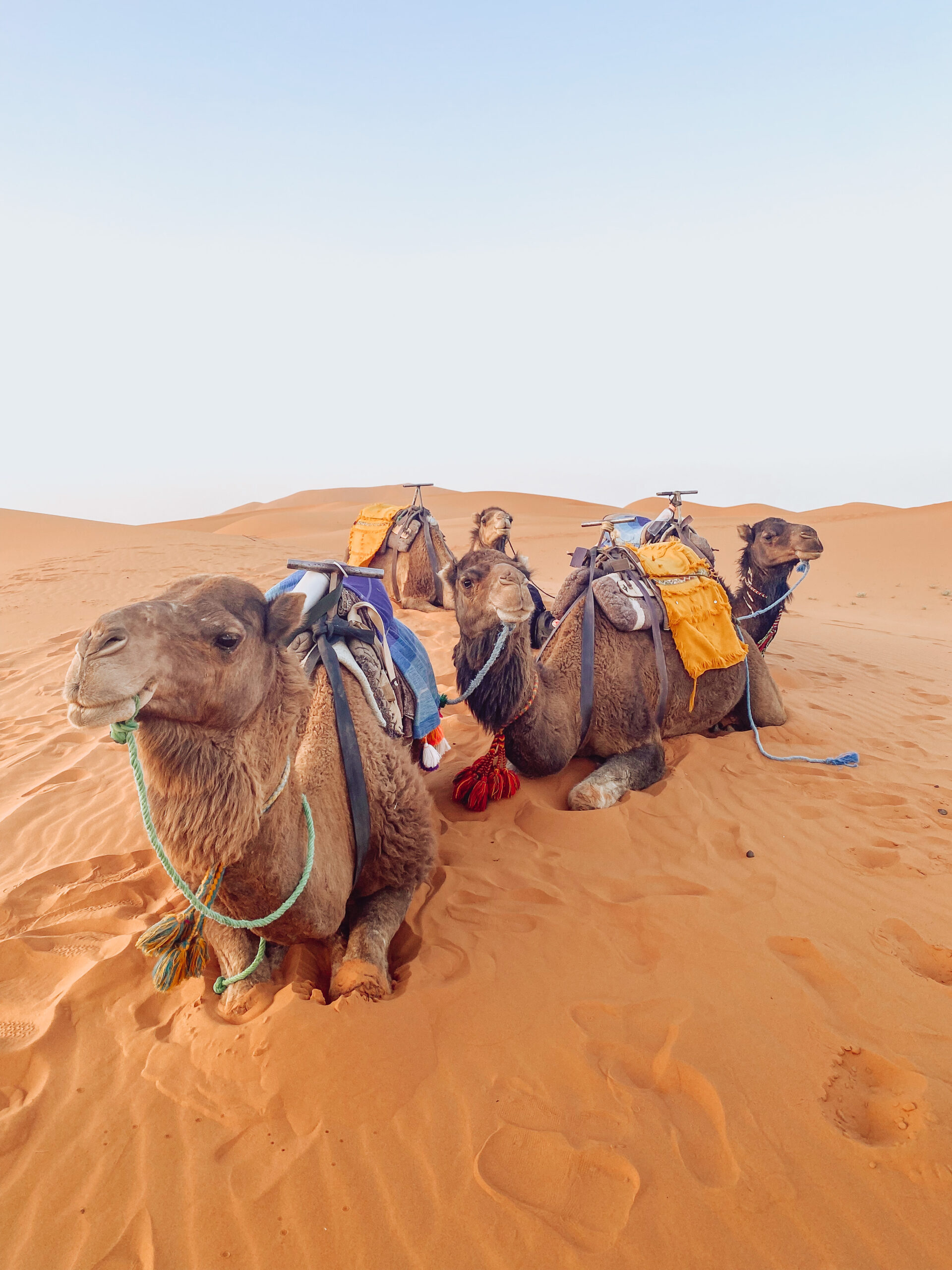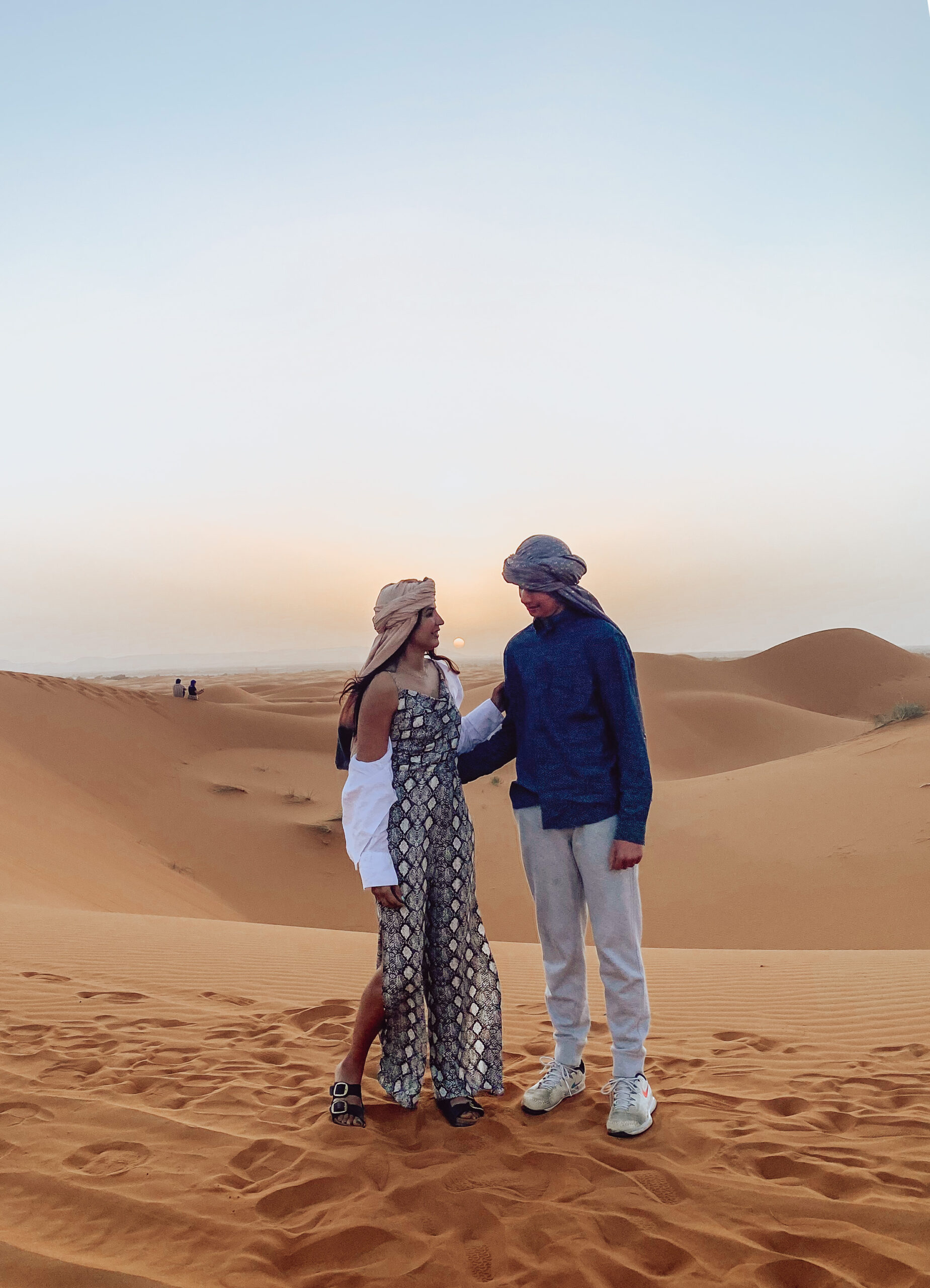 We descended the dune and arrived at Sahara Desert Luxury Camp — our glamping accommodations for the evening. We were greeted with Moroccan tea and some fruit and nuts. Then we made our way into our camp accommodations. There was a selection of Berber garments in our tent to choose from. We each put one on and set out for the dining tent. Our dinner was absolutely delicious. Afterward we walked up a dune to where a bonfire was set up and a circle of African drummers were gathered around the fire. We enjoyed the music, danced and got a lesson on African drums.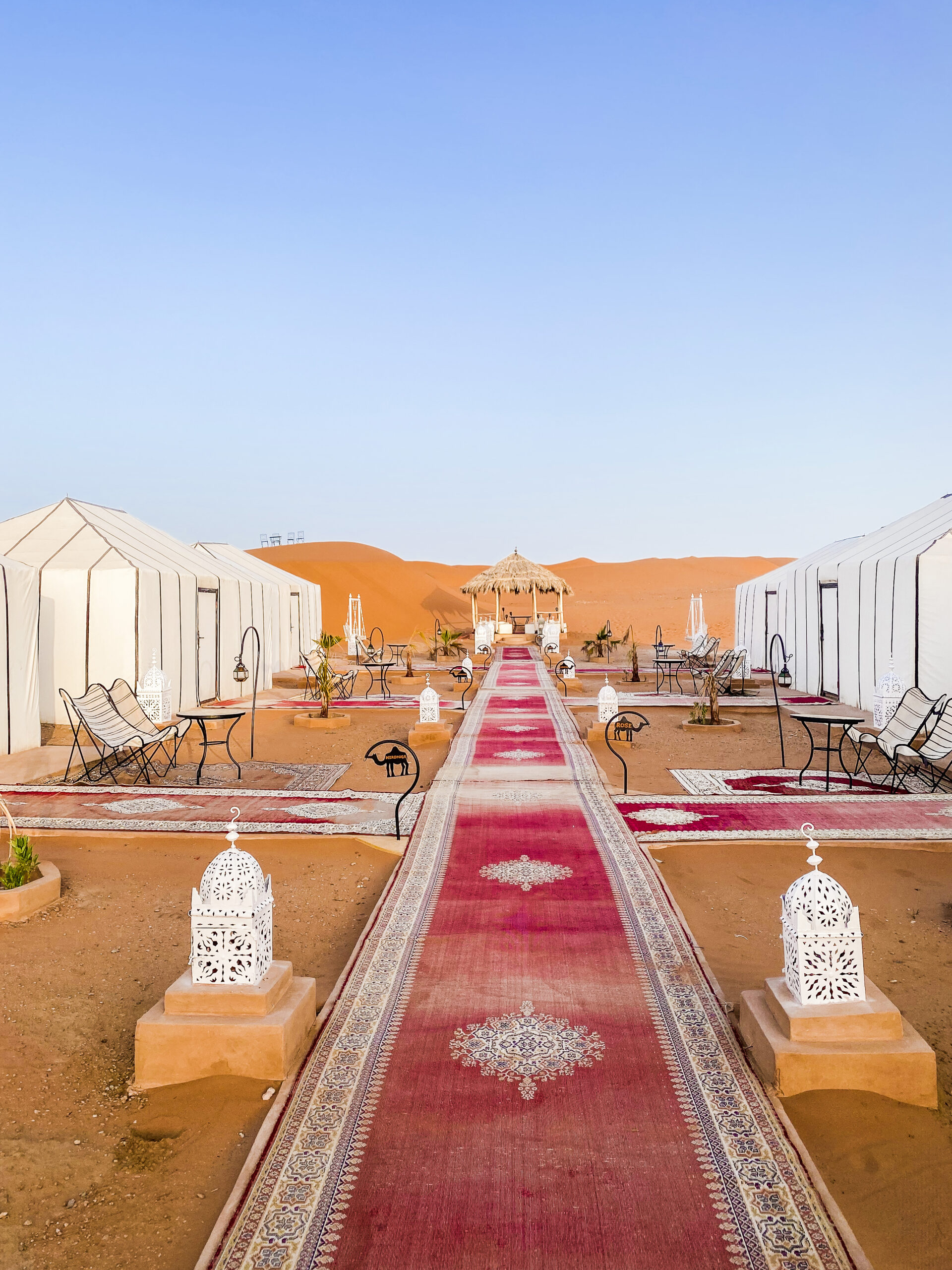 The desert temperature fluctuations are extreme. For as warm as the desert days are, the desert nights are chilly! I went to bed wearing wool socks, sweatpants, a sweatshirt and several layers of blankets over me to feel comfortable. By morning, however, the temperature rose quickly. When we awoke at sunrise, a buffet breakfast was waiting for us in the dining tent. We used the beautiful morning light to enjoy the quiet desert scene around us. Then it was time to set off for base camp. We had our choice of riding back by camel, 4×4 vehicles, or quad bike. Hassan picked us up and we hit the road to get to our next destination. 24 hours was the perfect amount of time to spend in the Sahara!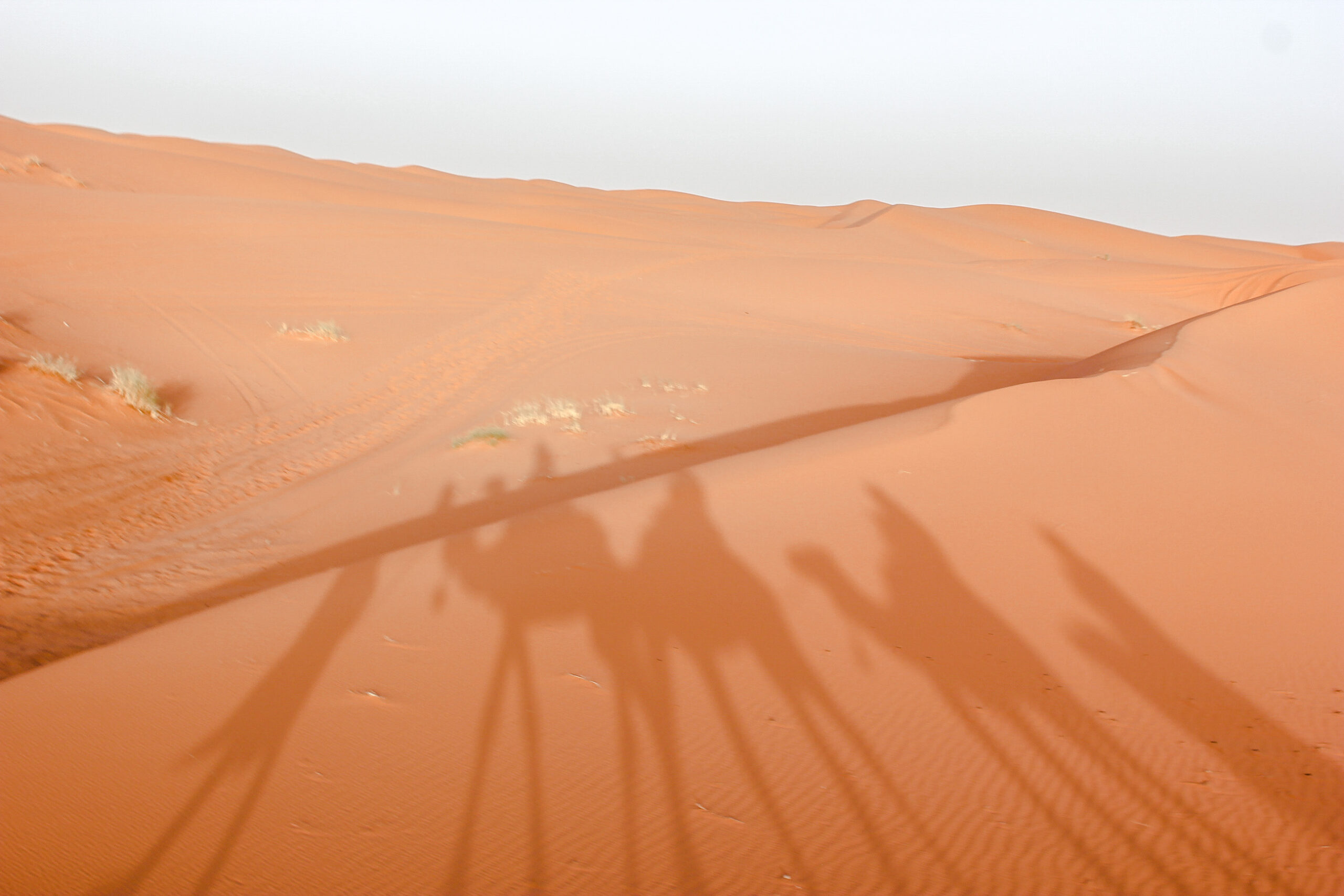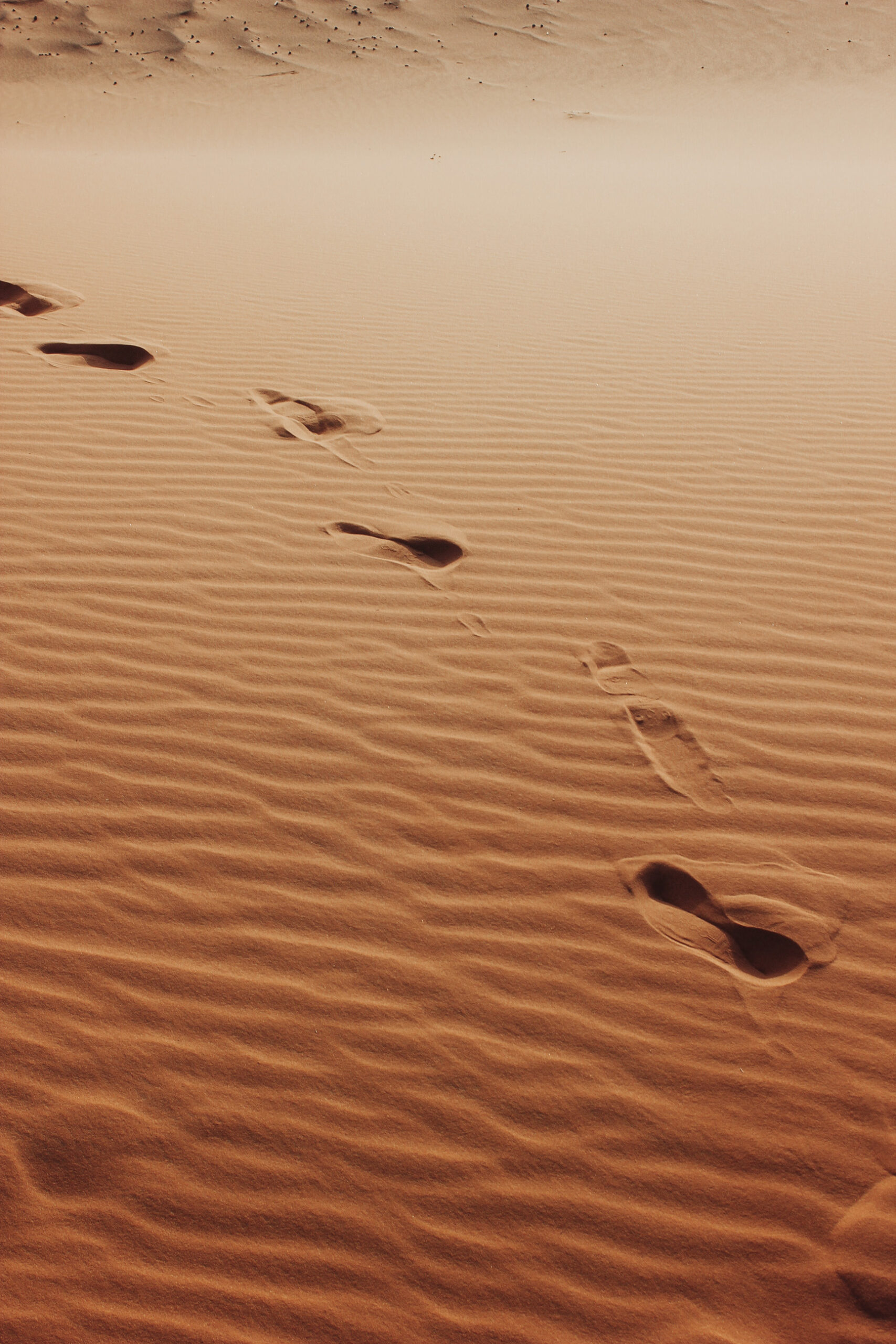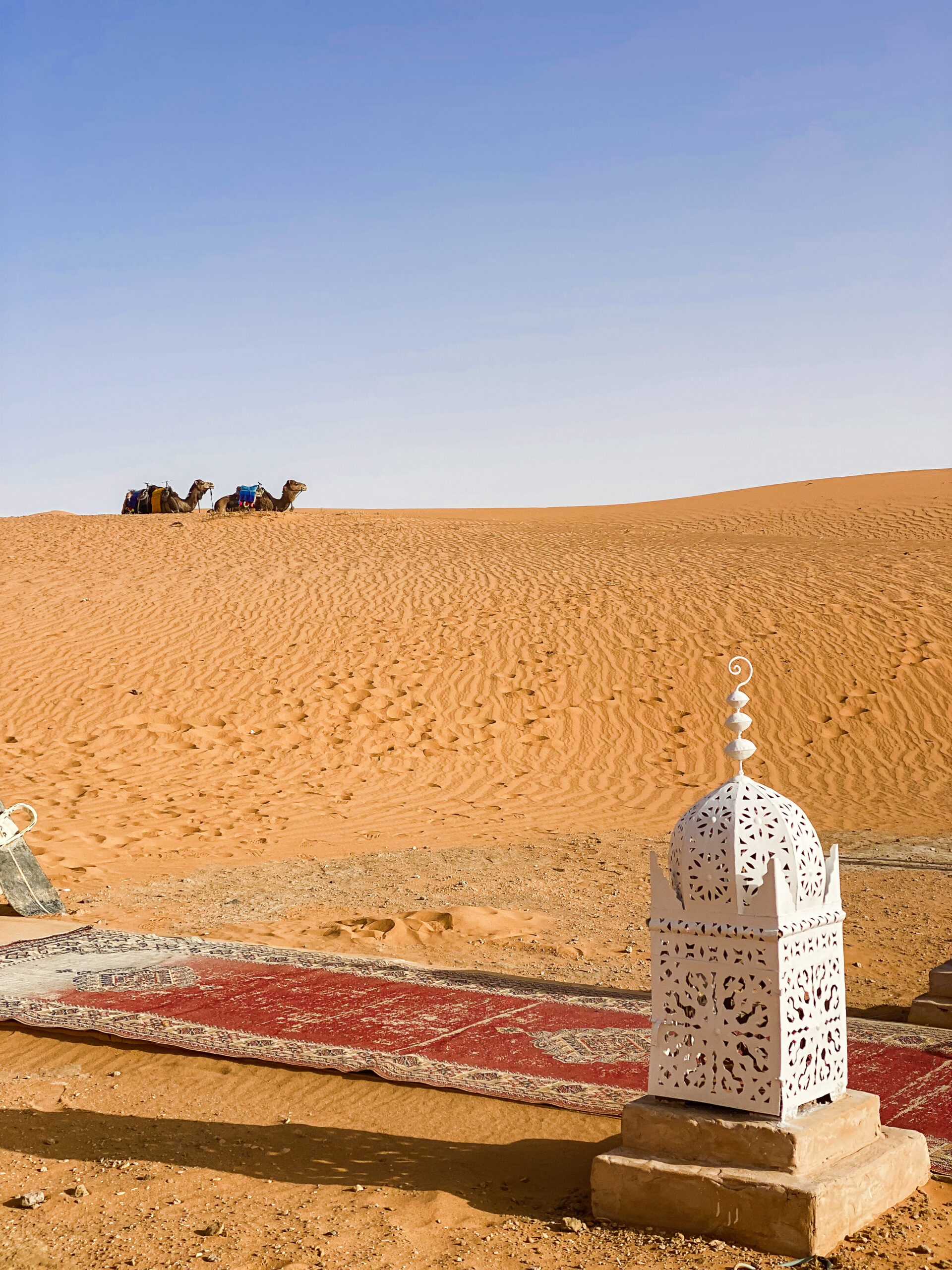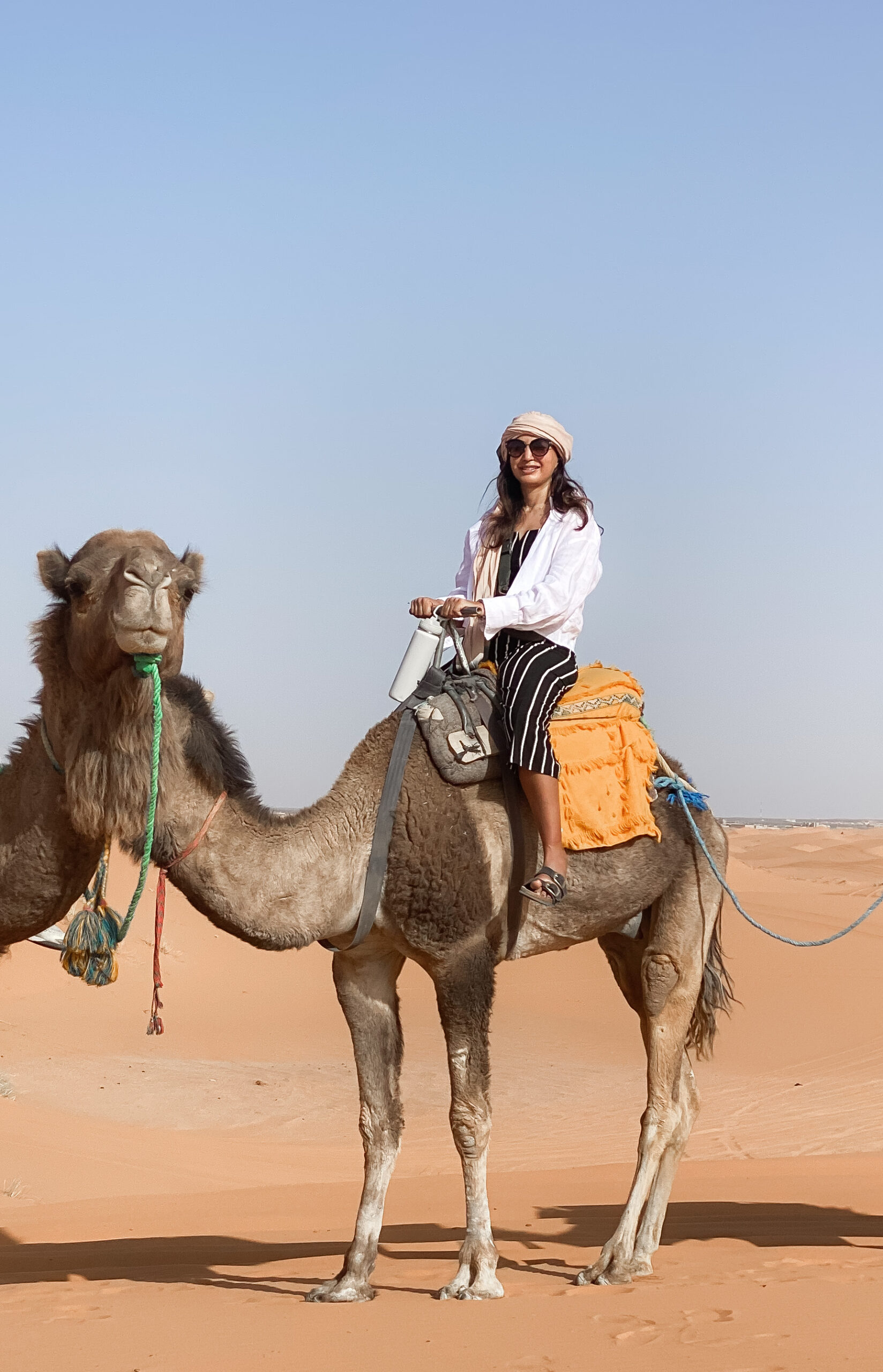 If you like this post please subscribe to receive regular email updates. Did you know that now you can follow a hashtag on Instagram? Follow #lunchwithagirlfriend. For more inspiration, you can also follow me on Facebook and Pinterest .