For a quick getaway after school got out in June I took the kids to Martha's Vineyard to meet up with my mom and sister who were separately headed there from Michigan. It was my first trip to Martha's Vineyard but definitely not my last. I can easily see why this summer island haven is a happy place for many people — Martha's Vineyard is the definition of charming island town. I was a complete Vineyard newbie and I made my plans at the last minute but I learned a lot that I can share with you!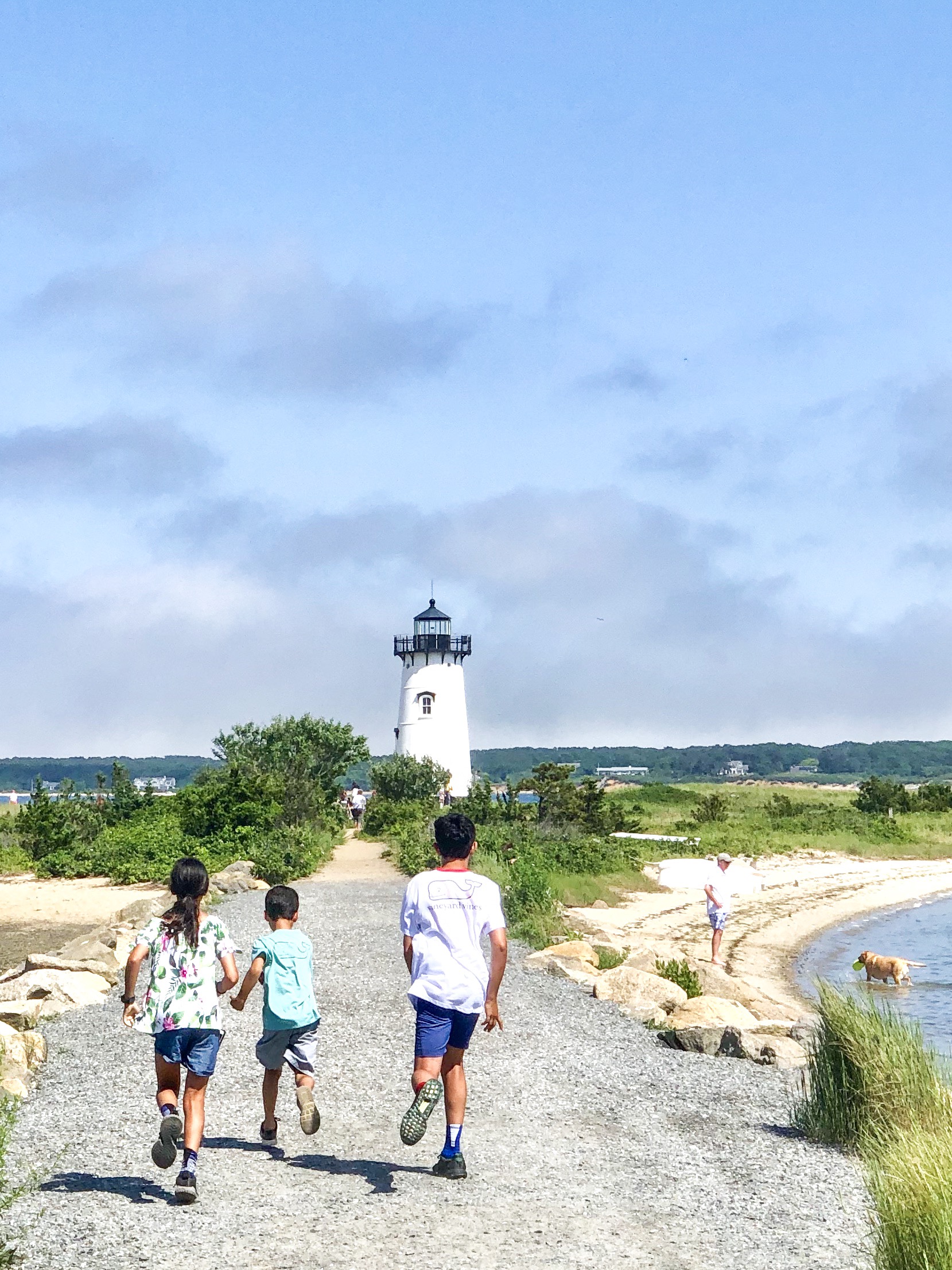 Where We Stayed
My mom and sister stayed at the Christopher, a quaint little bed and breakfast in Edgartown. Because we made our plans at the last minute, we stayed in Oaks Bluff, a neighboring town on the island. We truly lucked out and scored the cutest little cottage in Oaks Bluff that had been recently renovated. While we went the VRBO route, I would try and stay at Summercamp next time. It's a fun little property right in the center of Oaks Bluff with a gorgeous harbor view.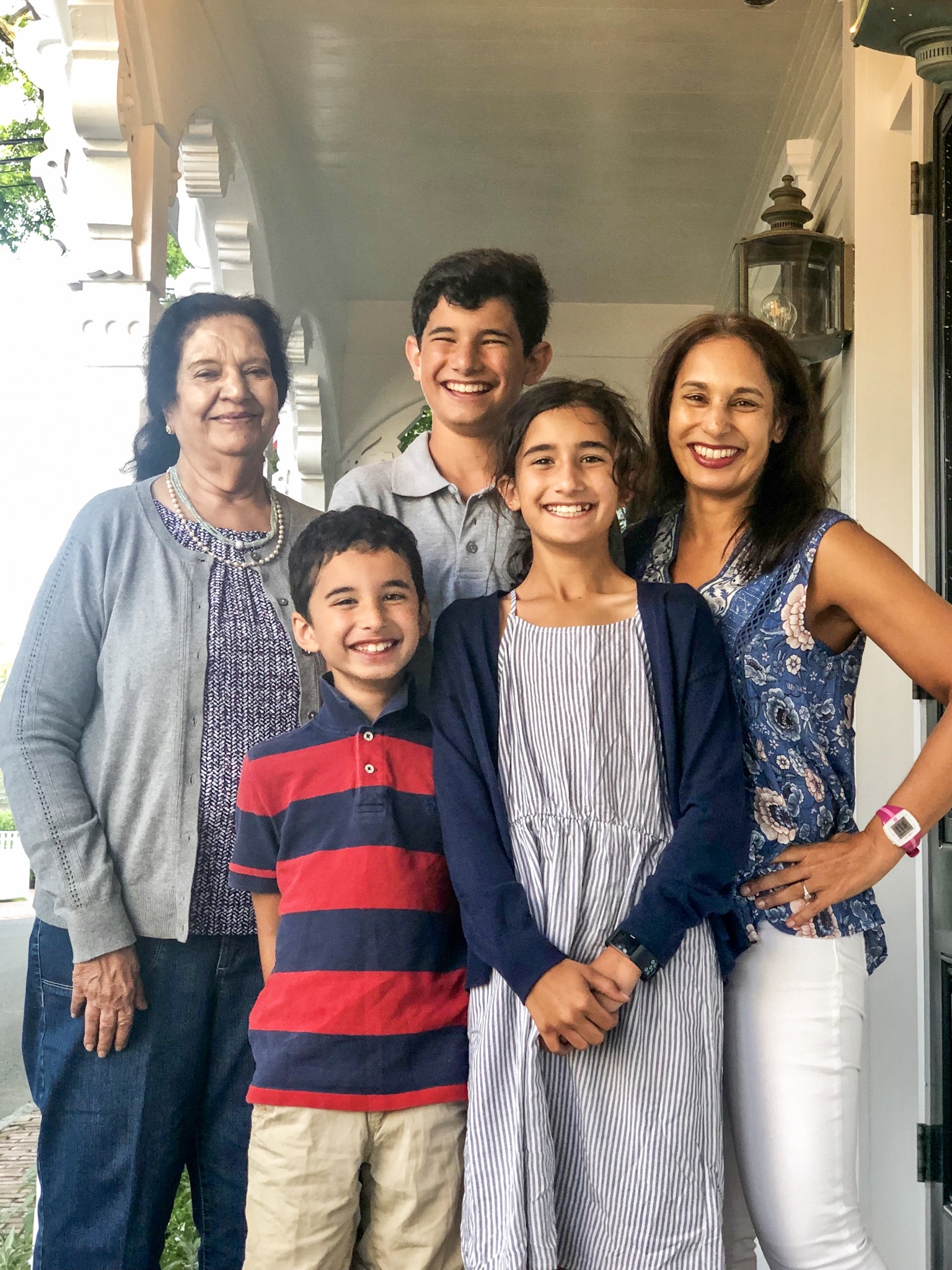 Staying in different towns worked out perfectly because we got a chance to truly explore both Edgartown and Oaks Bluff. Edgartown is noticeably more posh than Oaks Bluff — think quaint little shops and high-end boutiques and all the New England Island charm you see in magazines. Oaks Bluff reminded me of a typical laid back beach town. It is considerably less preppy and hoity toity than Edgartown and felt a lot more comfortable for my crew of kids. Many of the same shops that are in Edgartown are in Oaks Bluff too. It was easy enough to get between towns by Uber but it can get a little pricey. An uber between Edgartown and Oaks Bluff is about $20-$25 each way. There is also a bus that departs every twenty minutes or so. For the four of us it would have been nearly the same price as an uber so for the convenience of arriving and departing when we wanted we did not use it.
How To Get There And Getting Around The Island
My mom and sister flew to Boston and from there they made their way to the Cape. In Falmouth they caught a ferry to Martha's Vineyard (it's about a thirty minute ferry ride). We were planning to drive up the coast from D.C. to the Cape but luckily I ran into a dear friend who informed me that there are ferries to the Vineyard that depart from points closer to D.C. That was a lucky break that easily saved us another three or four hours in the car. We opted to take the Martha's Vineyard Fast Ferry from Rhode Island. There's also a ferry from the New York/New Jersey area — it's just a longer boat ride. Both ferries arrived at the ferry terminal in the town of Oaks Bluff. We did not bring our car on the ferry. I don't think you can from Rhode Island but you definitely can bring your car over on the ferry from Falmouth. Instead we decided to rent bikes and use Ubers when we needed them.
What We Did
Our trip was on the low-key end. We just finished school and I think everyone was ready to start summer and relax. Because it's difficult for us to ride bikes when we are at home we were really looking forward to renting bikes and exploring the island. I have to admit, the bike riding trails from where we were staying were not as accessible as I had imagined. In my head I pictured the experience to be a lot like riding bikes in Hilton Head Island where there are miles and miles of wide trails that you can access from just about anywhere. From our rental cottage in Oaks Bluff we had to ride through some traffic before we were able to get on the trail that connects the island towns of Oaks Bluff and Edgartown. It was still very fun, but not quite as bike friendly as I imagined.
On one of the days we rode our bikes to Inkwell Beach which is right in Oaks Bluff. The water is definitely cold in June so we didn't spend any time in the water (and very few other people did either) but packing a picnic and bike riding to the beach was a fun way to spend a lazy summer day. Another day as we were riding around the town of Oaks Bluffs we came upon a village of colorful gingerbread cottages. The well-preserved candy-colored village was once home to Martha's Vineyard's earliest inhabitants.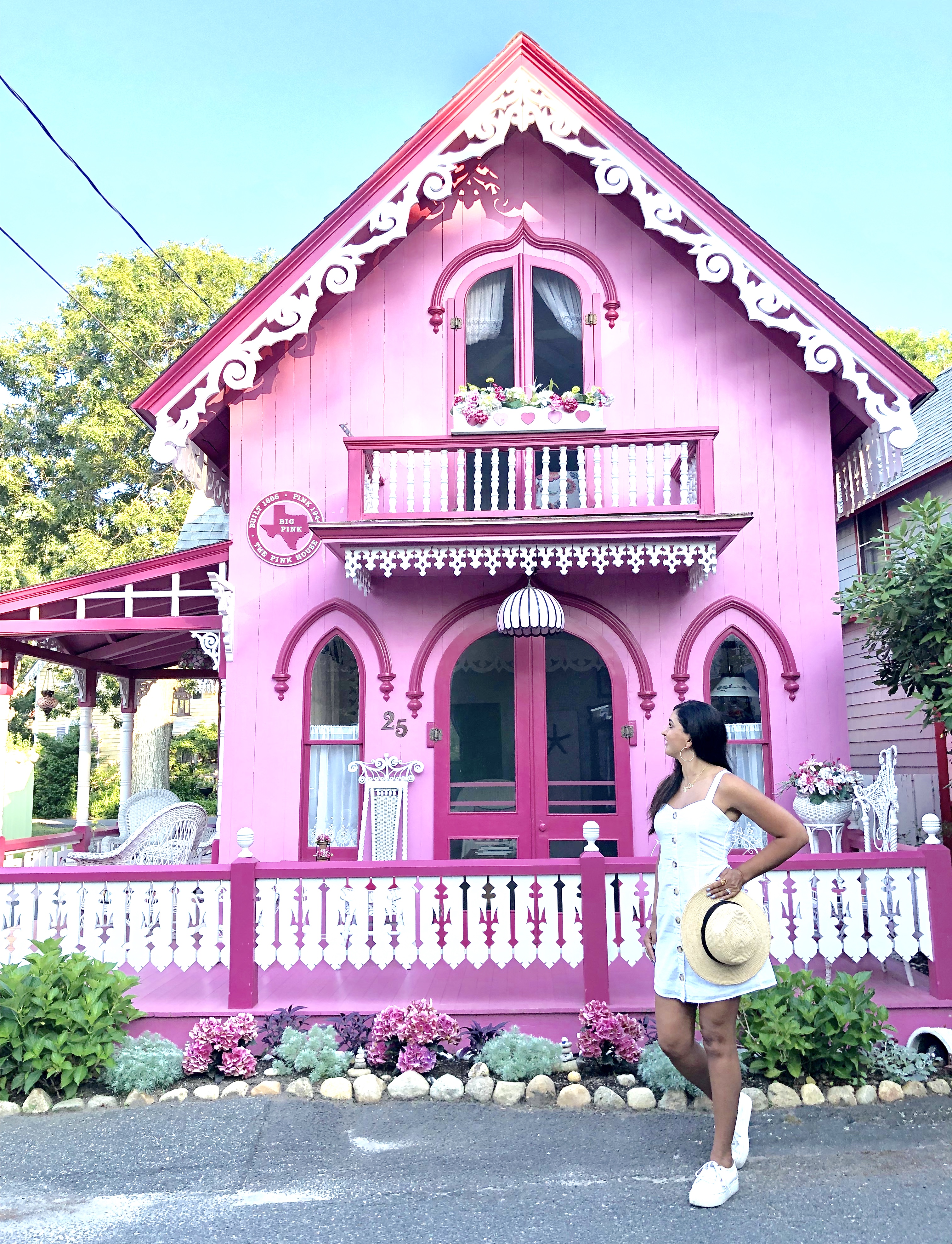 On our third day we took an Uber to Edgartown to visit the Edgartown Harbor Lighthouse. I have a love affair with lighthouses. There's something so patriotic about them. We climbed to the top and took in the view. Keep in mind that access to the lighthouse closes at 4 p.m. We had to charm the gatekeeper to let us into the lighthouse a few minutes after closing time. I'm so glad we did though because the view is spectacular. There's a sandy beach area and docks near the lighthouse and a very cool sailboat with an American flag mast that sails by. This is a sight not to be missed!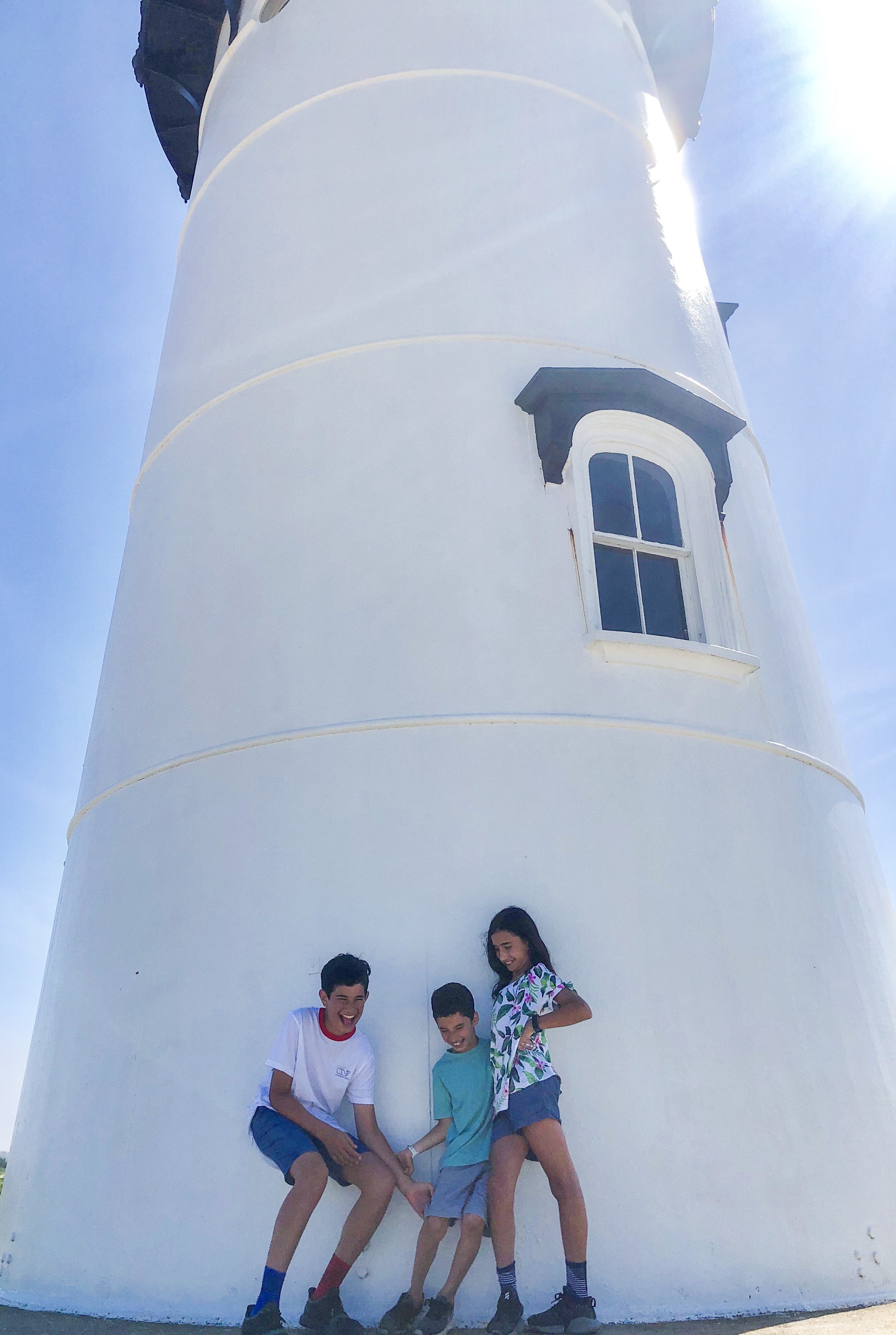 Did you know the movie "Jaws" was filmed on Martha's Vineyard? That was news to me. On the drive (or bike ride) between Oaks Bluff and Edgartown there is a two-lane wooden bridge that summer visitors jump from into the water below. It's pretty much customary for visitors to the island to do this despite all of the surrounding  "no jumping from the bridge" signs.
Things You Shouldn't Miss (But We Did)
Before we left I put out an S.O.S. to some friends asking for recommendations on what to see and do while we were visiting Martha's Vineyard. We did not get to everything on our list but that's okay because we took things at our own pace, relaxed, and had fun. That's what summer vacation is about, right? We missed visiting Acquinnah Cliffs on the south side of the island. The dramatic clay cliffs are natural wonders that were formed by glaciers. The Gay Head Lighthouse (featured in the movie Jaws) is also here. Just gives us another reason to go back!
-Shop this Post-
If you like this post please subscribe to receive regular email updates. Did you know that now you can follow a hashtag on Instagram? Follow #lunchwithagirlfriend. For more inspiration, you can also follow me on Facebook and Pinterest .