Quarantine is taking beauty and grooming regimens to another level. While these are certainly first world problems, you gotta draw the line somewhere. After a couple of weeks of stay-at-home orders and with hair, nail, and beauty salons being closed for a few more weeks at least, you might be wanting/needing to take matters into your own hands. Here are some of the essentials continuing at-home maintenance until the world goes back to normal. Introducing the quarantine beauty edit.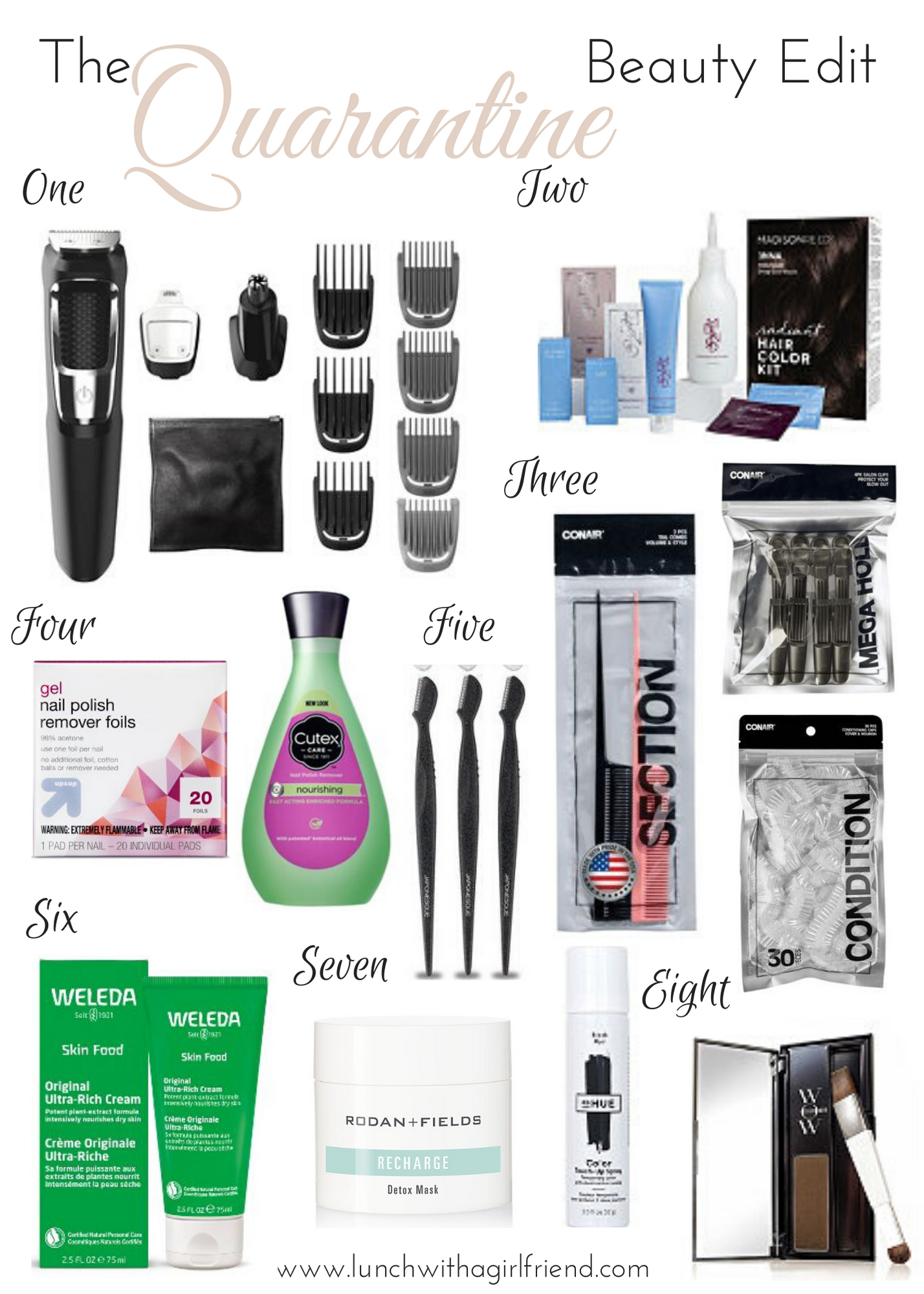 One : : Rechargeable Hair Trimmer
I don't know what it's like in your house but the boys in mine need haircuts already. At least a nice trim to keep things from getting to wild anyway. A rechargeable hair trimmer is essential for keeping your husband, kids, and dog trimmed while salons are shuttered.
Two : : At Home Hair Color
Confession: I've never colored my hair at home before. No problem to let your grays peek through but for those of us who just can't stand it anymore, at home color is the answer. My regular hair dresser recommends Madison Reed at home color. It's formulated without harsh ingredients like ammonia and parabens that other at-home color kits contain. There is an in-depth questionnaire on the Madison Reed website to help you figure out your correct shade and a money-back guarantee on your first box if the color doesn't work out.
Three : : At Home Color Essentials
Before you can do your own hair color, make sure you have the proper tools on hand, like a sectioning comb, clips, and a disposable shower cap. Latex gloves are a must (if you can find them) if not improvise with any other type of gloves you can spare.
Four : : Gel Polish Remover
When we began our quarantine I naively did not anticipate that it would be longer than a couple of weeks. For anyone that has a chipping gel manicure, aluminum foil wrapped around a cotton ball dipped in nail polish remover is a must. There are also gel polish remover kits like this one that make it really easy. Then go ahead and redo your nails with regular nail polish just to feel like a regular person again.
Five : : Eyebrow Razors
Can't get an eyebrow wax or thread because your usual place is closed? No problem. Eyebrow touch-up razors will be your best friend and help you keep your brow shape until you can make it back to your esthetician.
Six : : Waleda Skin Food Hand Cream
The best hand cream is the world. If your hands are dry and cracked from washing and purell-ing then you need a tube of Waleda Skin Food to keep your hands soft. It's also important to keep hands soft because virus germs can hide in cracked skin.
Seven : : Face Mask
Our minds are feeling more stress than ever before and that stress is absorbed by the body. Now more than ever we need to take time to nourish ourselves. Self care regimens like a face mask can be a relaxing way to unwind at the end of a stressful day. The Rodan + Fields detox mask is my favorite lately.
Eight : : Root Powder and Touch Up Kit
If your roots are starting to show but you don't feel ready to commit to at-home hair color, root powder spray or a brush touch-up kit can be your saving grace. I like to use the spray to cover a larger area and the brush touch up kit is great for getting any roots around your face since you have more control over where the color lands.
If you like this post please subscribe to receive regular email updates. Did you know that now you can follow a hashtag on Instagram? Follow #lunchwithagirlfriend. For more inspiration, you can also follow me on Facebook and Pinterest .