I love an occasion to dress up and I'm so glad to finally have more opportunities to do so this holiday season. Because it's been a while you have even more reason to make an extra effort to be festive. So today I'm showing you three looks that are perfect for a casual holiday season.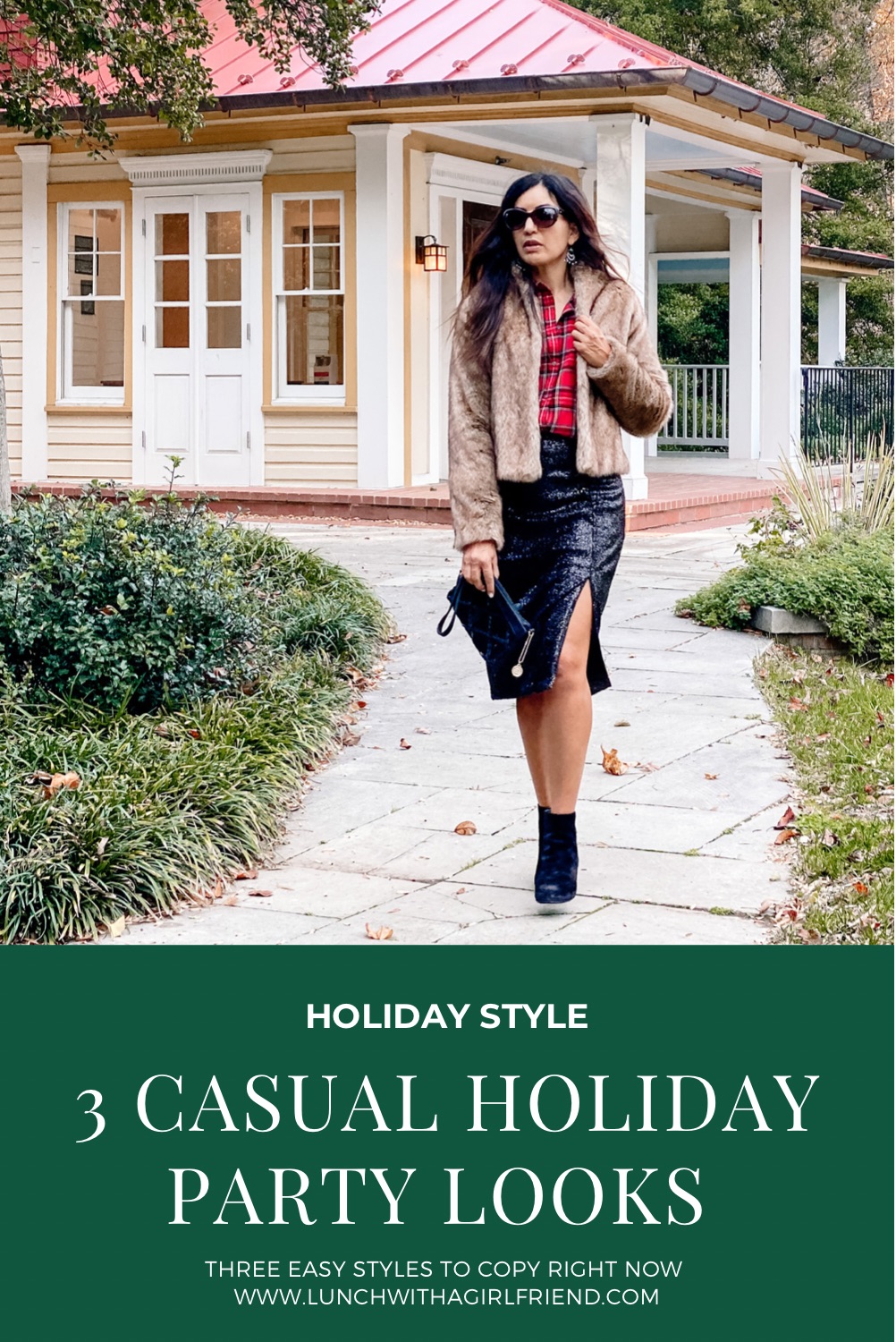 Casual Holiday Look #1
Casual on top, party on the bottom. This is one of my favorite casual holiday party looks especially if you don't know what everyone else will be wearing. No one wants to be under or overdressed for a gathering — no matter how small or informal the invitation suggests. You can thread the needle by pairing a casual classic tartan button down shirt with  a sequin pencil skirt. In fact, generally pairing a casual piece with a dressier item is a way to dress down an outfit. The booties make the outfit less formal. Opting for heels or a dressy sandal would amp it up.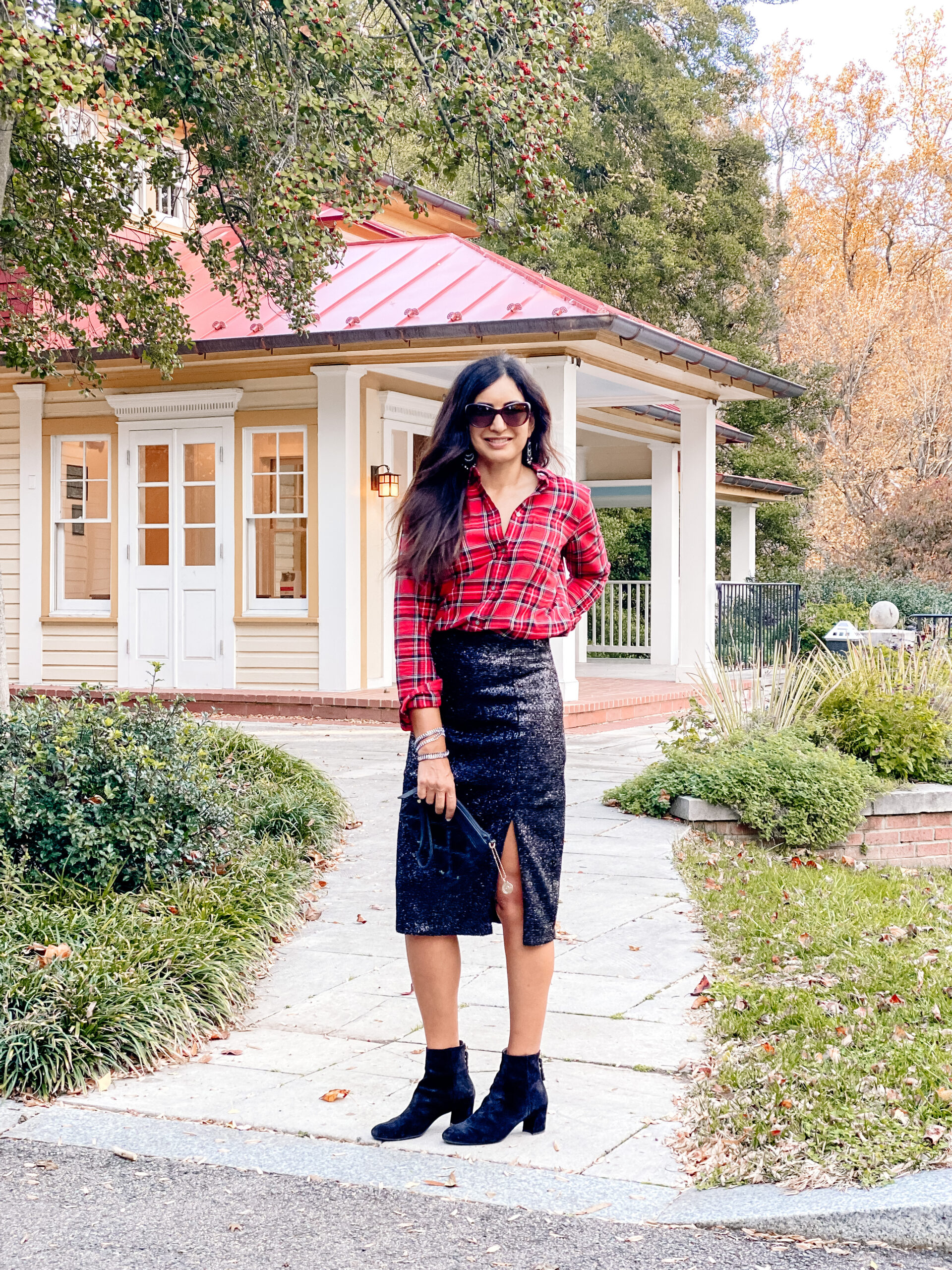 Outfit Details: Tartan Button Down (mine is old) similar here  || Sequin Pencil Skirt here and here || Ankle Booties
Casual Holiday Look #2
For the second look I paired a high neck ruffle blouse in a festive color with a pair of jeans. I could have dressed up the outfit more by wearing the blouse with a pair of pants but the jeans are perfect for staying home and being casual.. If I am heading to religious services, black or ivory pants -would kick it up a notch. I added a leopard belt because I can't resist an animal print. Plus I think jewel tones (like emerald, sapphire, and ruby) and animal print accessories work very well together. You can choose to add heels or not depending on warmth and comfort.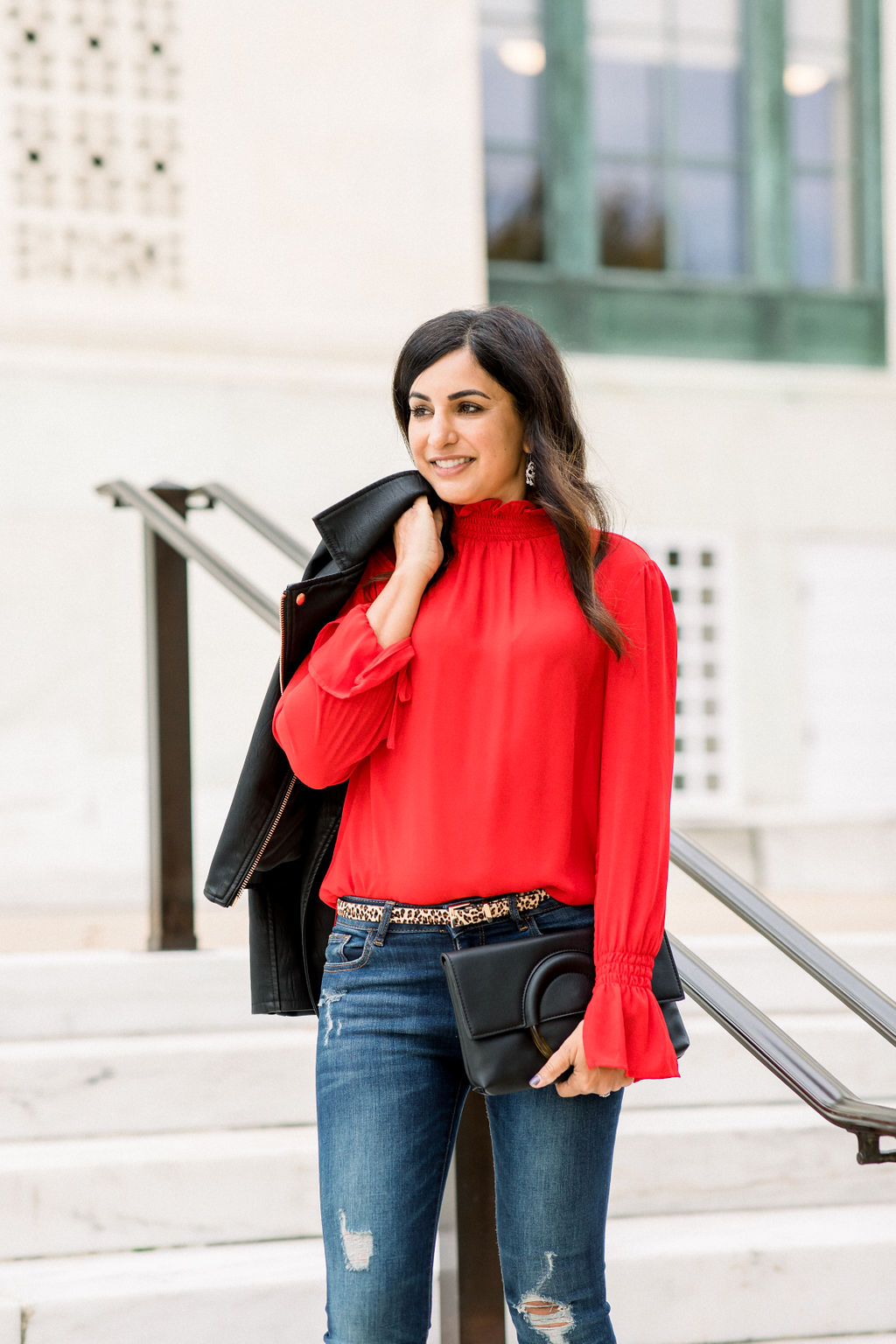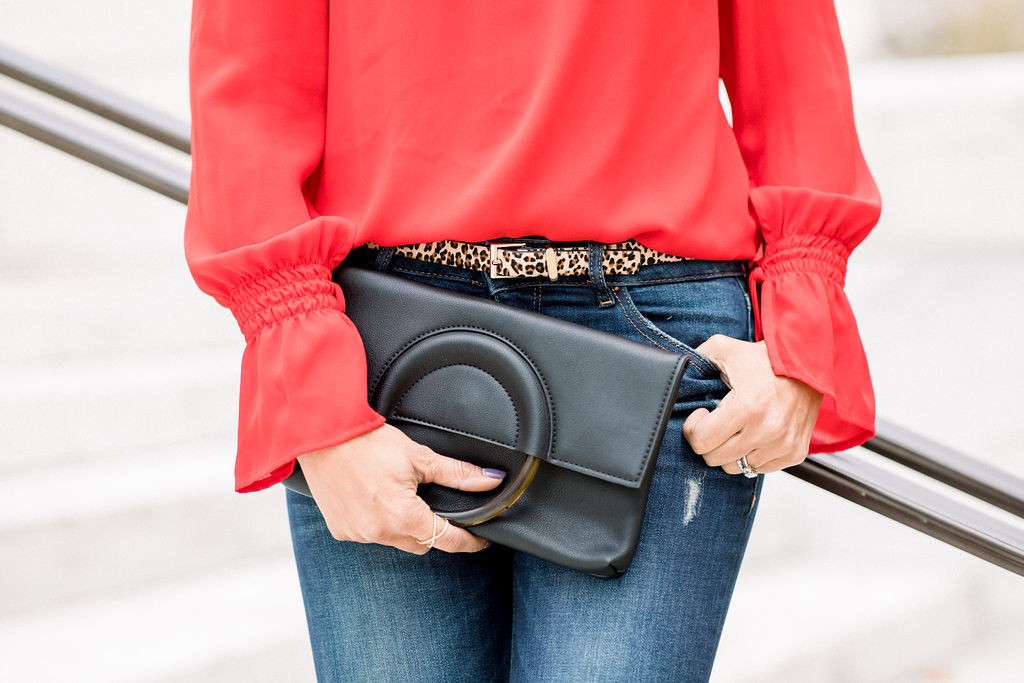 Outfit Details: High Neck Ruffle Blouse (mine is old) similar here and here || Denim Jeans here and here || Leopard Belt || Clutch (similar) here || Leather Jacket || Ankle Strap Heels
Casual Holiday Look #3
For the third look I'm wearing a tartan cape with a fitted black turtleneck and black denim. The gold detail on the belt pops against the monochromatic outfit. The tartan pattern on the cape makes it festive and provides warmth and a cozy vibe. The distressed denim keeps the overall look very casual.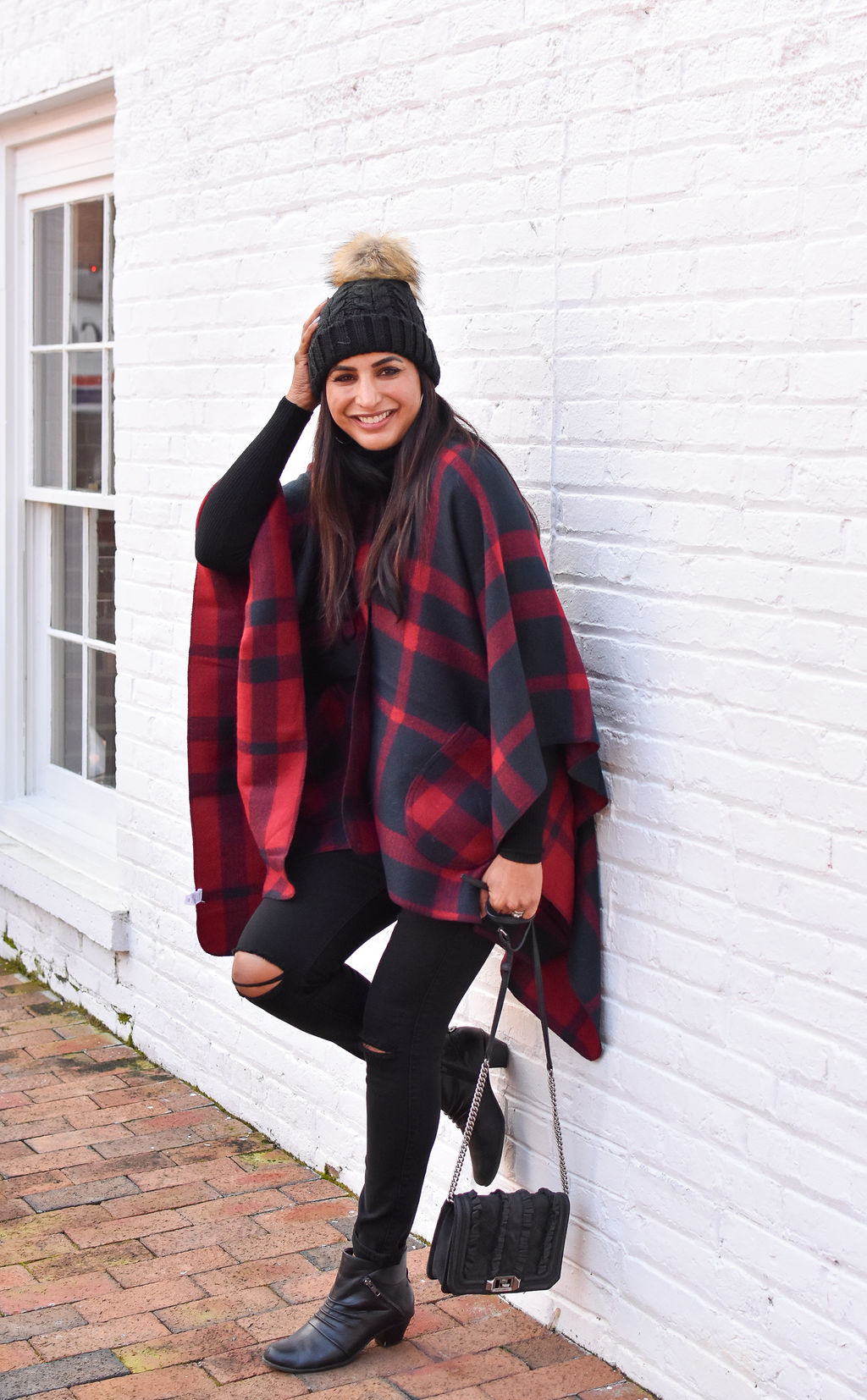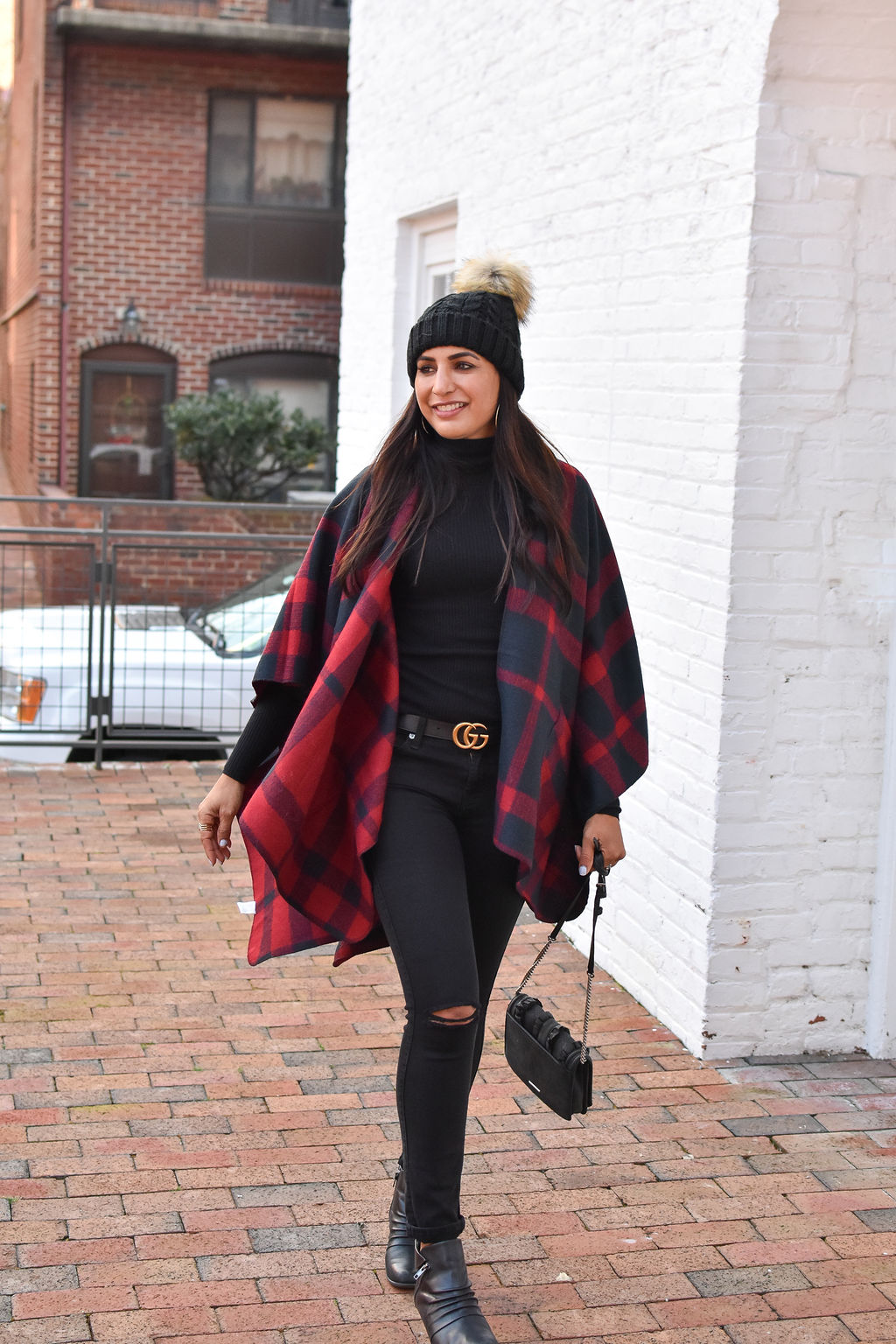 Outfit Details:  Turtleneck || Cape (similar) here and here || Black Denim || Booties (mine are old) similar here || Purse (similar) here || Belt ||
If you like this post please subscribe to receive regular email updates. Did you know that now you can follow a hashtag on Instagram? Follow #lunchwithagirlfriend. For more inspiration, you can also follow me on Facebook and Pinterest .