I get a surprisingly high number of requests from male readers for gift ideas for women. So today's post is for all the men out there looking for Valentine's Day gift ideas for the women in their life. You don't have to spend a lot of money to impress your sweetheart! These ideas work equally well for women who want to honor special women in their lives. We all need a little extra love these days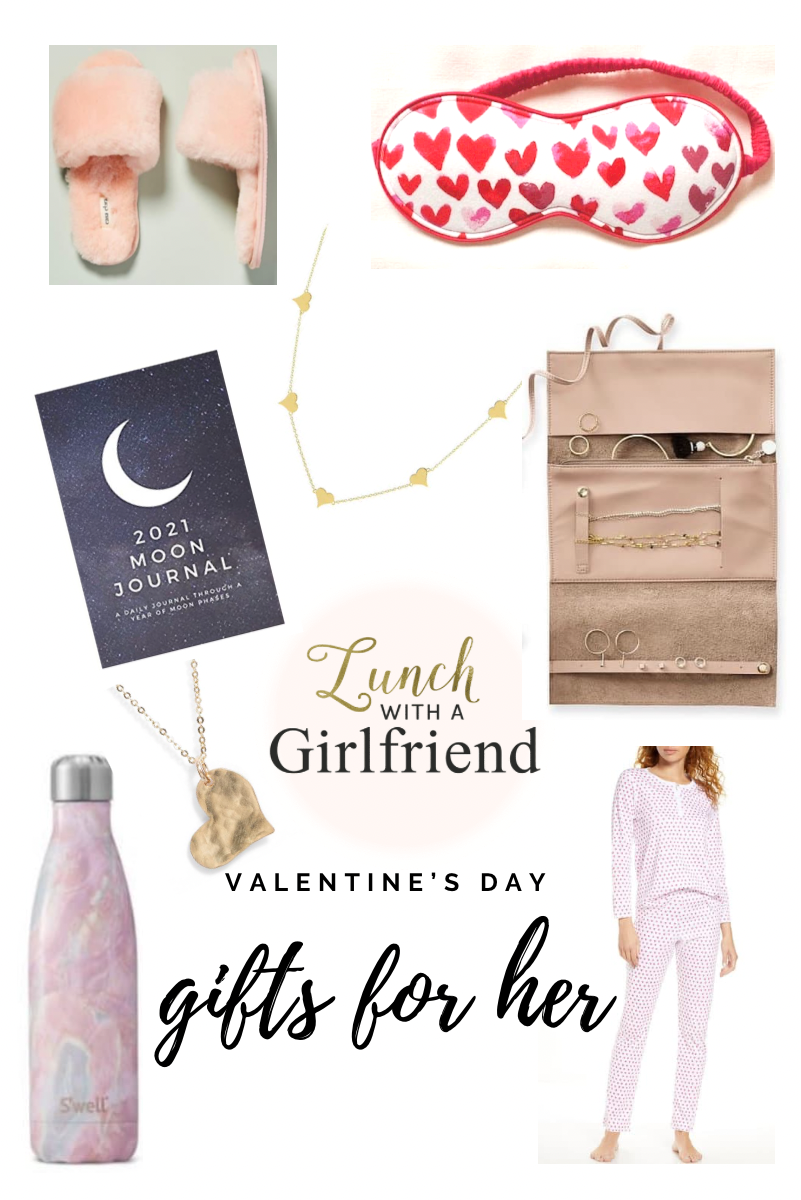 Slippers. // I didn't understand the importance of a leisure shoe until I asked for a pair of cozy slippers for Christmas. Now I wear them every single day.
Eye Mask. // An eye mask just isn't something a girl thinks to buy for herself but it sure is helpful for falling asleep especially if we ever get back to traveling on planes again.
Hearts Chain. // Delicate gold jewelry pieces make great accessories with simple outfits. It's a token but will be so appreciated!
Moon Journal. // A wonderful way to de-stress is to spend a few minutes a day journaling. This moon journal includes prompts that help you understand your feelings and the relationship to the moon cycle. Perfect for anyone interested in spirituality.
Jewelry Roll. // This jewelry holder is well made and beautiful on a vanity and travels well in a purse or suitcase.
Heart Necklace. // This longer length necklace complements the shorter hearts chain but looks great on its own too.
Water Bottle. // This is a pretty bottle that she'll love carrying around everywhere she goes.
Heart Pajamas. // Cozy pajamas get a lot of wear these days. This is a cute set for the coldest nights of winter.
If you like this post please subscribe to receive regular email updates. Did you know that now you can follow a hashtag on Instagram? Follow #lunchwithagirlfriend. For more inspiration, you can also follow me on Facebook and Pinterest .