Girlfriends: it feels like Christmas in July. The Nordstrom Anniversary Sale starts today for Nordstrom cardholders. The good stuff goes fast and it won't be restocked so read below for my list of what to buy from this one-of-a-kind sale. For non-Nordstrom cardholders, the sale starts next Friday, July 19th. I will continue to post on my Instagram stories my top finds from this sale so if you are not following me there, get on it!
I got a lot of questions over the last week about my strategy for this sale. It's so overwhelming because there is truly a lot to see and buy. And, well, most of us are on a budget. So here's my recommendation for how to tackle what I consider the best sale of the year! And my promise to you is that I am only highlighting items that I would actually buy myself. If I wouldn't buy it, I wouldn't tell you to.
Do NOT attempt to shop in the store. It's a zoo. They have extra staff and still they can't accommodate the crowds and you won't find everything in your store anyway. So plop down in your comfiest chair or your desk, whatever, and shop online.
If you can, order online and pick up your items at the store. That way if something doesn't fit  and you need alternative sizes etc. you still have a chance of getting your items on the first day of the sale.
That said, if you are unsure of sizing, order multiple sizes. Nordstrom has a very generous return policy. Buy in bulk, try on at home, return later.
Narrow your initial focus to coats, shoes, denim, and workout gear for women. Mens clothing, baby and kid stuff, and beauty items hang tend to hang around a bit longer.
Next, if there are particular brands you love like Tory Burch, Gorjana jewelry, Paul Green shoes. search the sale by the brand. Some items rarely go on sale and if it's a brand you are fond of, you'll want to snatch up a deal.
Alright, let's get on with it! I got a sneak peek at the sale earlier this week and I've compiled my list of what I'll be hunting down this year.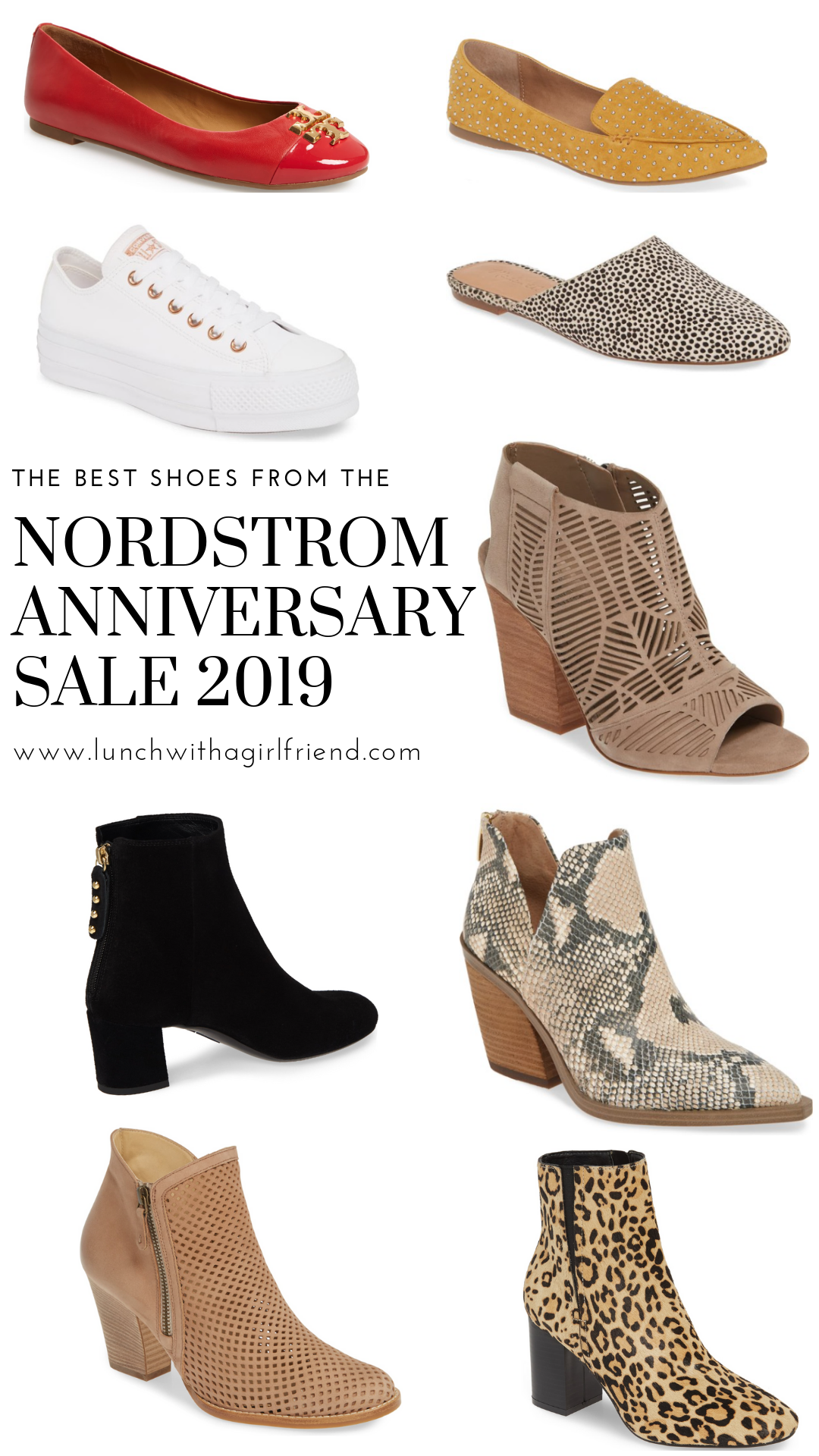 Shoes
Tory Burch Ballet Flats. // $164.90. I don't gravitate toward ballet flats often but I know many of you love them. For a designer pair this is a great price.
Studded Loafer. //$59.90. I've been wanting to add a loafer to my wardrobe. I love these studded ones and yellow always looks great with denim.
Chuck Taylor All Star Lift Sneaker. // $46.90. How many pairs of white sneakers is too many? The gold accent is killer. And I love a sneaker with a little lift.
Madewell Calf Hair Mules. // $55. I really love this animal print.
Vince Camuto Cut-Out Sandal. // $99.90. Such a stylish transition bootie for late summer and early fall.
AGL Black Sock Bootie. // $296.90. This is my personal pick for my favorite splurge from this entire sale. I just love the gold detail along the back and the not too high block heel.
Dolce Vita Snakeskin Bootie. // $89.90. I love the look of these booties and can totally see myself wearing them a ton this fall. I would style these with a black turtleneck or neutral tee and crop straight leg jeans. These booties are the focal point!
Paul Green Perforated Bootie. // 299.90. These are really well made shoes.
Halogen Bootie. // $84.90-$89.90. Lower price point, but stylish and good quality booties too.

Coats
BB Dakota Teddy Coat. $89.90. I bought a teddy coat at last year's sale and I wore it all winter long.
Sam Edelman Single Breasted Winter Coat. // 196.90. Comes in mustard yellow, black, and a very pretty blue with the cutest brown polka dot lining. What every girl in Paris is wearing with her jeans when it's too chilly for a trench coat.
Sam Edelman Trenchcoat. // $146.90. Classic Parisian styling. Every girl in Europe is wearing a trench coat in the fall and winter.
Alo Bomber. $124.90. This chunky ALO bomber is so soft and cozy.
Halogen Faux Fur Coats. // $99.90. My personal kryptonite. The faux fur section of my closet is taking over so I couldn't stay long but these are some super cute coats in fabulous jewel tones (green, yellow).
BlankNYC Knobby Faux Fur Coat. // $64.90. See my previous comment.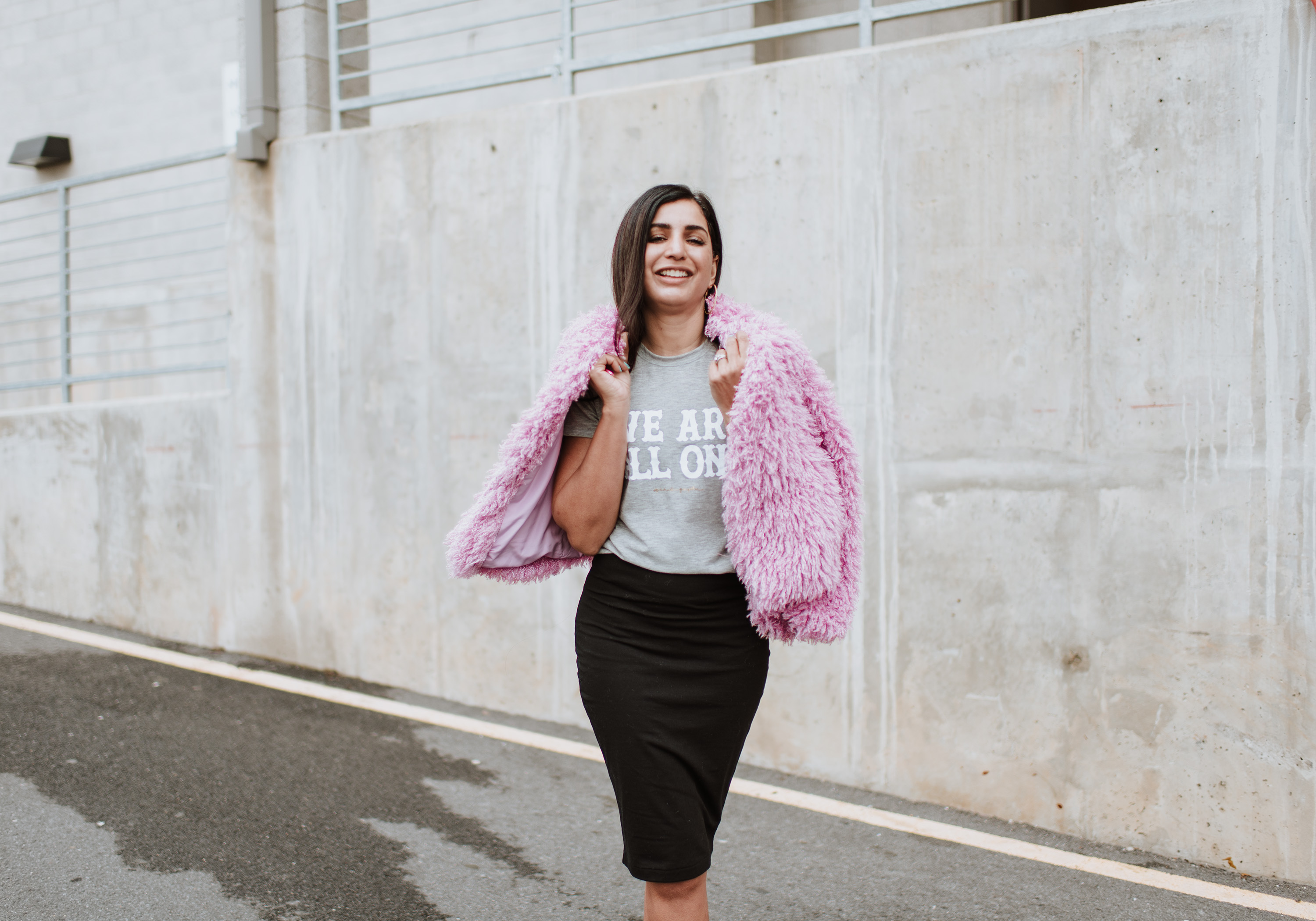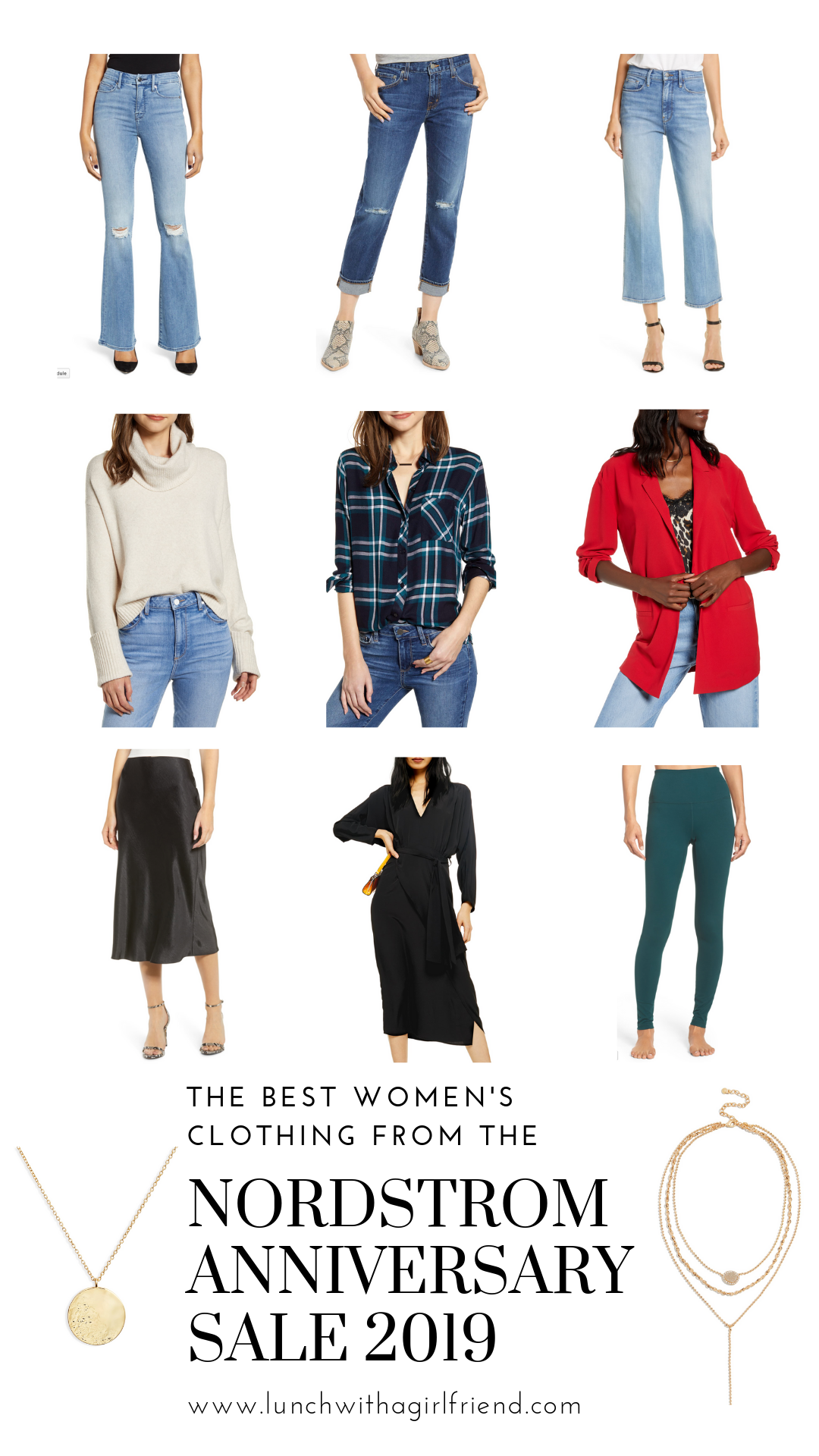 Good American Flare Jeans. // $119.90. Don't go throwing away your skinny jeans or anything, but high rise straight leg jeans are the future. I wouldn't spend your hard-earned dollars on anything else. They run big so size down one size. They are also a little shorter in length too which is perfect for average height girls like me.
AG Ex-Boyfriend Relaxed Slim Jeans. // $149.90. For the boyfriend jean lover, this has just the right amount of distressing at the knee.
Frame Le Sylvie High Waist Kick Boot Crop. // $159.90. A high rise crop that will look amazing with booties this fall.
Chelsea28 Chunky Sweater. // $9.90. This will be great for everyday wear this fall.
Rails Shirts. // $104.90. I don't need any more button down shirts but I know a lot of women love this brand. Great price compared to their regular price.
Leith Boyfriend Blazer. // $45.90. Pair an oversized blazer with shorts, skirts, and jeans for your fall looks.
Chelsea28 Snakeskin Midi Skirt. // $49.50. I'm just dying to have this skirt in my paws.
Top Shop Belted Midi Dress. // $62.90. Comes in black and a multi print fabric. Could be the perfect work to play dress for fall.
Zella Running Tights. // $38.90. Hunter green leggings. The color is fabulous. I bought 2 pairs of these last year at the Nordstrom Anniversary Sale and I truly love these. I will pick up another pair this year. Run true to size.
Jewelry
Gorjana Coin Necklace. // $42.90. Hands down my favorite jewelry. Gorjana gets it right every time.
Baublebar Necklace. // $31.90. Master the layered necklace look in one piece.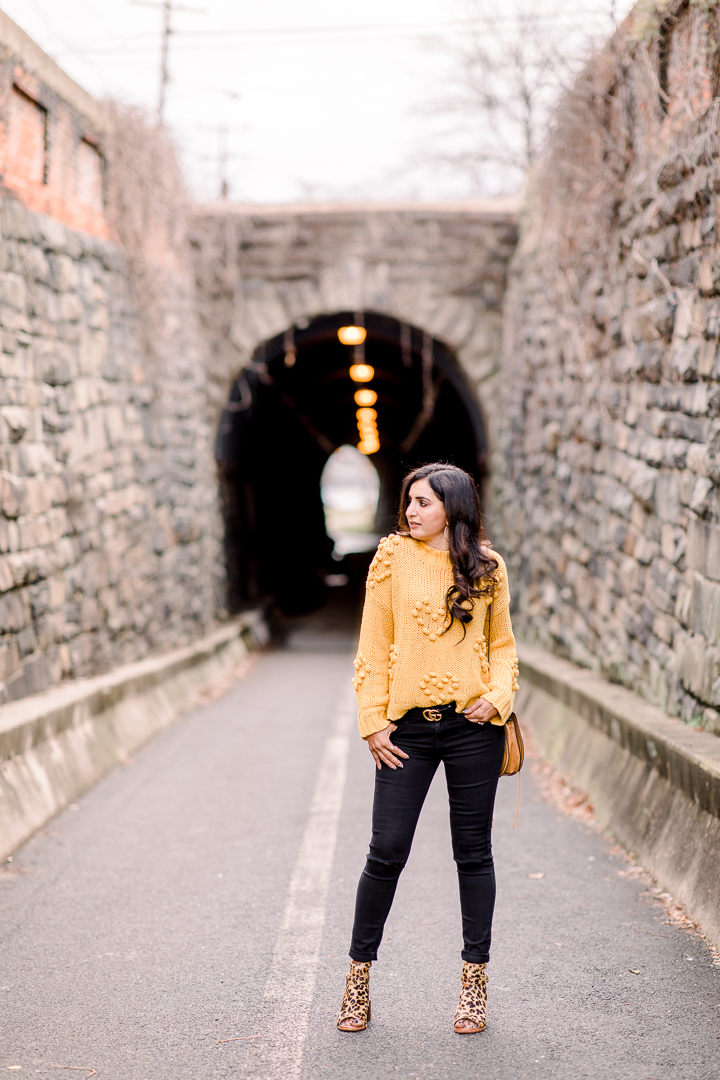 Purses & Luggage
Tory Burch Crossbody bag. // Simple, classic, and multi-functional.
Madewell Leather Suede-Leather Tote. // $139.90. Really good quality leather totes. Comes in brown and moss green.
Chevron Hard Shell Luggage duo. // $199.90. Well, damn, if I didn't already just buy a new suitcase I'd probably buy this set. A great price point for a suitcase duo.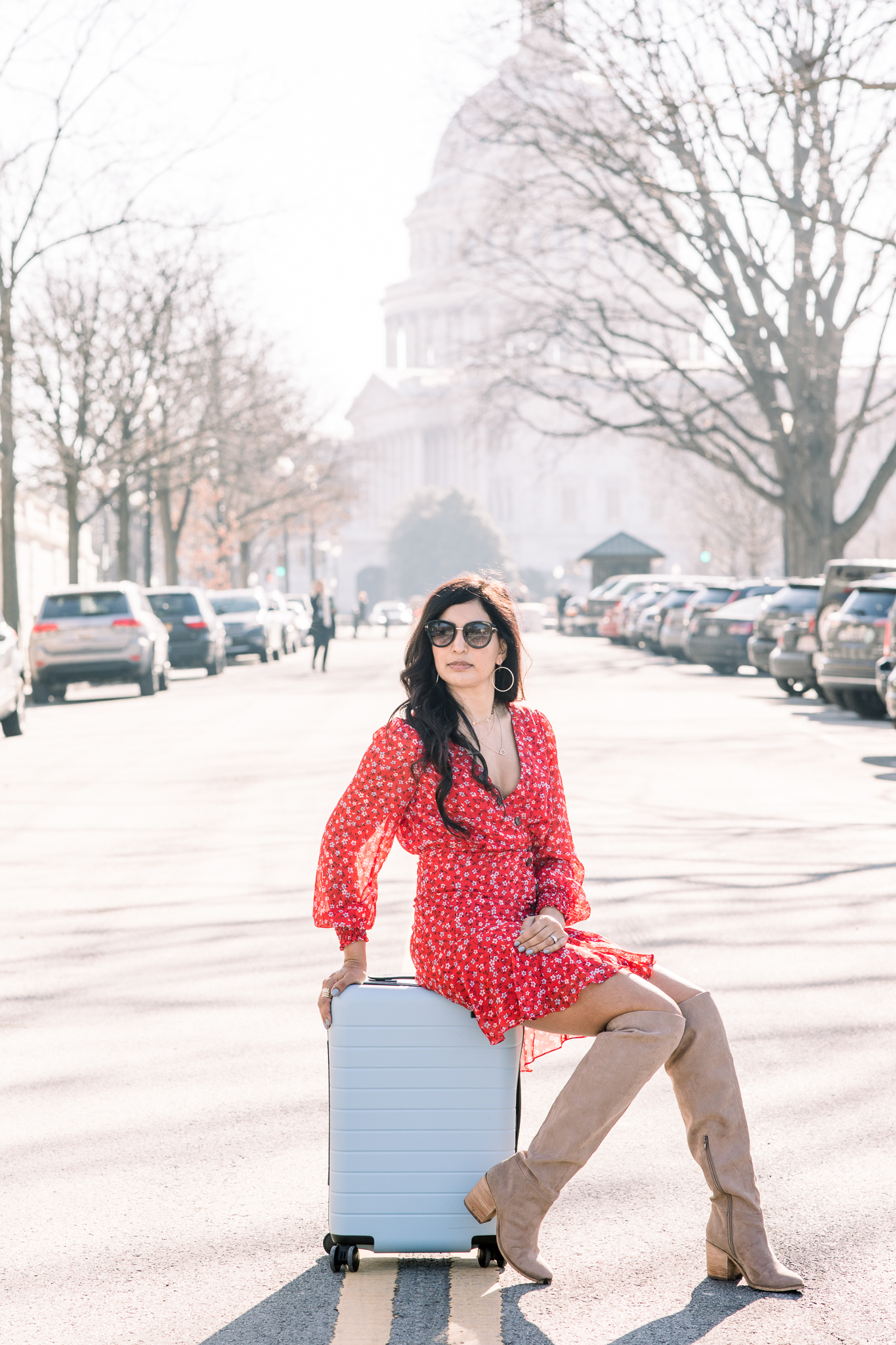 If you like this post please subscribe to receive regular email updates. Did you know that now you can follow a hashtag on Instagram? Follow #lunchwithagirlfriend. For more inspiration, you can also follow me on Facebook and Pinterest .