Aside from one, maybe two, holiday parties, the majority of the festivities I'll go to this month are casual affairs. So today I wanted to show some casual holiday party looks to wear to neighborhood wine nights, ornament and cookie exchange parties, or even holiday events at your kids' school.
#1 Vegan Leather Leggings
One of my favorite items in my closet are my vegan leather leggings. I've had them for a few years and this is the perfect time of year to wear them. For an edgy yet super casual look offset the leather leggings with a loose, flowy top. I paired mine with a plaid shirt that I left untucked. This is a look that can be dressed up or down. Here, I wear them with sneakers for a casual occasion such as a school holiday party. The leggings could also be paired with black booties or heels to take it up a notch.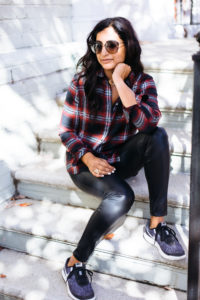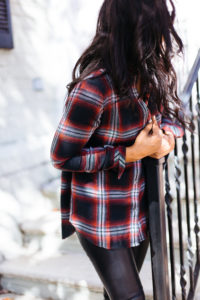 Outfit Details: Plaid Button Down (on sale, 30% off, use code OHWHATFUN) | Vegan Leather Leggings (old) similar here or here (on sale 40% off) | Sneakers similar here | Sunglasses
#2 Faux Fur
There it is — again. Faux fur. I already talked about my obsession with it here. Faux fur vests and coats are so versatile they can be paired with just about anything for a dressed up look that is actually really simple. In this look I've paired a tank top and jeans with festive red heels and a faux fur coat that is perfect for a night out to a holiday ornament exchange or wine night with the girls from the 'hood.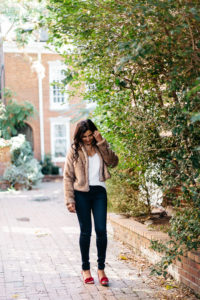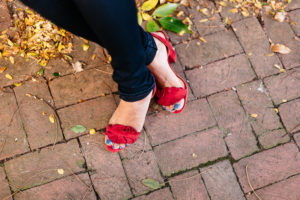 Outfit Details: Cami similar here | Jeans (size down they run big) in color longevity |  Fur Coat (old) similar here | Ruffle Heels (on sale 40% off)
#3 Embellished Jeans and Tops
Always a fun "going out" look, embellished jeans and tops are a must have for your holiday collection in your closet. They're perfect to wear for events now and you can roll them right on through to New Years. This drape front camisole has subtle metallic stripes that make it a little more dressy than your usual cami. I'm a sucker for bejeweled jeans — as soon as I saw these in the store I knew I had to have them. This is another look you can dress up with heels or dress down with more casual footwear.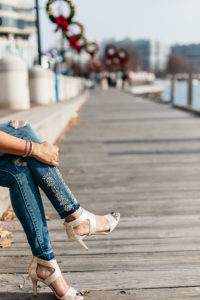 Outfit Details: Cami | Skinny Jeans With Gems | Heels (old) similar here and here | Faux Fur Cape (extra 30% off use code FRIENDS) | Bangles here and alternative here
Want more fashion inspiration? Sign up to receive my updates by email. It's free! You can also find more inspiration on my Instagram.
Photography by Anna Meyer
If you like this post please subscribe to receive regular email updates. Did you know that now you can follow a hashtag on Instagram? Follow #lunchwithagirlfriend. For more inspiration, you can also follow me on Facebook and Pinterest .