Helllooo friends! Today I'm excited to announce the first installment of a monthly series on building a better wardrobe. Each month I will highlight a wardrobe basic that every woman should have in her closet. My hope is that by the end of 2019 we will all have a foundation of basics in our closet. Today is all about the white button down blouse.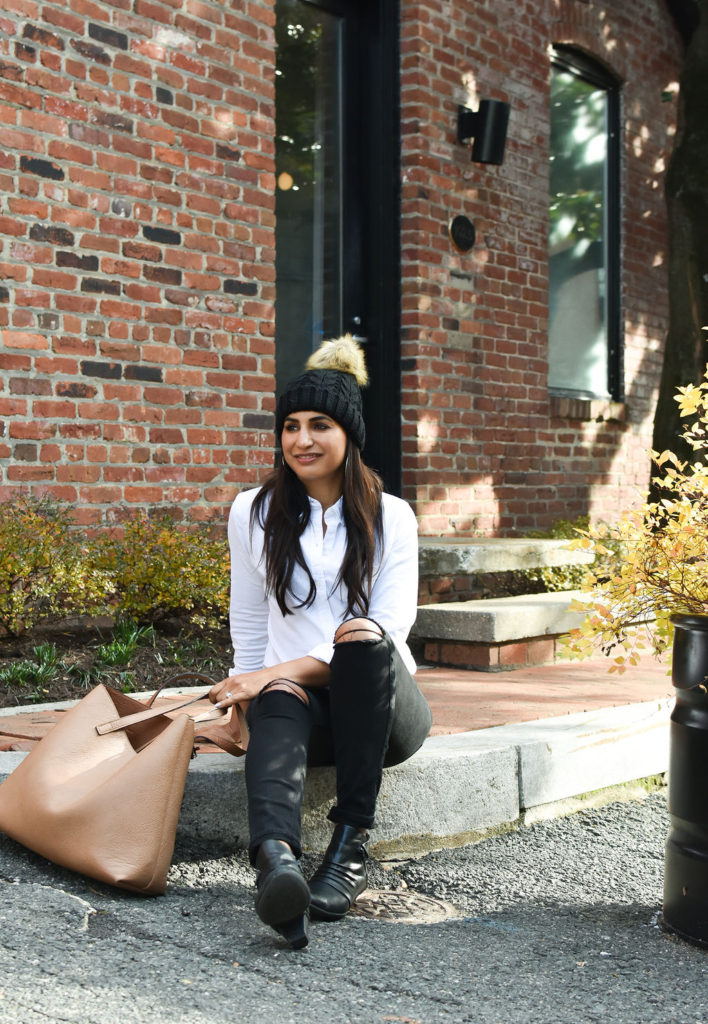 Outfit Details: White Button Down Blouse | Distressed Black Denim | Bootie (similar) here | Tote (similar) here | Beanie
To be perfectly honest with you, until this Fall I did not have a white blouse in my closet. I can't even remember the last time I did. Why is the white blouse important? In a classic cut, a white button down blouse is the foundation of any woman's office attire. Since I haven't worked in an office in a decade, that probably explains why I haven't had one in recent years.
But a white blouse is a classic, versatile piece that can be dressed up or down and layered up. Even if you are not putting on a button down shirt under a power suit and heels every day it's still an essential piece to building a better wardrobe. Here are two examples of how to wear a white button down blouse that are perfect for casual settings.
Dressed Down In Jeans
Outfit Details: Distressed Denim | Leopard Belt | Nude Heels | Teddy Coat (sold out) similar here |
You can wear your white shirt tucked into a pair of jeans or knotted in front. In this instance I wore mine with distressed denim. Because I was in a casual work environment I added in heels and a luxe teddy coat to balance out the distressing in the jeans. A white button down would also look great with dark wash or black jeans, booties, or fashion sneakers.
Layered Up
A white button down blouse is perfect for layering under other accessories like scarves or cardigans. Swap different accessories in and out and your outfit instantly changes.
Outfit Details: Faux Fur Scarf | Blanket Scarf | Circle Cardigan (similar) here
I've included my top white button down blouse picks in the widget below. Pick one up and let's get started on building a better wardrobe together in 2019.
If you like this post please subscribe to receive regular email updates. Did you know that now you can follow a hashtag on Instagram? Follow #lunchwithagirlfriend. For more inspiration, you can also follow me on Facebook and Pinterest .