In the second installment of our closet refresh series I'm talking about how to wear leopard print. You guys really reacted to the leopard studded booties I wore recently. I LOVE LOVE LOVE leopard print — and I'm so glad you do too. That's a good sign that this friendship is gonna last.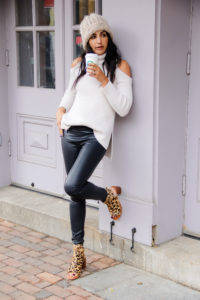 I'm pretty sure I own leopard print in every type of accessory: wallets and purses, shoes, hats, scarves, and most definitely a faux fur coat (I wear it year after year and I love it still).  I love a good leopard print and — believe it or not — because it's made up of neutral colors — black and brown — it goes with just about everything! It's a great print that spices up any outfit. Because it makes such a statement it's a good idea to stick with ONE leopard print piece at a time. I like to incorporate it as an accessory for that reason.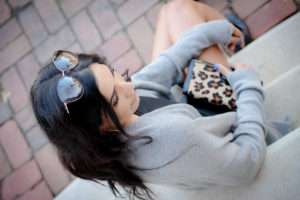 Because I know you guys love to have concrete ideas on how to wear an item, here are a few suggestions for ways to incorporate a leopard accessory into your everyday style.
#1 Pair Leopard Print and Stripes
Leopard print and stripes make a great pattern combination. Don't worry if your stripes are blue, black, or grey. The shades are so similar that they still work well with the black and brown in the leopard print scarf. I paired my outfit with a black Moto jacket and booties for the cooler weather.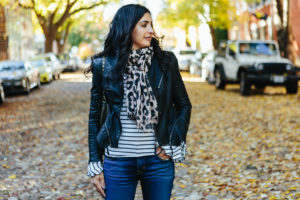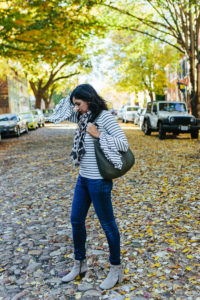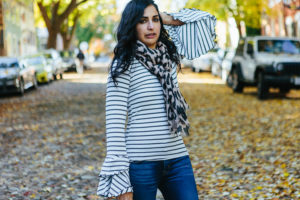 Outfit: Free People Stripe Ruffle Sleeve Tee (only available in Medium and Large now) but this sweater is on sale and available in Extra Small and Small and this side tie tee is available in all sizes | BP Leopard Print Scarf $19 | Black Vegan Leather Moto Jacket (no longer available) but this one is similar. This BlankNYC Embroidered Stud Moto Jacket is a good alternative and on sale for 50% off | Jeans (similar) here | Bootie (old) similar here and here.
#2 Wear Leopard Print With Neutral Colors Like Grey, Black, or Beige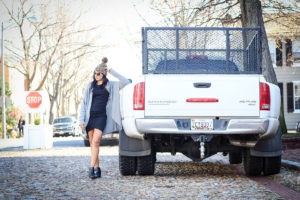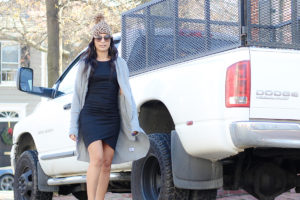 Outfit: Leith Ruched Sleeveless Dress | Leith Easy Circle Cardigan on sale for $44.98 | Leopard Pom Hat (no longer available) similar here | Black Booties similar here and here and I love this studded pair here on sale for $85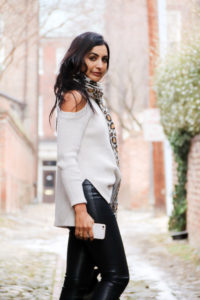 Outfit: Cupcakes and Cashmere Cold Shoulder Sweater | BlankNYC Vegan Leather Leggings | Chunky Knit Hat available at Target for $12 (scarf no longer available)
#3 Leopard Print Pops Against A Bold Jewel Tone Color Like Sapphire Blue, Ruby Red, or Emerald Green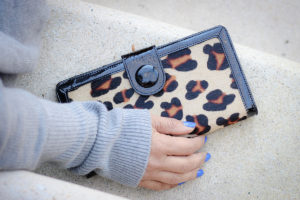 Outfit: Leopard Print wallet (similar) clutch here and here
A bold jewel tone in combination with leopard print is simply beautiful. It works especially well for a dressy evening event. It can make any basic outfit look instantly more glamorous. I may or may not be wearing said combination this weekend (Arlington Soccer casino night anyone?).
Shop My Favorite Leopard Print Accessories

Photography by Krisztina Kovacs
If you like this post please subscribe to receive regular email updates. For more inspiration, you can also follow me on Instagram, Facebook and Pinterest.
If you like this post please subscribe to receive regular email updates. Did you know that now you can follow a hashtag on Instagram? Follow #lunchwithagirlfriend. For more inspiration, you can also follow me on Facebook and Pinterest .