Over the last year we have been improving our outdoor living spaces. I love the idea of outdoor living and having a nice outdoor space to relax. We have a small backyard and a deck off the back of the house. We were letting the deck fall into disrepair and had a grand vision of tearing it off and installing a patio and outdoor fireplace. Just as we were about to pull the trigger on our plans COVID happened and we got really nervous about the investment we were about to make. It was early in March 2020 and things looked so uncertain and, frankly, bleak at that moment. So instead, we had the deck boards repaired and gave it a new coat of paint. As things shook out with COVID we realized we still wanted to invest in our outdoor living space. With the help of our trusted friend and interior designer, Gerry Zeiler, we altered our plans to incorporate the elements of what we were trying to achieve with the outdoor patio and fireplace. We also updated the chairs and table on our front porch to reflect our preference for modern clean lines.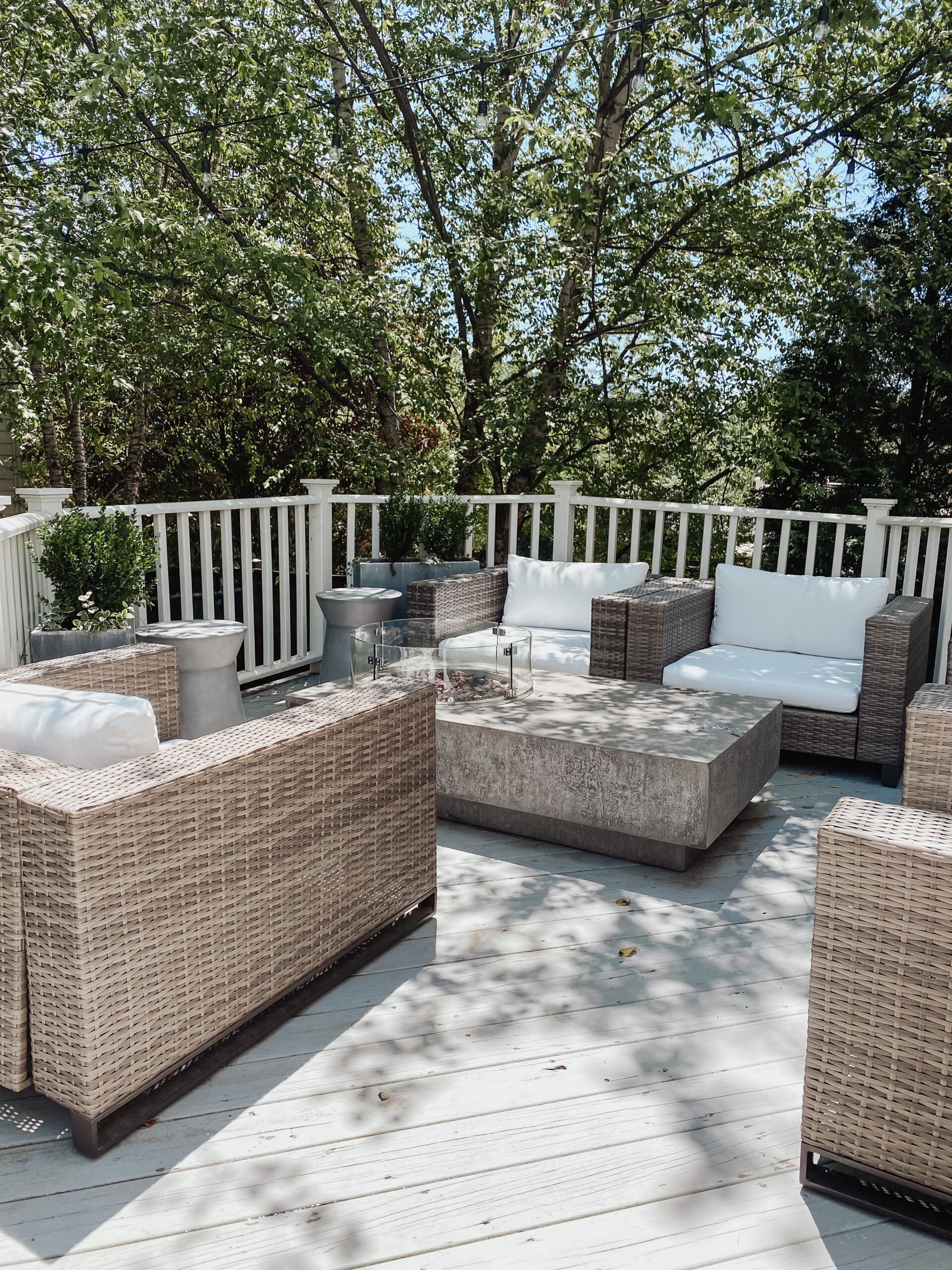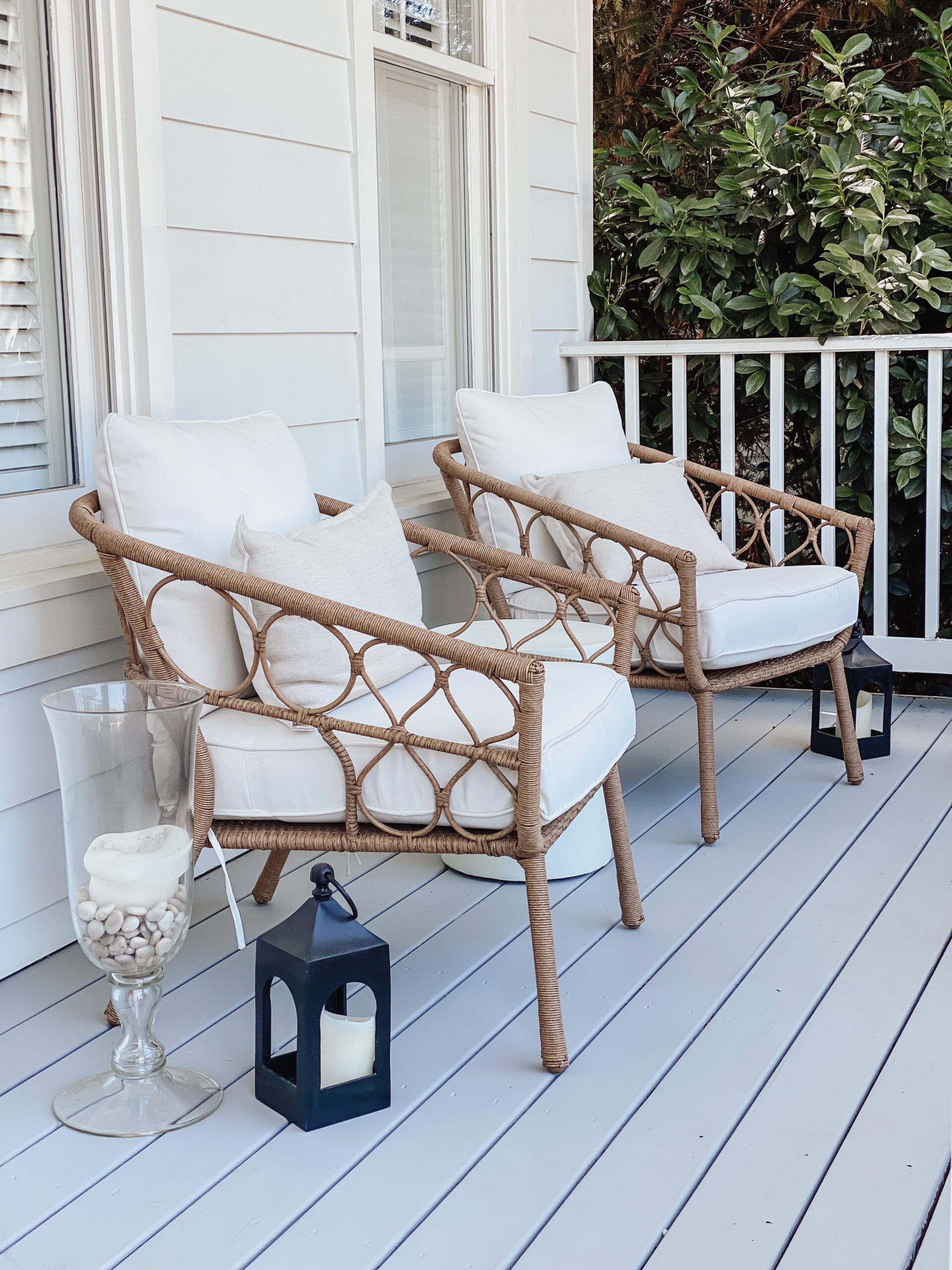 Outdoor Seating
Originally I was leaning toward an L-shaped sectional outdoor sofa for the deck but since it was during COVID the set I wanted was unavailable. We wanted something we could enjoy sooner than later so we moved on to another selection. Frankly, I'm happier with the low modern seating we ultimately chose. I love how modern and wide the chairs are. I originally bought the matching sofa, but to be honest, it did not hold up well over time. The chairs are a much better quality than the sofa. So this year we replaced the sofa with two more chairs. The cushion covers are all removable and are machine washable and Sunbrella fabric, so they can withstand the sun. For the front porch, we chose two club chairs in a natural faux wicker fabrication. Ours are sold out but these are similar.
Fireplace
To achieve our desire for a fireplace we had to get a little more creative. Our designer friend found this outdoor fire table. Originally I was leaning toward a table with the full rectangle fire ring but Gerry suggested a table that allowed space for food or drink would be a better choice for entertaining. I think she was right! The table comes with a propane or natural gas option. We chose natural gas and had a line installed under the deck that connects to the table. We also purchased the optional glass windscreen.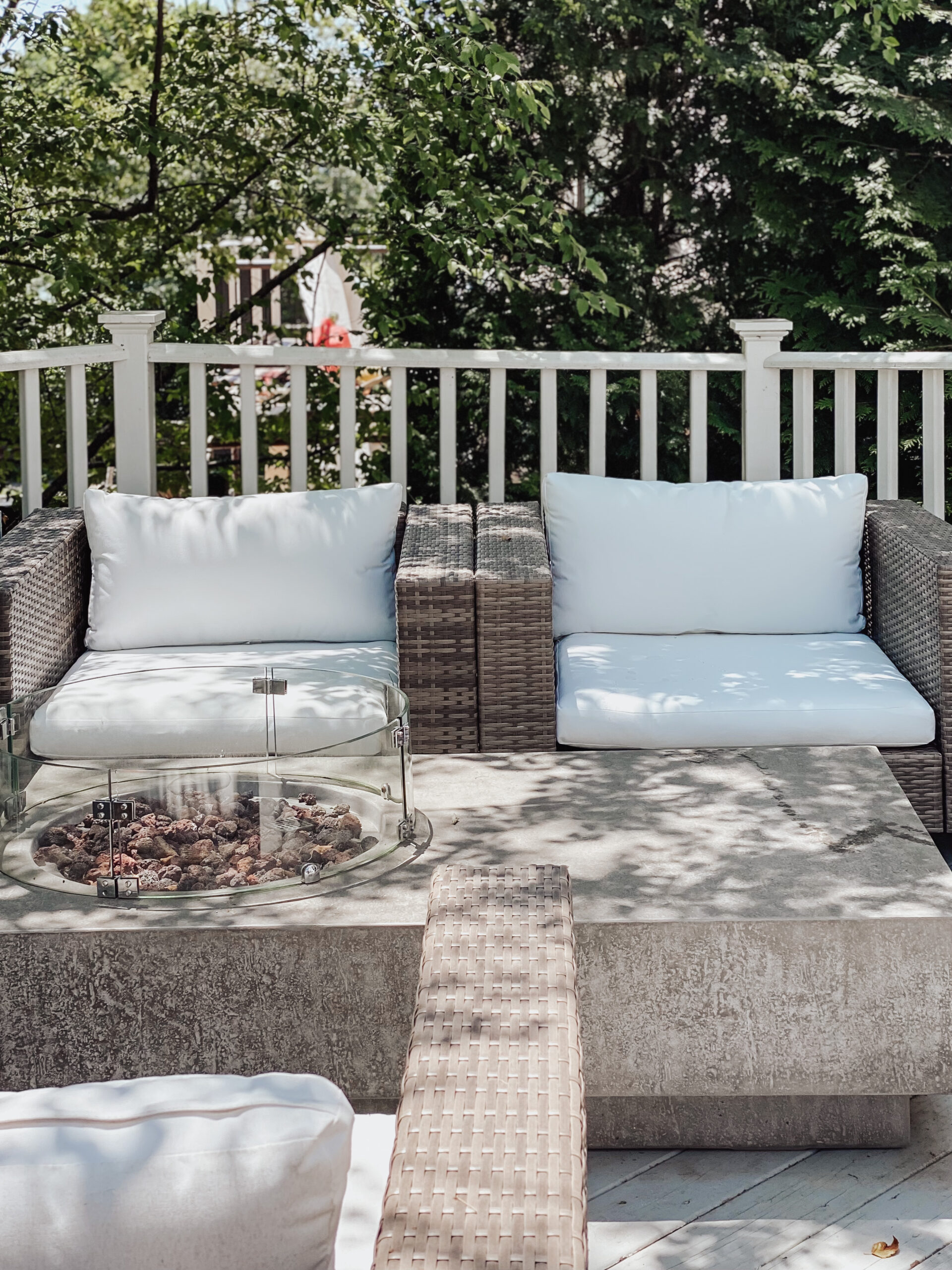 Side Tables
For both the deck and front porch we opted for faux concrete side tables in modern shapes. They complement the modern lines of our chairs. I also like how light they are. We move them around a lot and sometimes they come in handy as additional seating options. This is the side table on our front porch and this one is another similar option.
The Pillows
We purchased textured throw pillows from target. They are super affordable and gorgeous pillows — we have a bunch of them inside our house too.
Lighting
I've always loved patio bistro lights. I knew I wanted them in my backyard. We hired someone to install them for us because we get a lot of wind in our backyard and we wanted to make sure they would withstand weather disturbances. they connect from our house to tall birch trees at the permitter of our backyard in a zig zag pattern. We also installed Christmas tree lights that wrap around the trunks of the birch trees. It really lights up our yard and creates a ton of light when it gets dark. We also got black lanterns for ambient lighting on our tables and on the porch.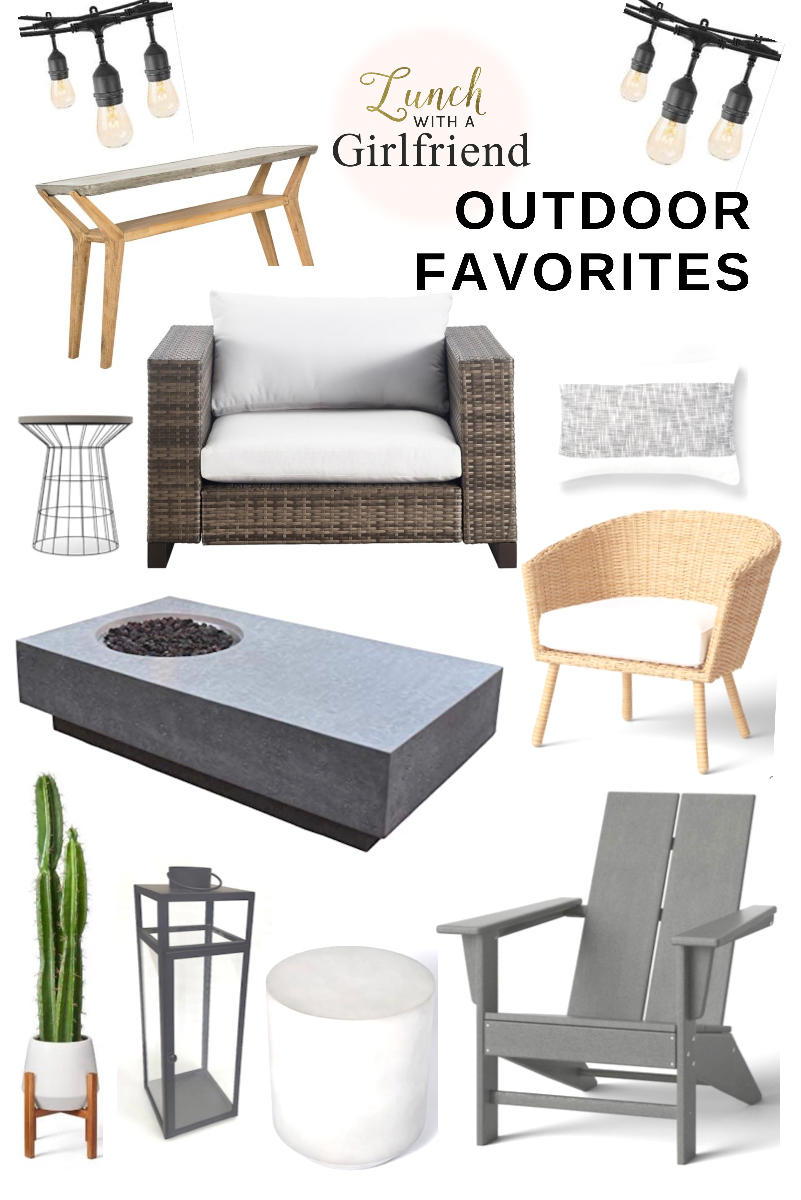 Bistro String Lights || Outdoor Console Table || Modern End Table || Woven Outdoor Seating || Throw Pillow || Fire Table || Faux Wicker Club Chair || Faux Cactus || Lantern || Faux Concrete Side Table || Modern Adirondack
If you like this post please subscribe to receive regular email updates. Did you know that now you can follow a hashtag on Instagram? Follow #lunchwithagirlfriend. For more inspiration, you can also follow me on Facebook and Pinterest .