A girlfriend with kids younger than mine asked how I was able to fit in exercise when my kids were preschool age and younger. I could sense her desperation. She wanted to shed a few extra pounds and get toned but was finding it difficult to fit in any kind of workout with young kids in tow.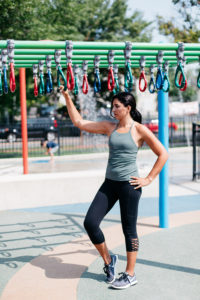 Luckily when I decided to become a stay-at-home mom, a local mom-preneur was offering boot camp style fitness classes with a babysitter to watch the kids at a playground nearby. That allowed me to jump right into a routine of working out with my oldest, who was a toddler at the time, while pregnant with my second child. Soon after she was born I would regularly bring them both to class. It was an environment that was kid friendly and welcoming to new mothers. Many of us were similarly situated and it was a great opportunity to build a community with other young mothers. Many of our earliest friendships formed from that group.
The mom bootcamp also set the stage for what was to come. There were many benefits to having the kids play while the moms worked out that I didn't even anticipate. We didn't just tell our kids about the importance of exercise to maintaining good health we demonstrated it by making it a priority in our day. It also created the expectation that mom's interests are important too. It's so easy with young children to get caught up in doing everything that they need or want that young mothers forget to foster their own interests.
Of course there were times when my kids did not want to get out of their jammies and rush out the door to get to my workout, but they grew to understand that after mom had her time the kids would get theirs. Afterward, they usually got to choose what we would do. That philosophy has stuck with us through the years. My kids are older now but even when they have a day off school or during summer vacation they still tag along while I work out or play tennis. I don't even have to explain it to them. They know the drill. Mom is working out. You can entertain yourself nearby while she does.
That hour for me when my kids were young was a real sanity builder. Those days with little ones are tough. Sometimes the workout was the best part of my day where I could talk to other adults. I used to call the bootcamp my "office" and I viewed it as my opportunity to check in with other grown ups. Like I said, I was lucky to have found that group when I did.
But if you don't have an exercise group like that near you there are other ways to fit in exercise while you are home with young kids. Here are a few ideas:
Utilize a Smaller Gym Facility. If you have a gym in your apartment building (and assuming its not explicitly against the rules) bring your kids with you along with a toy, book, or device. I often do this when we are at hotels and I want to get a workout in. I always remind my kids not to touch the equipment. The key is to know your limits and to fit in a high intensity 15, 20, maybe 30 minute workout.  Save their device time so that it coincides with your workout.
Invest in DVDs or Utilize Gym Apps. Beachbody makes some great DVDs. I really like the Insanity workouts. The high intensity interval training that the Insanity workouts offer will give you the most "bang" for your workout in a limited amount of time. DVD's have been really helpful to me during snow days. In our part of the country, a little bit of snow can shut down the whole town for a few days or, ahem, a week. My DVDs were a lifesaver during the snowpocalypse of 2010. While I haven't personally used it, some of my girlfriends swear by Fitness Blender, a website that provides workout videos and programs in a range of levels and in a variety of forms including interval training, pilates, and strength training. Both are great options if, for whatever reason, you can't leave your house with little ones.
Head to a Local Track, Park, or Trail. High school tracks are a great place to take kids while you workout. Depending on their age, you can let your kids play on the soccer/football field while you power walk, jog, or run around the track. Bring a ball or a small toy to keep them occupied while you fit in a short workout. Another option is to bring a yoga mat, band, and free weights and set up shop by the sandbox at a park while they play. It's a win-win. They get playtime and you get a workout. Or, pop the kids in a stroller and go for a power walk or jog on a trail or around your neighborhood.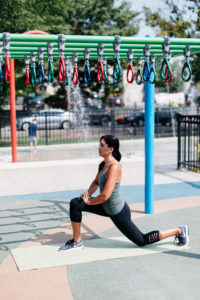 I hope you enjoy these ideas. Let me know what works for you. Above all, remember to take time for you!
Stay in touch with us for latest DC fitness blogs!
Photography by Anna Meyer Photo
If you like this post please subscribe to receive regular email updates. Did you know that now you can follow a hashtag on Instagram? Follow #lunchwithagirlfriend. For more inspiration, you can also follow me on Facebook and Pinterest .