Band tees are extremely popular right now. I have a few different tees that I've acquired over time and I've been wearing them in a variety of ways. Today I'm sharing three band tee outfits to give you some outfit inspiration.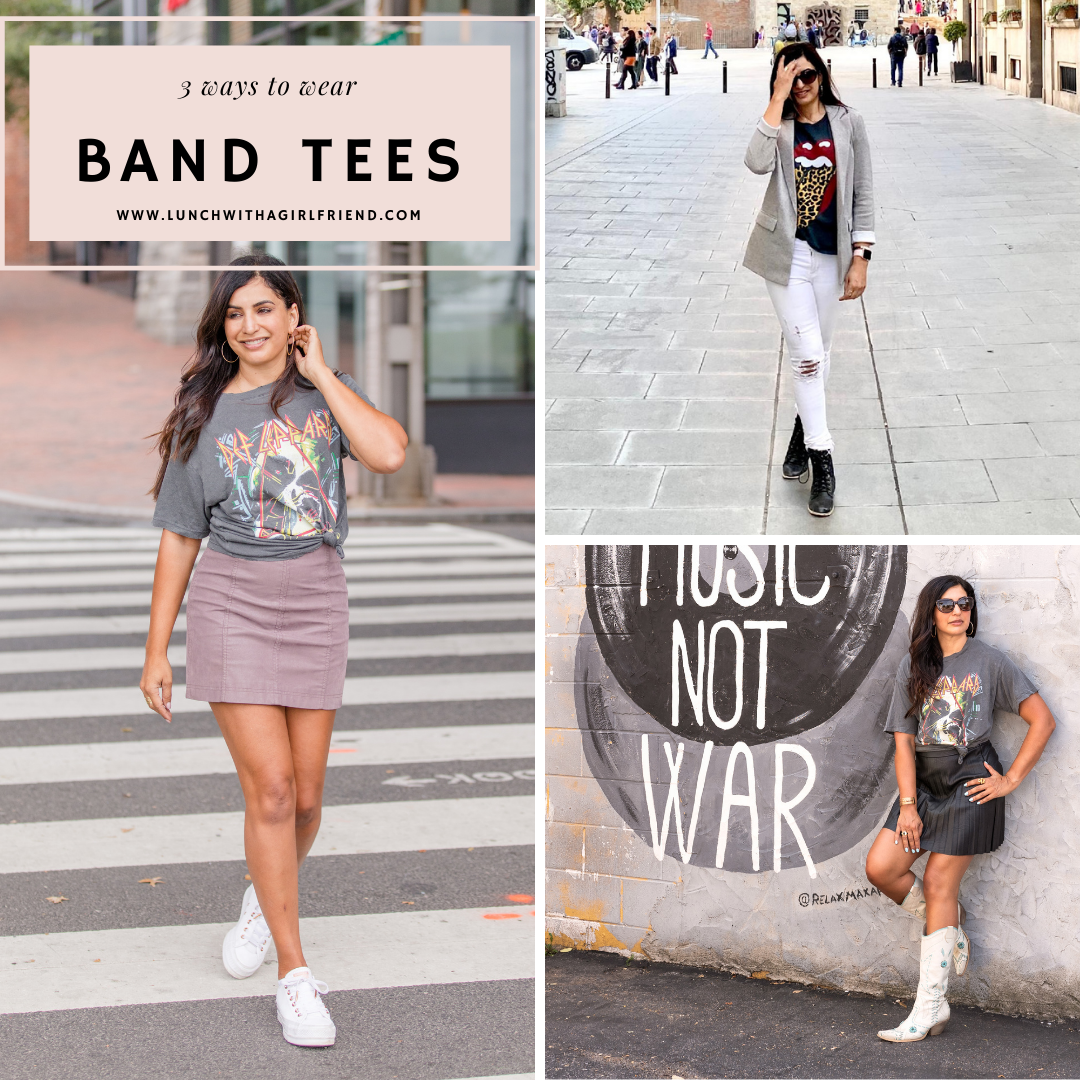 :: Wear Your Band Tee With A Skirt And Sneakers
This is a really simple look that can be worn on the weekend. The skirt can be short or long and you can swap out the skirt for jeans. The sneakers keep the outfit casual (and comfortable).

:: Wear Your Band Tee With An Oversized Jacket And Combat Boots
Combining a band tee with an oversized blazer, ripped denim jeans, and combat boots is a slightly edgier look. If you are more conservative you might opt to reserve this look for a weekend. The print on this band tee is loud so layering a blazer over it tones it down. Combat boots and ripped denim amplify the edginess of the print on the tee. If this look is too loud for you, try swapping out the boots for flats or loafers and opt for non-distressed jeans to create a more sophisticated look.

:: Wear Your Band Tee With A Leather Skirt And Optional Cowboy Boots
For this look, I simply knotted my band tee over a leather skirt. The outfit is not quite monochromatic but it's close and the boots pick up the color in the graphic design. I wore this for a casual evening event but you could also wear it to a concert or live music and dancing event (when they come back).

I've noticed that the price can range widely. So if this is a trend that you don't think you'll wear for long you can find some great options for as little as $12-14. Here are a couple favorites.

If you like this post please subscribe to receive regular email updates. Did you know that now you can follow a hashtag on Instagram? Follow #lunchwithagirlfriend. For more inspiration, you can also follow me on Facebook and Pinterest .