We have two family birthdays in April. I've been noticing lately there are a lot of spring birthdays. With restrictions on gatherings still in place I put together a list of some tried and true birthday party ideas for kids. I've also used many of these ideas for graduation parties and team bonding opportunities.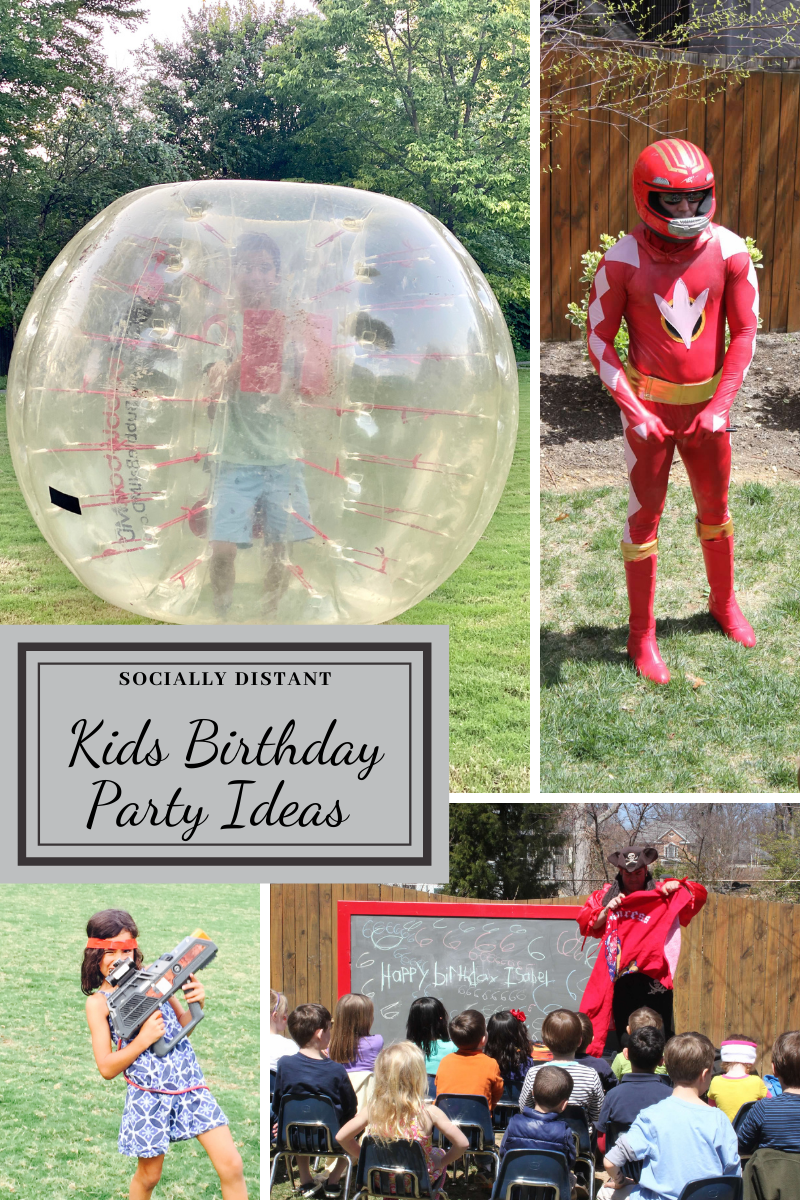 :: BUBBLE BALLS
I discovered Wonderfly Games last year when I was searching for a company that could provide bubble balls for a birthday party. We were deep in Covid times back then and giving every kid their own bubble seemed like the socially responsible thing to do. It's also an absolute blast. For a soccer-loving child they can incorporate bubble soccer games. Watch this to get a glimpse of how fun bubbles can be. Use code SAPNA2021 for a discount on your party.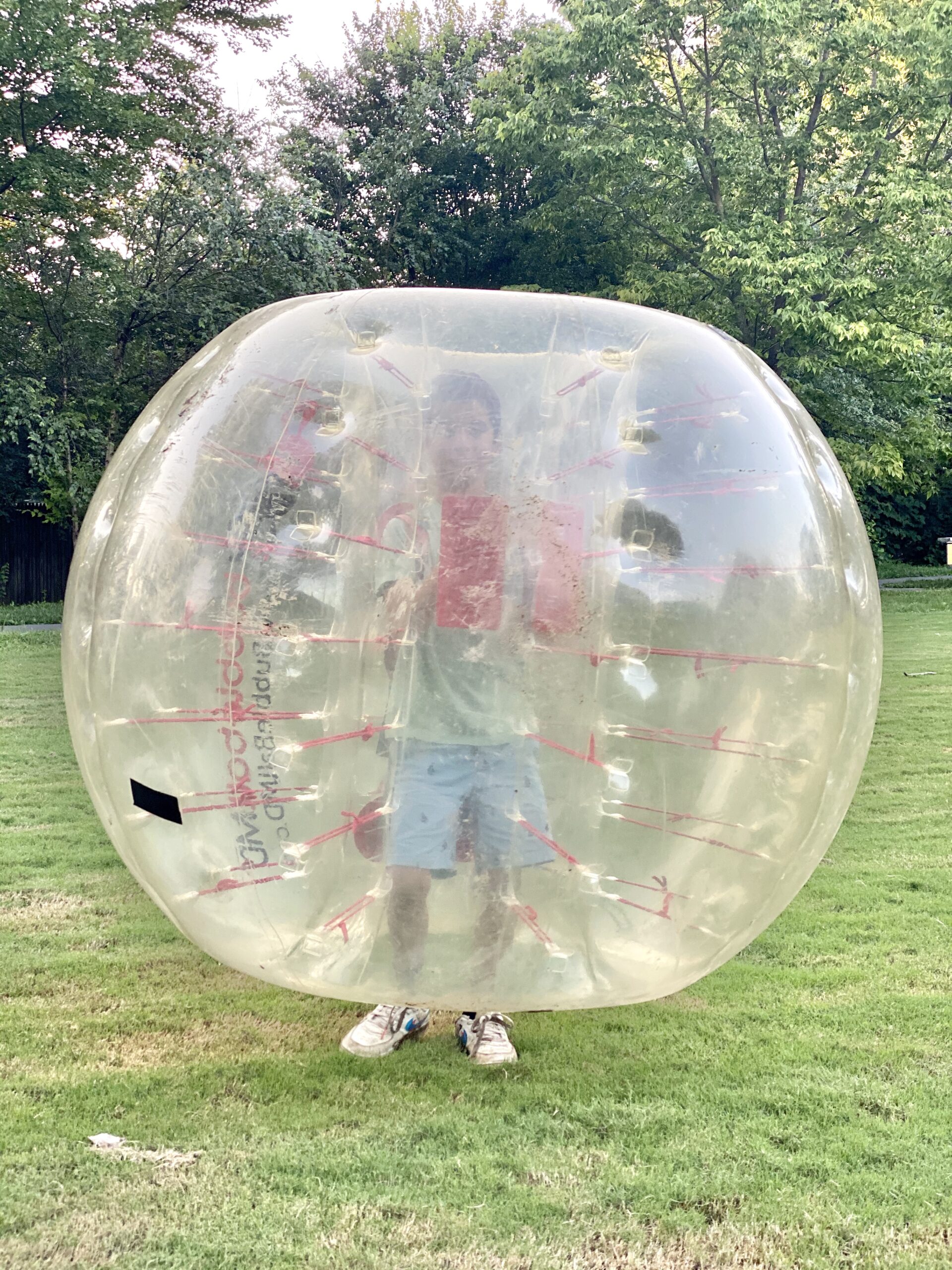 :: LASER TAG IN THE PARK
One of my favorite party ideas is to have a laser tag party in the park. My youngest isn't crazy about indoor laser tag parties (I think maybe because it's dark and can be a little scary for a little guy) but even he loves outdoor laser tag. The trick to hosting this type of party is to find a large space where the kids can run around and hide behind trees and other structures so they really get the feel for the hunt. Locally in Northern Virginia we've hired Tom's Laser Tag for this type of party and it never disappoints.
:: FLAG FOOTBALL PARTY
I think it's always so hard to come up with fun party ideas for older kids. A few years ago we planned a flag football party for my older son and hired a local sports camp facilitator to keep the kids in line and organized. It was a huge hit. The kids all had a lot of respect for the facilitator because many of them had interacted with him previously at a local camp. A facilitator will keep the kids in line and squash any skirmishes before they became a big deal.
:: CHARACTER/HERO PARTY
When my daughter was six she was really into power rangers. So we hired a character actor to dress up as a power ranger and facilitate some backyard games. The kids did a tug of war and played ball games with the red power ranger. I'd say this type of party has an upper range limit of about 7-8 years old but can be a lot of fun if they are in a phase where the idolize a character on tv or the movies.
:: MAGICIAN
We've hired Captain Silly Bones at least 3-4 times in our history of hosting kid birthday parties to entertain six and seven year olds. Captain Silly Bones gets on the kids' wavelength by entertaining them with a silly story and magic tricks to go along with it. He has a way with kids and controls the audience so the parents can relax during his one and a half hour show. Unlimited tattoos and goody bags are provided by the entertainer.
:: SCAVENGER HUNT
Growing up the most memorable birthday party I ever attended was a scavenger hunt. This is a great idea for older elementary or middle school kids but it does require a lot of advance legwork and enough parents on hand to keep it safe. It's a good idea to set a boundary for where the kids can travel and to let your neighbors know in advance that you are doing this. Divide the kids into even groups and provide them with a list of items to find. With a parent chaperoning each group send the groups around the neighborhood to knock on doors and ask for the items from the list. The more creative you are with the items on the list, the more fun this is for the kids. The group that collects the most items wins a prize.
:: BACKYARD MOVIES
In lieu of renting a theater for a birthday party, you can host one in your backyard with a movie projector. We have a screen but you can easily hang a white bed sheet to achieve the same effect. This is the BACKYARD MOVIE PROJECTOR that we have and love. It is easy to set up and integrates seamlessly with your phone.

:: PIRATE ADVENTURE BOAT
One of our most favorite birthday parties for the preschool set was a pirate adventure boat. The children get the opportunity to live life like a pirate for a couple of hours and search for sunken treasure and fire water cannons. The boat leaves from Annapolis, Maryland but was so entertaining for the kiddos it was well worth the trip from Northern Virginia.
If you like this post please subscribe to receive regular email updates. Did you know that now you can follow a hashtag on Instagram? Follow #lunchwithagirlfriend. For more inspiration, you can also follow me on Facebook and Pinterest .