Some years I have no desire to dip into the kids' Halloween candy and other years I can't help myself. This year happens to be a can't help myself year. I was indulging a little too much and I knew I need a strategy to lure myself away from the kids' halloween candy and still satisfy my sweet tooth cravings. So I made myself a semi-healthy (but still chocolate covered) high protein snack.
Chocolate and peanut butter, and to be specific, dark chocolate and peanut butter, is my all time favorite dessert combination. I could never resist Reese's Peanut Butter Cups as a kid. Unfortunately they are made with milk chocolate and I've been dairy free for a while now so that's pretty much off the table. These days high on my list are peanut M & Ms and the more rare-to-find-in-a-Halloween-basket, peanut butter M & Ms. If you've ever peeked at the ingredients list you know these aren't the healthiest indulgences on the block. I was searching for an alternative with all natural ingredients that satisfied my craving for chocolate and peanut butter. I found it in this recipe for No Bake Peanut Butter Granola Bars from Ambitious Kitchen. Bonus, each bar contains 7 grams of protein and a ton of healthy fat. Healthy fat seems like an oxymoron doesn't it?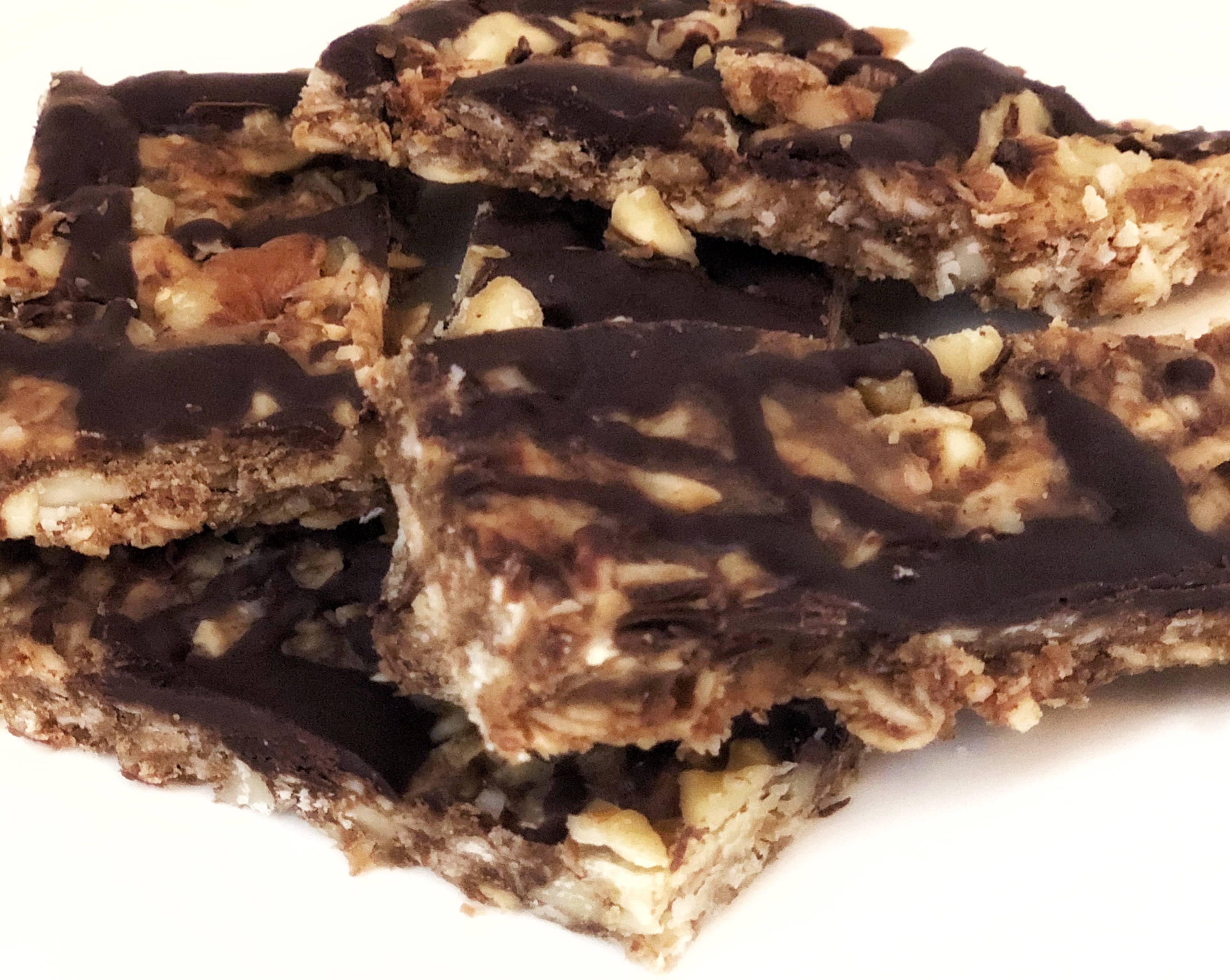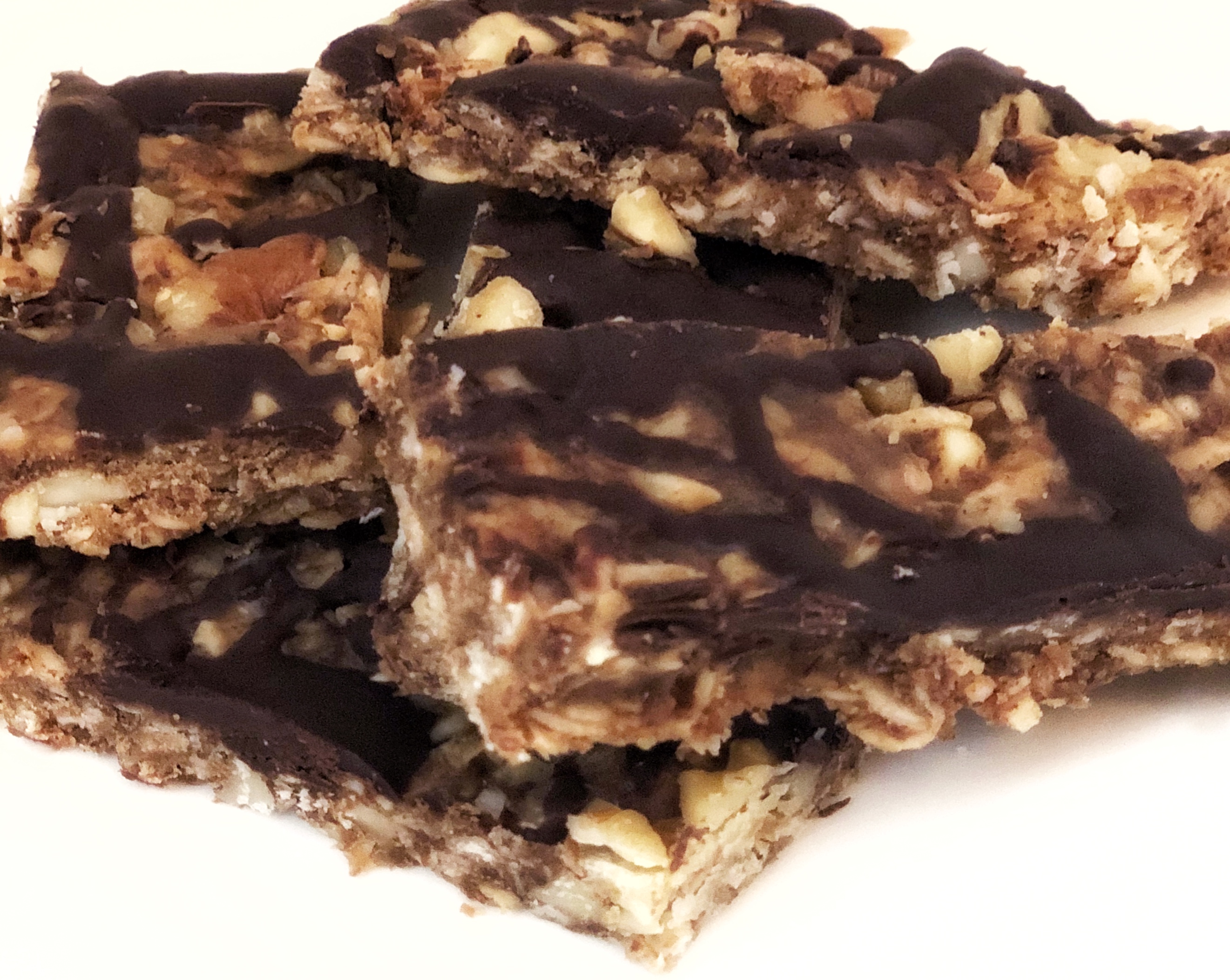 No Bake Peanut Butter Granola Bars
Ingredients
1/2 cup creamy natural peanut butter (peanuts and salt only)
1 1/2 tablespoons virgin coconut oil
3 tablespoons honey
1 teaspoon vanilla extract
1/2 teaspoon cinnamon
1/3 cup flaxseed meal
1 tablespoon chia seeds
1/2 cup old fashioned rolled oats (can be gluten free)
1/3 cup roasted almonds or pecans, roughly chopped
1/4 cup unsweetened shredded coconut (I left this out because I'm not a huge fan of coconut but the original recipe calls for it)
Cover With:
2 tablespoons roasted almonds, roughly chopped
2 tablespoons dark chocolate chips
1/2 teaspoon coconut oil
Instructions
Add peanut butter, coconut oil, honey, vanilla and cinnamon to a medium saucepan and place over low heat. Stir periodically until the mixture is smooth and creamy. Remove from heat and immediately stir in flaxseed meal, chia and oats. Fold in almonds and shredded coconut and stir until combined.
Line an 8×4 inch loaf pan with parchment paper; pour granola bar mixture in and spread out evenly, then press down in the pan very firmly. Press remaining roasted almonds on top.
Place dark chocolate chips and ½ teaspoon coconut oil in a microwave safe bowl. Microwave on high in 30 second increments, stirring in between until chocolate is completely smooth and melted. Drizzle diagonally over bars.
Cover the bars with foil, and place bars in the fridge for 30 minutes-1 hour or until mixture has hardened. Remove bars from pan and cut into 8 granola bars anyway you'd like. Store bars in the fridge, either individually wrapped in plastic or in foil. Bars will last up to 1 week in the fridge.
I hope this helps keep you out of your kids' Halloween baskets!
If you like this post please subscribe to receive regular email updates. Did you know that now you can follow a hashtag on Instagram? Follow #lunchwithagirlfriend. For more inspiration, you can also follow me on Facebook and Pinterest .