I hope everyone had a great Valentine's Day yesterday. I was about to start this post explaining the new look of my website because, as of yesterday, things were looking pretty crazy around here. But then when I woke up this morning I had an email from my tech person in India telling me that she was able to recover my old data and that everything is back to normal — hooray! But things have been so fluid in the last 24 hours I really have no idea what this space will look like when you get here.
Here's the story: a couple of days ago, at the same time that I was crashing (and literally) burning with a 102 degree fever, I began receiving email notifications that someone had logged in with my username from a location where I was not. Then I heard from some of you that things were not looking right on the website.
After sleeping off my fever I checked in over here and that's when I realized that I'd been hacked. Fortunately, I didn't have a virus so I didn't have to shut down and I didn't lose my content either but the coding that makes this space pretty was altered and it was difficult to recover. That's as best as I can explain it without getting into all sorts of tech lingo (which blows my mind all the time). All of this is a way of saying that this space is going through some changes. And, still, not everything is functioning as it should.
So, while we are on the topic of changes to spaces I figured this is as good a day as any to talk about our recent kitchen renovation project. You caught a glimpse of it in my post on dinner for breakfast. I heard from so many of you that you want to see more so today I'm excited to share our kitchen update with you.
To be perfectly honest, we had a not so old and perfectly fine kitchen before our renovation. The trouble was the space wasn't allocated as well as it needed to be for our family of five. When we first moved into our house ten-plus years ago we had one child under the age of two. Fast forward to today we have three kids ages 12, 9, and 6. The size of our pantry and fridge could not keep up with the demands of a family this size. Plus, as I have grown to realize, appliances are really only designed to last about ten years. So things were starting to fall apart and we needed to make some major new purchases.
The wheels for the renovation were in motion for a year before it actually started. I had been working with a kitchen designer who fell off the face of the planet just as I was about to sign off on a huge check to manage the whole project. I'm glad he flaked out before we handed over our money but there were several months when I was stuck wanting to move forward with a kitchen renovation but I didn't have a designer or a contractor and I did not want to go back to square one.
My girlfriend had recently opened a spa and used a designer that did a fabulous job with her space. She highly recommended Theo so I called him. He understood my vision and had great ideas I hadn't thought of. I knew when I said I wanted to start right away and he didn't bat an eyelash that things were going to work out well. And it did!
I wish I had better before and after images. I snapped a few on my iPhone before demolition began in September. Here's what we started with.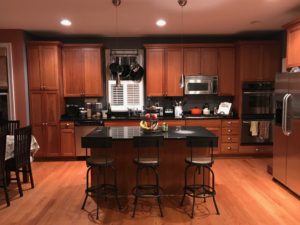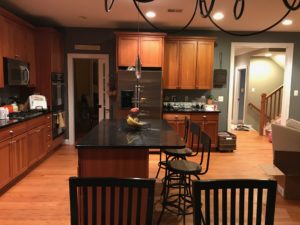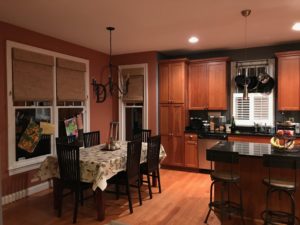 As you can see, things used to be a lot darker and less inviting. With the renovation we were looking to have a brighter, cleaner space. I knew I wanted to have white cabinets and quartz counters because, let's be honest, three children would not be kind to marble. We also refinished our floors and added crown molding around the room.
Here's what it looks like now.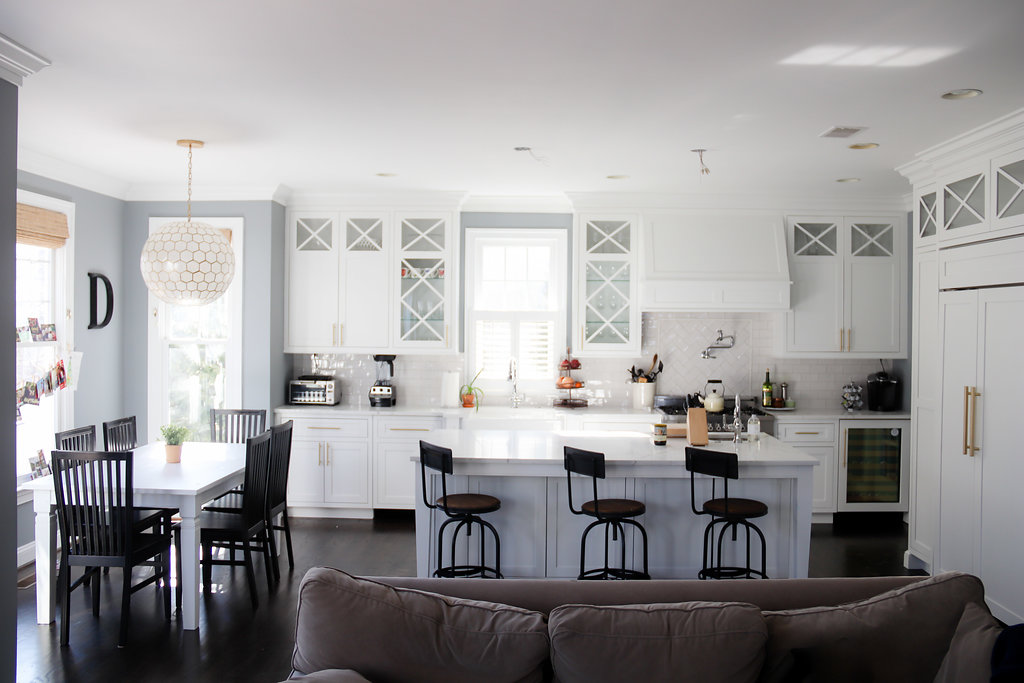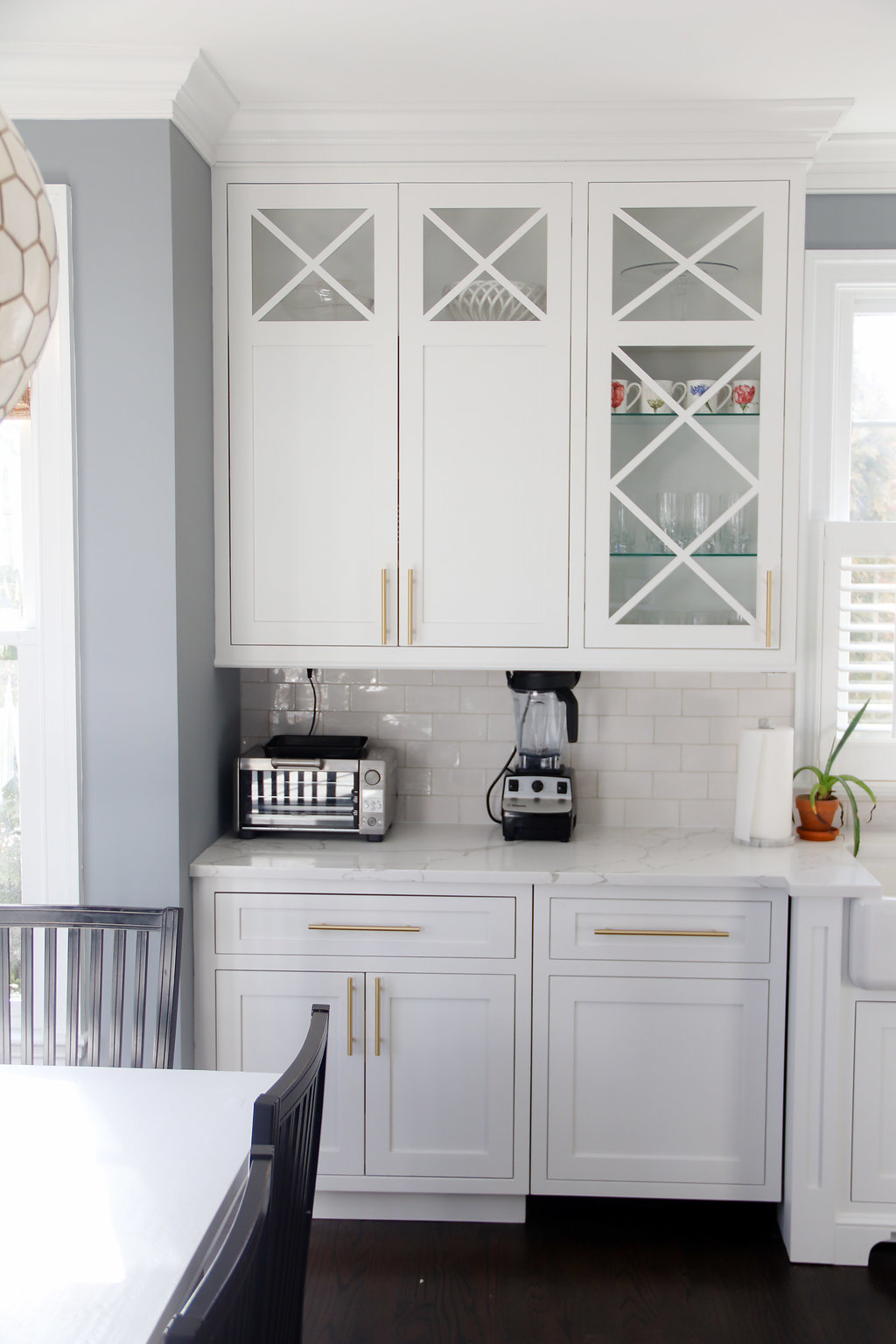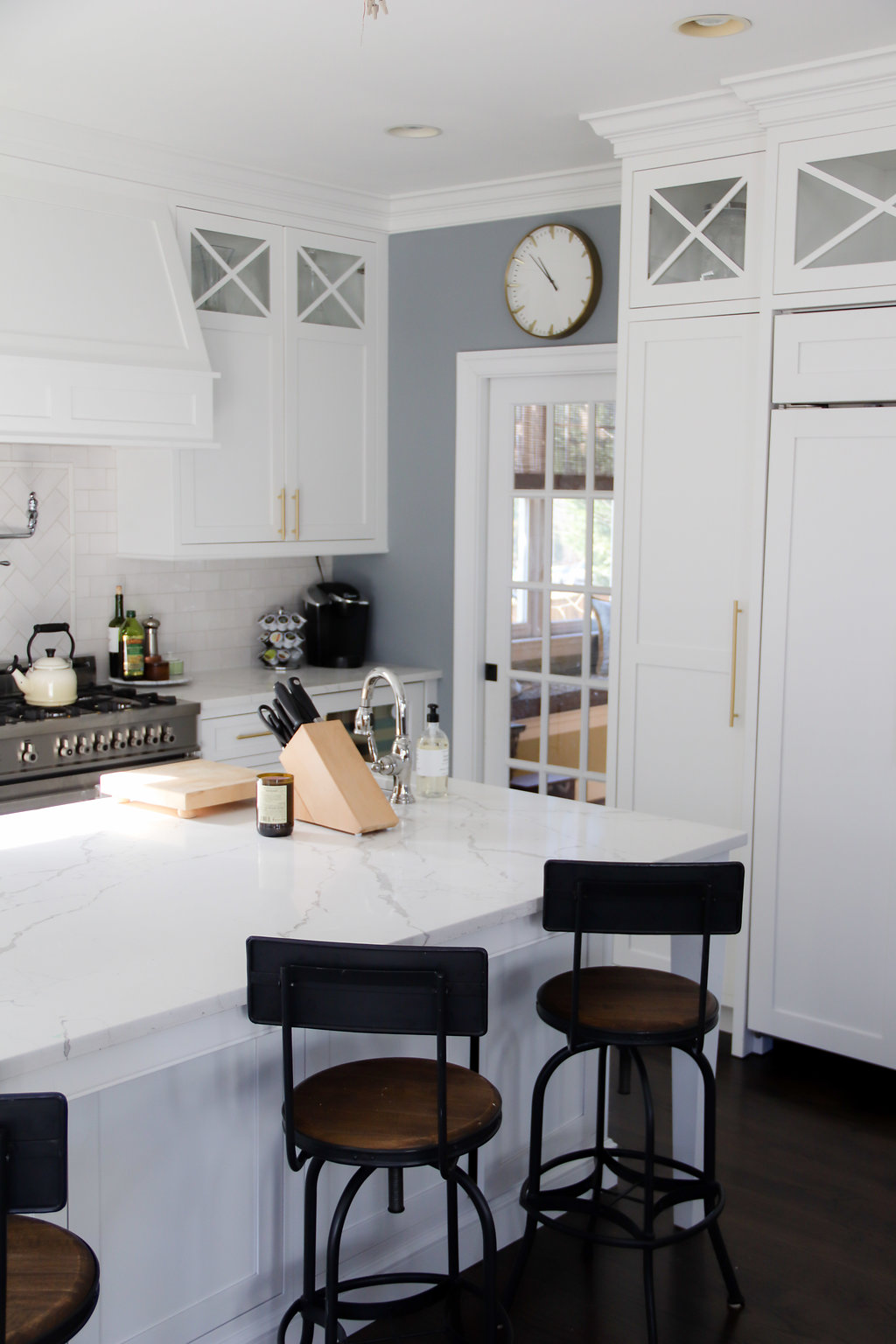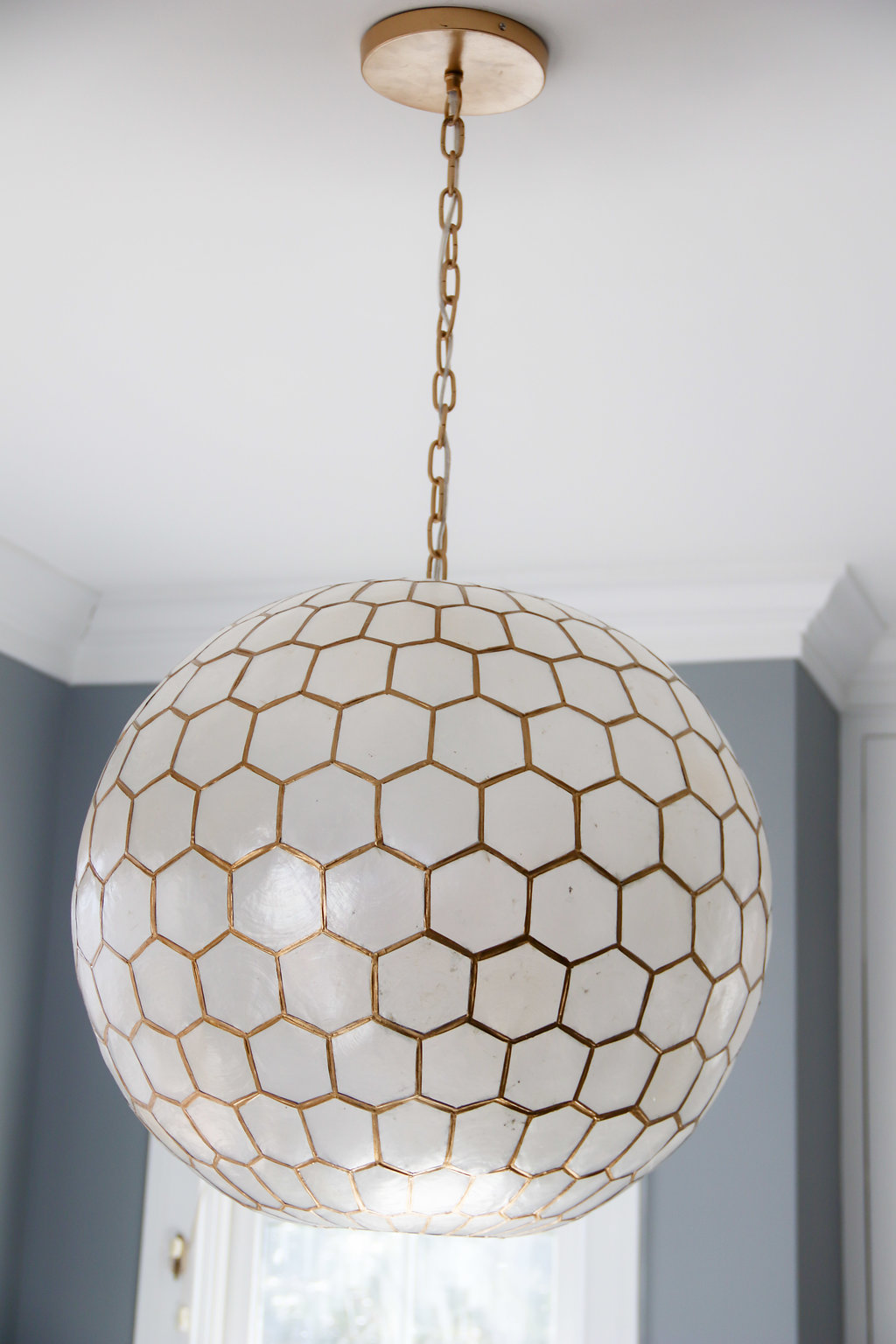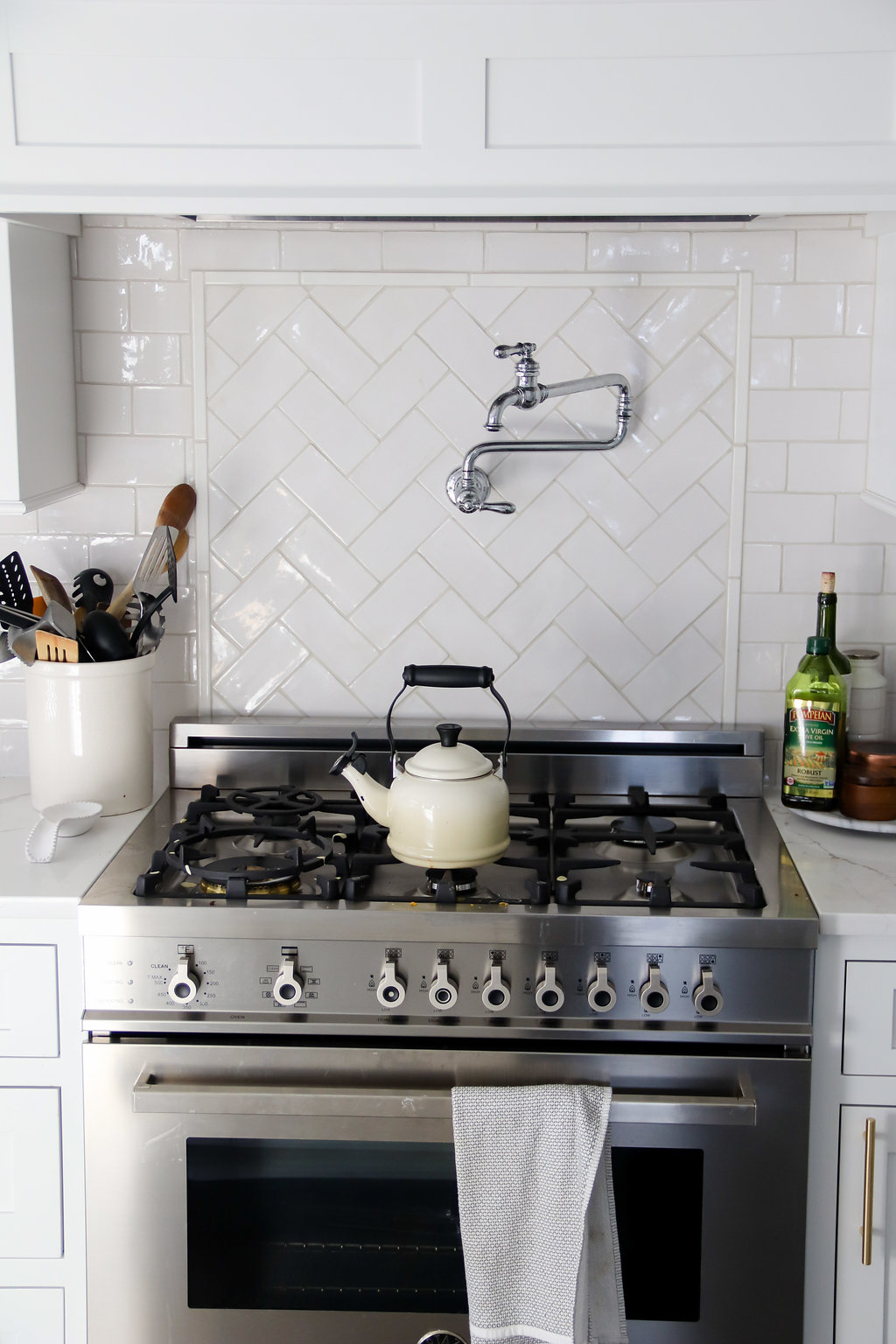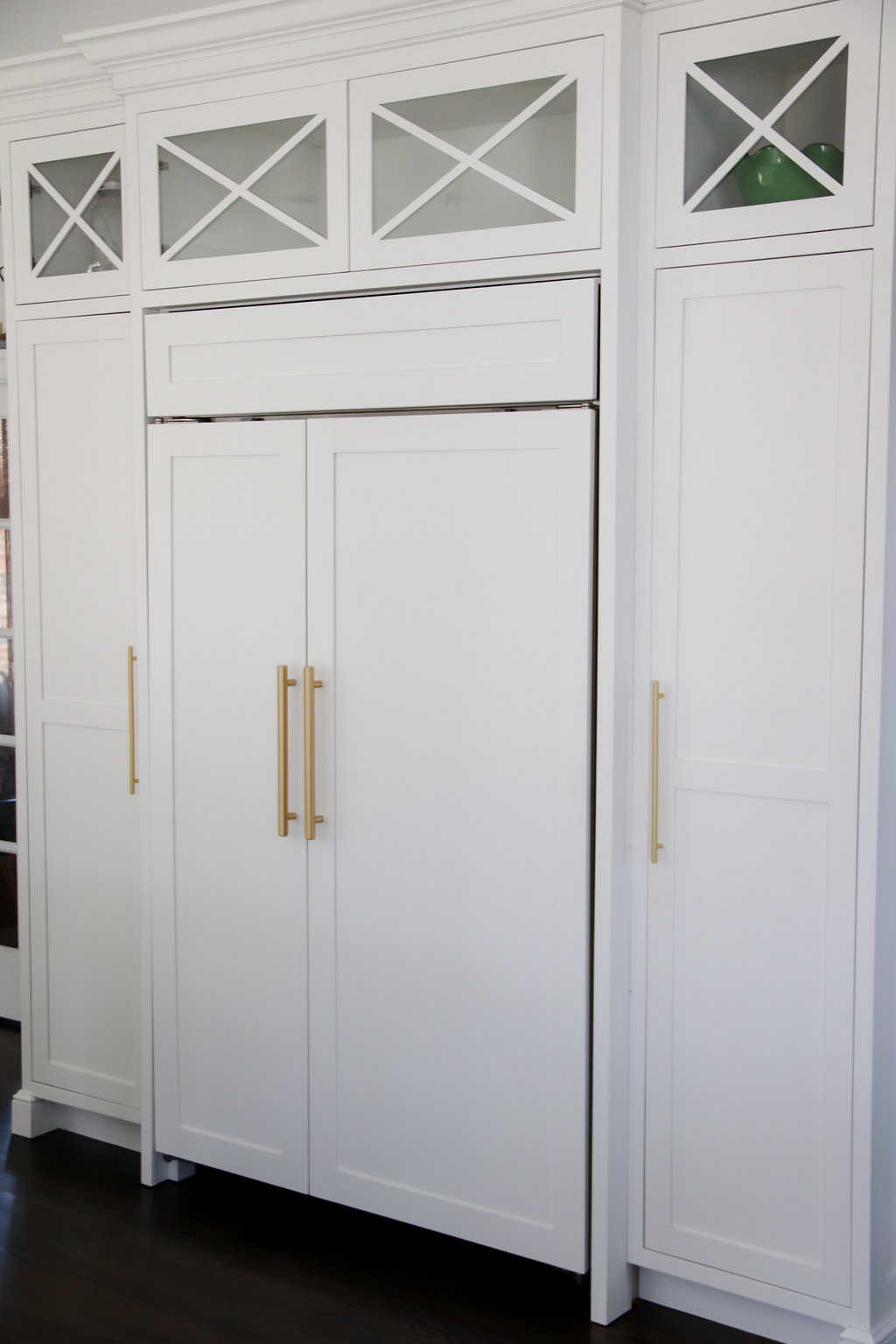 So completely different, right? It is 99.5% finished — we are still waiting on some of the light fixtures to come in. I love how it turned out — it's light and bright and inviting which is just what I wanted. My girlfriend
Gerry
— who has fabulous taste — helped me select this stunning 
capiz honeycomb chandelier
to go above our kitchen table. And my girlfriend
Alison
chalk painted our kitchen table for me so it flowed better with the new kitchen design.
Shop this Post
If you like this post please subscribe to receive regular email updates. Did you know that now you can follow a hashtag on Instagram? Follow #lunchwithagirlfriend. For more inspiration, you can also follow me on Facebook and Pinterest .