So, how are those "I'm gonna eat healthy in 2018" resolutions going? We are six weeks into the new year so it feels like a great time to check in on our healthy eating goals. Eating well is definitely a challenge for me too. Last year I made some big changes in my breakfast routine that have really helped me.
I have naturally slim genetics but with every passing year it gets more and more difficult to continue to feel like myself. It just seems like the lbs want to creep back on no matter how much I exercise. I've always enjoyed exercise so that's been easy for me to be consistent with but unfortunately that is only a part of the battle. What you eat to fuel your body before and after exercise is actually more important.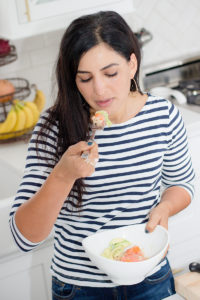 Last year after talking to a nutritionist I realized I needed to eat more protein at breakfast to sufficiently fuel my body for the type of workouts I was doing. He gave me a very prescriptive routine to follow for the first few weeks. I am not as rigid now as I was at the beginning of the program but I still generally follow the principles that he gave me. Because I don't care for eggs, it can be tough for me to find enough protein sources for breakfast. That's when I made the realization that I should just eat dinner for breakfast.
One of my go to breakfast routines is to make a salmon poke bowl for breakfast. I know it sounds a little weird but it truly is a breakfast of champions because it offers a good mix of protein, healthy fat, and complex carbohydrates. I should mention that I am totally a creature of habit and I'm fine eating the same thing every day for breakfast so I usually make this breakfast on autopilot.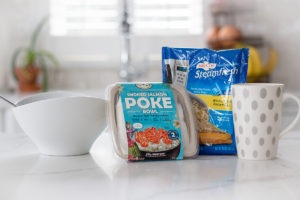 Preparing a poke bowl for breakfast is really simple. All you need is brown rice (I use the pre-cooked variety that you warm up in the microwave), a ripe avocado, and salmon (you can either purchase a salmon poke bowl sold in grocery stores like I did here or purchase pre-cooked salmon. They are both found near where seafood and lox is sold in the grocery store).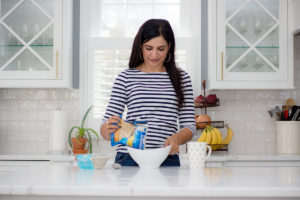 While I'm warming up my bag of brown rice in the microwave, I use a knife to cut the salmon into small bite-size pieces. When the rice is ready I pour a cupful into my bowl and add the salmon on top.
Next, I cut an avocado in half, scoop it out of the skin, and slice it. Then I add the avocado to the rice and salmon in the bowl. That's it! So easy.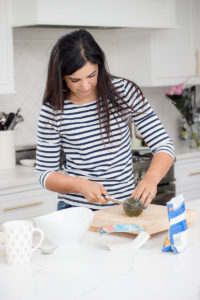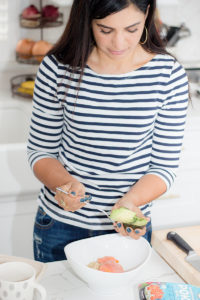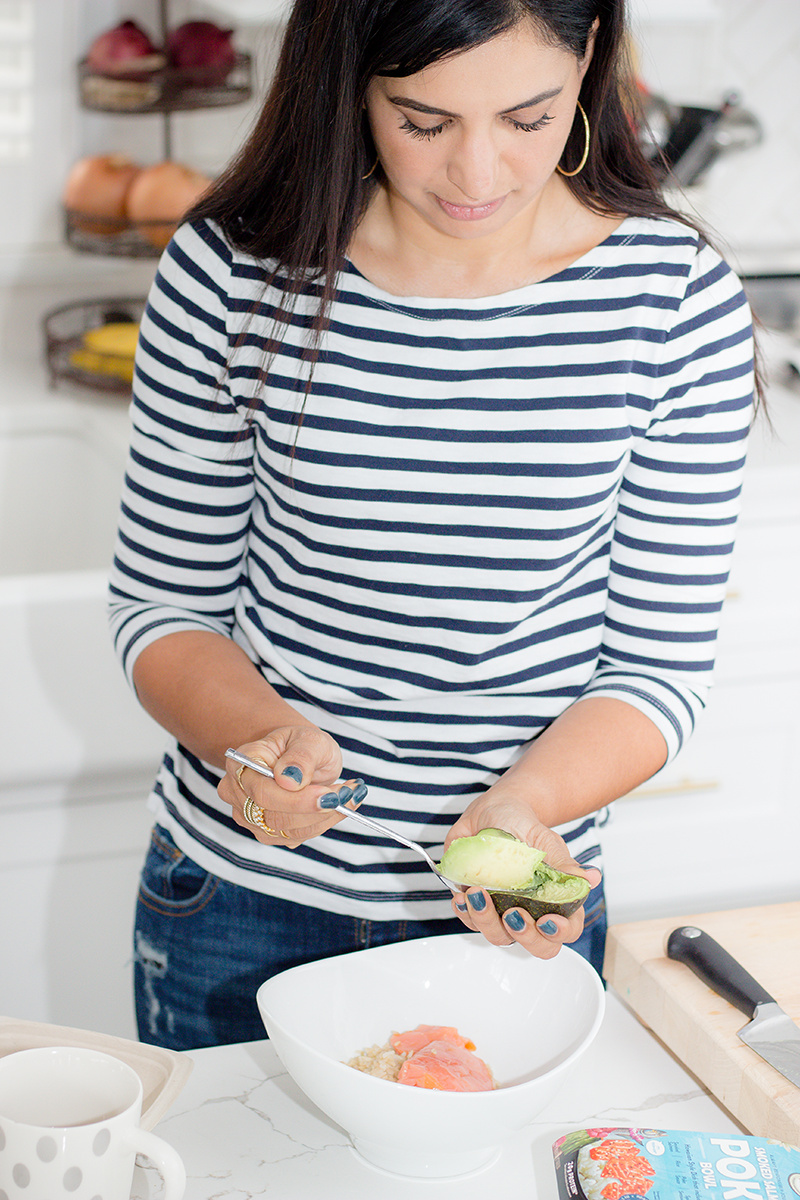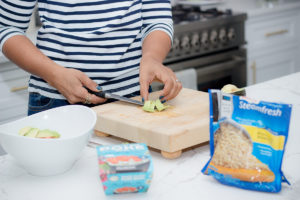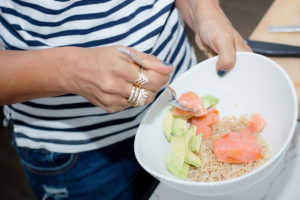 And it's super filling. I usually get hungry every 2-3 hours and this is really great for providing energy and nutrition, while keeping me full for several hours. Give it a try!
Photography by Krisztina Kovacs
If you like this post please subscribe to receive regular email updates. For more inspiration, you can also follow me on Instagram, Facebook and Pinterest.
If you like this post please subscribe to receive regular email updates. Did you know that now you can follow a hashtag on Instagram? Follow #lunchwithagirlfriend. For more inspiration, you can also follow me on Facebook and Pinterest .